This Is Where Garrett & Becca Call Home These Days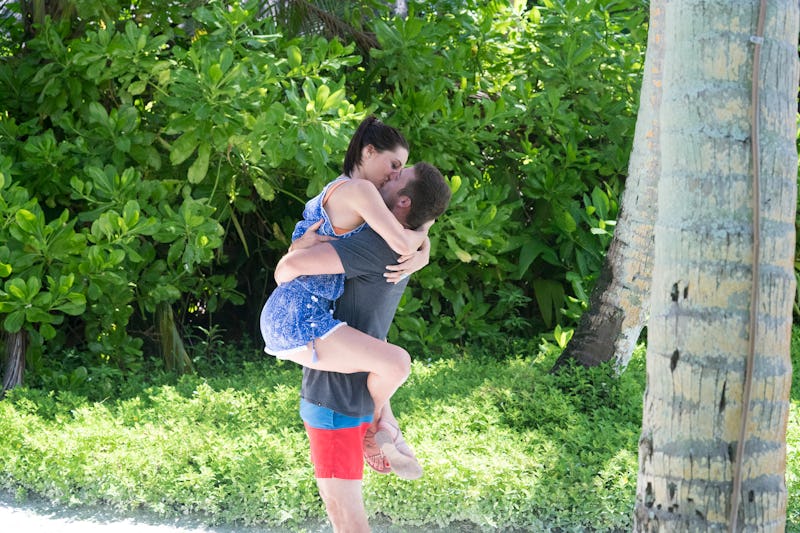 Paul Hebert/ABC
Spoilers for The Bachelorette's season finale ahead. By now you know the news — Becca and Garrett are endgame on this season of The Bachelorette, and now they're gearing up to (hopefully) spend the rest of their lives together. He dropped to one knee during the finale, and Becca gleefully accepted, kickstarting a life of soon-to-be marital bliss. So do Becca and Garrett live together after The Bachelorette?
They're definitely spending tons of time together post-show, and Becca said they're figuring things out as far as where they're going to live. "We are moving in together, we don't exactly know where yet," she explained. "He's gonna spend some time in Minnesota... I'll go to Reno for a while. And then I think we might come out to California for a couple years." The live finale also showed the two out on the kind of "Happy Couple Weekend" getaway that became infamous after Arie used the occasion to break up with Becca on camera last season on The Bachelor.
According to Entertainment Tonight, Happy Couple Weekends are times when the newly engaged couple spends time away in a secluded environment avoiding any paparazzi or overly enthusiastic fans who might want to broadcast spoilers. "[Happy Couple Weekends] are in a house with really tall bushes everywhere, so people can't see in," Former Bachelorette Kaitlyn Bristowe told the outlet. "Producers come because they really want to make sure you're not leaving the house, because you have to hide there."
The two were followed by cameras to their Happy Couple Weekend and the footage was shown during the finale. They definitely seemed madly in love, relaxing as they waited for the show to air. "We still need to get to know one another and spend that quality time," Becca said during the finale.
There's also not a ton of information on either of their social media accounts about their shared life after The Bachelorette, but that's just yet another way of hiding the outcome of the show before the finale aired. Now that the cat is out of the bag, they'll be able to be more open about what they're up to, and Becca's Instagram is likely to soon be filled with photos of her and her new fiancé. And maybe a new house, too.
There's a lot to consider when moving in with someone in a permanent capacity, which is presumably why they're hitting up both their hometowns for a while. Garrett is from farm country in central California, as we saw from his hometown dates, and Becca is from Minnesota — they'll have to figure out if they want to head back to one of their hometowns, or if they'll embrace that celebrity lifestyle and jet for Los Angeles or another big city to start a life all their own.
But during Garrett's hometown visit, Becca told him she wouldn't mind raising kids on a farm like where he grew up. Plus, Arie and Lauren from last season of The Bachelor have been together for months now, and only just recently announced that they bought a house of their own, so Becca and Garrett have plenty of time before anybody will be raising any eyebrows.
It was a long and dramatic road for the couple to get here — not only did they meet on a reality show known for cultivating for tears and conflict, but some skeletons came out of Garrett's closet soon after he was announced as a contestant — namely, some social media activity that took place before he was cast.
He's since apologized for his Instagram likes, and Becca has urged fans to keep an open mind, but there are still viewers who aren't thrilled with the fact that he's her top choice. The questions surrounding the situation will likely continue throughout the rest of the time they spend in the public eye, but maybe they'll find a way to lay low once the dust settles and they have a home to share.