Oddly, No One Mentioned Garrett's Controversy During Becca's 'Men Tell All'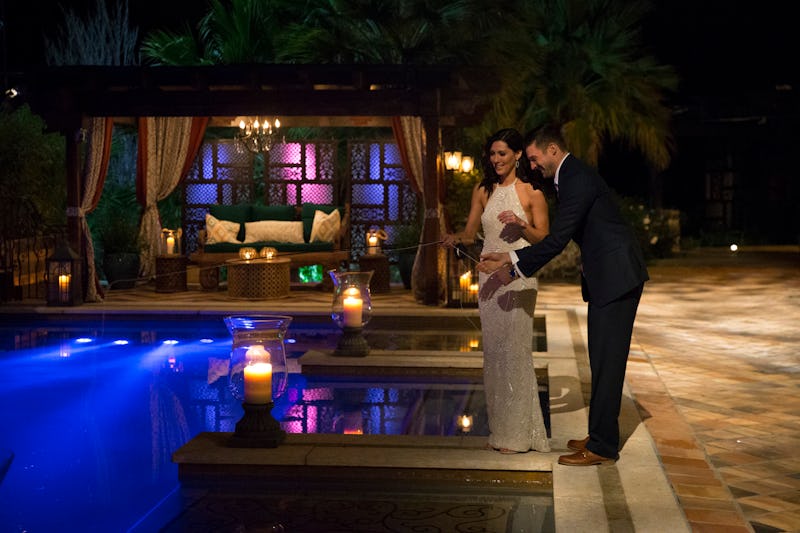 Paul Hebert/ABC
Becca's season of The Bachelorette is nearing its end — there are just two men left vying for her heart. One is Blake, the sensitive man who survived so much in his life, and the other is Garrett, the one who does a really great Chris Farley impression. Oh, and the one who liked transphobic, homophobic, and racist memes on Instagram and expected no one to notice it once he got cast on the show. This controversy took over the first few weeks of The Bachelorette. It was a big story. And yet, no one talked about it on Becca's Men Tell All episode. Garrett's Instagram likes weren't addressed on Men Tell All, and it's a real shame.
Being an avid Bachelor viewer, I know how it works — Garrett can't comment on Men Tell All because Garrett is in the final two. But what ABC could have done is let the other men from Becca's season of The Bachelorette talk about it. With Lincoln Adim, who was recently convicted of sexual battery stemming from a 2016 incident, it's understandable that ABC wouldn't want to jump in to a legal matter on a Men Tell All. It's wrong, but it's understandable. But for Garrett, who did something repugnant and stupid but not illegal, why not let the other men weigh in? Garrett had his chance to defend himself on his Instagram, issuing a statement earlier this summer.
There may have been one teeny moment of rebellion. Jason, who Becca sent home before the Fantasy Suite, frequently talked about how he looked up to the relationship that his brother had with his husband, and he wasn't going to let nothing be said, veiled or not. Jason said:
I'm going to take Oprah's line, but I'm going to say it with all the passion. Love is love is love is love, and it doesn't matter to me if you're gay, straight, lesbian, bisexual, transgender — if you have a strong relationship, everybody in this country can take away competencies in that relationship and make it the best to be their own. And I look up to my brother and my brother-in-law.
Becca weighed in on the Garrett controversy in the beginning of the season, giving a nothingburger of a response. According to E!, she said, "I've heard a little bit about it these past couple days... everyone is entitled to their own opinions, and at the end of the day I wanted to go on this journey to open up myself and have people see my love story unfold." What was she supposed to say, knowing that this man made it to her finale?
On Men Tell All, ABC should have let the men do just that. The contestants should have been able to speak, fairly unedited, about the show and the other contestants and the controversies that have surrounded this season of The Bachelorette since it commenced in May. To ignore it, to keep it all shrouded in darkness, is to admit you're ashamed, like you're hiding something. Given the problems with Garrett and Lincoln, The Bachelor and The Bachelorette can't afford to hide anymore, and they should have addressed this issue head-on.
This article was originally published on