Here's How To Follow Your K-Pop Obsession BTS On Social Media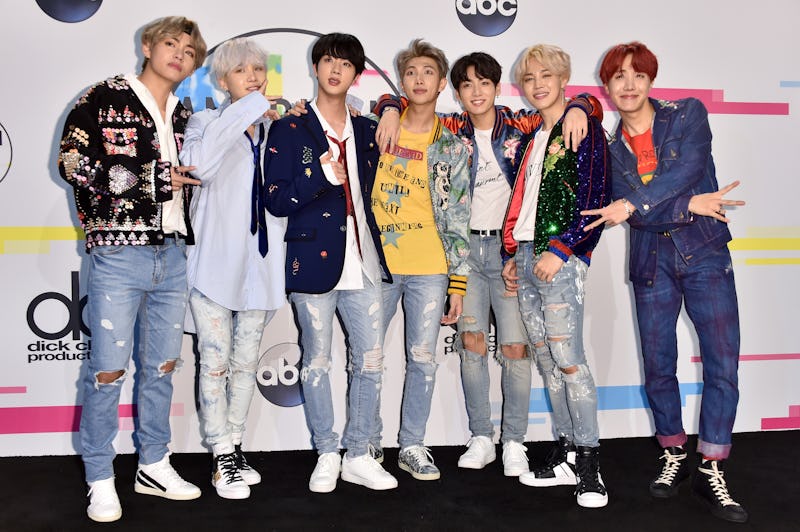 Alberto E. Rodriguez/Getty Images Entertainment/Getty Images
As if you needed more proof that K-pop is taking the world by storm, BTS is the most-tweeted about celebrity of 2017. Why would you only want to follow them on Twitter, though, if you could go behind the scenes with them via a list of BTS' Snapchat names, right? Well, unfortunately, that's impossible right now, because BTS doesn't have Snapchat. It's shocking, I know, but there are other ways for you to keep an eye on your favorite boy band.
BTS, which just made their U.S. red carpet debut earlier this year at the Billboard Music Awards, doesn't have Snapchat. But the guys — all seven of them: Jin, J-Hope, Jimin, Jungkook, RM, Suga, and V — have appeared on Snow, the South Korean version of Snapchat. The app, according to The Verge, is a "Snapchat clone for next level selfies." Snow — which you can download in the States, but which is most popular in Asia, specifically China where Snapchat has been blocked — is filled with even more addictive filters that will turn you into anime characters, a rainbow glasses-wearing pop star, and, yes, a dog. I mean, could a Snapchat clone not have its own dog filter?
But, BTS fans should know that the band doesn't have its own official Snow account that you can follow. If they have them, BTS hasn't revealed any of their own private Snow accounts, either. They do, however, make appearances on other people's accounts. Last year, BTS had a little fun getting ready for their Tokyo performance, appearing on Snow's official account. There, they turned themselves into mice, angels, and peaches, which are way more innocent than the ones you see on Snapchat.
While BTS isn't on Snapchat, you can follow them on Instagram. The official BTS Instagram account, @bts.bighitofficial, is run by the band's record label, which means it's a lot of promo material. You're not going to get a lot of selfies of the guys or any other content that hasn't been pre-approved, but you will get to see the latest images of the band. Let's be honest, that's not a bad deal.
The perfectly curated account, which is followed by 7.1 million people, is filled with images from their album photoshoots for their latest album, 2016's Wings and their most recent EP, Love Yourself. It's also where you can find photos of the guys in a hot air balloon, lounging in silk pajamas, or enjoying some colorful ice pops. Seriously, their photos will put *NSYNC and Backstreet Boys to shame.
The best way to keep in touch with the guys is on the BTS official Twitter, @BTS_twt, where they have 10.8 million followers. There, they retweet important BTS news, like how the band earned the first top 40 Hot 100 hit for a K-pop group with their single "MIC Drop." Since the band hasn't shared their private Twitter handles, it's also where they post selfies, red carpet photos, and birthday messages. Recently, they shared a video of Jin blowing out his candles.
Unlike Instagram, the BTS Twitter account is one of the few ways you get to see a personal side of the band. Often they share special messages that are straight from the guys to the BTS Army. "Thank you so much for all the love," the band tweeted earlier this month. "You make me love myself everyday. truly."
While some may wish the guys would get their own Twitter or Instagram or Snapchat accounts, the truth is, BTS not sharing their private accounts let's them have a little privacy. Not to mention, it probably lets them have a little quiet time. Could you even imagine the amount of notifications they would get on a daily basis?
For now, fans will just have to keep following BTS through their official accounts as they continue climbing to the top of the charts.