What You Need To Know About Trump & Theresa May's Rocky Relationship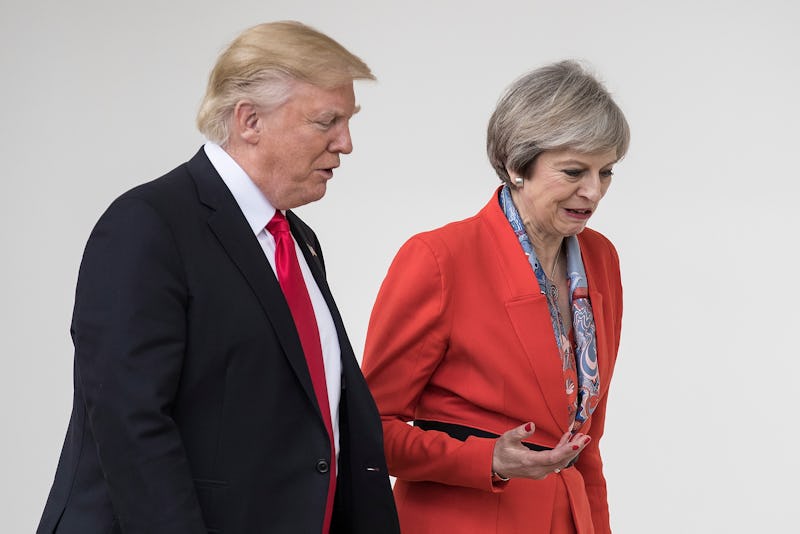 Christopher Furlong/Getty Images News/Getty Images
This week, the U.S. president is slated to visit the United Kingdom for what has been dubbed a "working visit." As part of his trip, he is expected to meet with the British prime minister, though how that meeting will land is difficult to predict. Historically, whether or not Donald Trump and Theresa May like each other has been a challenging question to answer. Their relationship so far has arguably been characterized by sensational headlines and tense exchanges.
Before meeting in the U.K., the two crossed paths in Brussels on Wednesday at a NATO summit which took place immediately before Trump was scheduled to travel to England. It included at least one awkward interaction; according to video posted by The Sun, May appeared to snub Trump's attempt to shake her hand at a formal NATO photo shoot. When he walked toward her with his hand out, she turned and placed her hand on his back. It's not clear whether or not that was an intentional move, or if it was simply the result of many people swarming around a space at once, but it did catch the attention of people watching the footage online.
The pair's relationship has seen several peaks and valleys over the year and a half that Trump has occupied the White House. May was the first foreign leader to visit Trump after he was elected president — a decision that provoked international ire when Trump put his "travel ban" in place immediately after she left. Added to the controversy were photos of the two holding hands while walking around the White House grounds. Critics accused May of supporting a discriminatory new world leader.
"I like to think we got on," May later told Vogue about her visit to Washington. "I mean, obviously he has, uh . . . it was a stunning election victory, in that he's someone who has not been involved in politics."
By November 2017, however, the two were sparring in the press. The source of the disagreement stemmed from Trump retweeting anti-Muslim propaganda originally shared by the leader of a far-right British group called Britain First.
"Britain First seeks to divide communities by their use of hateful narratives that peddle lies and stoke tensions," May's spokeswoman said of Trump's retweets, according to The Guardian. "They cause anxiety to law-abiding people. British people overwhelmingly reject the prejudiced rhetoric of the far right which is the antithesis of the values this country represents, decency, tolerance and respect."
In response, Trump claimed the United Kingdom was being overtaken by "radical Islamic terrorism."
"@Theresa_May, don't focus on me, focus on the destructive Radical Islamic Terrorism that is taking place within the United Kingdom," Trump tweeted after May's rebuke. "We are doing just fine!"
The incident provoked intense criticism from other British politicians. Labour party leader Jeremy Corbyn, for example, described the retweets as "abhorrent, dangerous and a threat to our society." He was among the U.K. leaders calling for May to cancel her invitation to Trump in light of the shared propaganda.
Nevertheless, Trump's visit to the U.K. is on track. Trump is scheduled to arrive in England on July 13, one day after a NATO summit in Brussels. His presence is widely expected to trigger large protests, particularly in London. A petition opposing his visit has garnered more than 1.8 million signatures under the pretense that it "would cause embarrassment" to the queen. But according to The Independent, Trump will meet with Queen Elizabeth II upon his arrival, despite concerns from the public.
"Meeting Her Majesty is the most important thing, because she's the head of state, and from then on, it'll be what the president wants to do," U.S. Ambassador to the U.K. Robert Wood Johnson told Sky News.
In addition to meeting with the queen, the White House and May's office confirmed back in April that the pair would set aside time to get together while he was in the country. Reports indicate that the two may host talks a safe distance away from anti-Trump protests in London at Chequers, the prime minister's country retreat.
In many ways, May and Trump's relationship appears to be very similar to others which Trump publicly fosters — one day it is quite warm, and the next it is quite cold. The only certainty is that the temperature tends to shift at the drop of a hat — or tweet.