Inside The British Countryside Retreat Where Trump & Theresa May Are Expected To Meet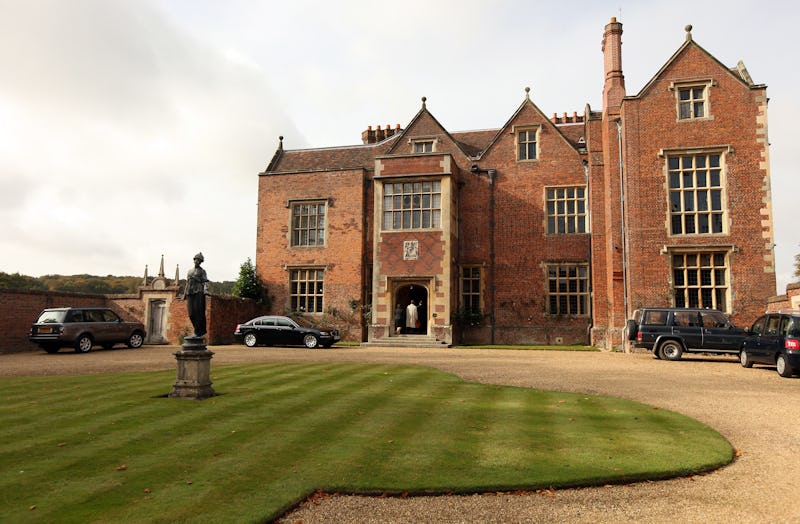 Oli Scarff/Getty Images News/Getty Images
As President Trump prepares for a trip to the United Kingdom next week, Brits are gearing up to protest the American leader's arrival. British Prime Minister Theresa May reportedly suggested she meet Trump at Chequers to avoid the demonstrations in downtown London, which may have you wondering: just what is Chequers? The concept isn't that different from the U.S. president's weekend home.
Britain's prime minister retreats to Chequers Court — Chequers for short — when they need to escape the city. The country residence is basically the U.K. version of Camp David, where U.S. presidents spend down time and host less formal meetings. Similar to Camp David, Chequers is located in a secluded area of the Chiltern Hills, just outside the British capital.
Over the weekend, May met with her cabinet at Chequers to discuss the U.K.'s options for post-Brexit customs arrangements. And her office confirmed Friday that she will also hold talks with Trump there. Although it's unclear what the two world leaders will discuss, May recently called Trump's strict immigration policies "disturbing." But even if the conversation gets tense, Chequers offers a pretty serene backdrop for any meeting.
The building itself is a 16th century manor sitting on roughly 1,500 acres of land. There are multiple explanations for the origin of its name, including one theory that the house was built or inhabited by someone named Elias Ostiarius. Because "Ostiarius" meant an Usher of the Court of the Exchequer at the time, it became Chequers. Another theory suggests the house is named after Wild Service Trees, which produce small berries called chequers.
Although the manor has been around for centuries, it wasn't gifted to the British government until after World War I. As the Chilterns Conservations Board's website explains:
"Following the war a new breed of politician was entering government. These men did not have the country houses of previous prime ministers in which to entertain foreign dignitaries, or relax from the affairs of state, so after lengthy discussions with David Lloyd George, the then Prime Minister, Chequers was given to the nation as a country retreat for the serving Prime Minister by the Chequers Estate Act 1917."
In 2005, the estate officially became a protected site under the Serious Organized Crime And Police Act, meaning anyone caught trespassing on the property faces up to six months in jail and/or a fine.
Camp David has equally intense security. The president usually reached the cabin, located in Maryland's Catoctin Mountain Park, by helicopter. But despite the fact that Camp David boasts a driving range and a single golf hole, Trump hasn't spent much time there.
"It's a phenomenal, beautiful piece of greenery. It's spacious, it's open, it's rural, but there are no marble cabinets or granite countertops," Ari Fleischer, a former White House press secretary for President George W. Bush, told Town & Country magazine. "By government standards, it's luxurious; by five-star-hotel standards, that's not what it is. So I suppose President Trump's tastes run more toward, obviously, Trump hotels, Trump properties, their more modern luxuries."
Chequers' extensive gardens offer a similar country getaway, but the real draw for Trump and May lies in its location outside of London. Huge crowds are expected to take to the streets all over the U.K. on July 13 in protest of Trump's visit, with London hosting the largest demonstration. Activists also plan to fly a massive balloon depicting Trump as a baby over central London that day. "Hundreds of thousands of people up and down the country will join forces to show that his rhetoric of hate and divisiveness isn't accepted here," the "Stop Trump" protest's website reads.
So meeting miles away from all that the commotion at Chequers will likely appeal to both Trump and May.