Joanna Gaines Reveals Whether 'Fixer Upper' Clients Get To Keep The Furniture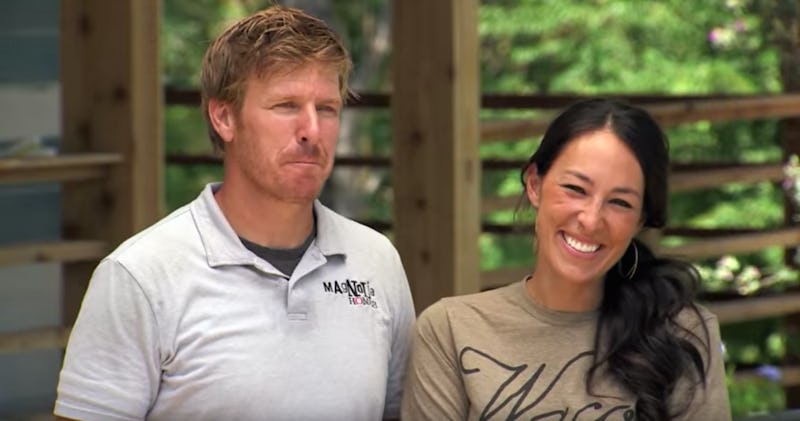 YouTube/HGTV
HGTV's beloved home renovation show Fixer Upper is coming to an end after Season 5, and design lovers must prepare to bid adieu to Chip and Joanna Gaines. Thanks to these two, dozens of properties in the Waco, Texas area have been transformed into beautiful homes that have consistently brought the owners (and everyone watching at home) to tears. Everything in the house seems perfect once the Gaineses gets their hands on it, but do the Fixer Upper homeowners get to keep the furniture?
It all depends on the homeowners and their budget, according to Joanna. On her Magnolia blog, the designer answered multiple fan questions about how Fixer Upper works behind the scenes.
"Our show features real clients with real budgets. The furniture budget is not part of the renovation budget, it's something some clients add at the end," she wrote. "About half of our clients already have all their own furnishings, some of which I use for the reveal, and others buy the items I decorate the home with."
Bustle also reached out to HGTV for comment regarding the show's renovation process and received the following statement:
During production of the current season, the requirement was that a homeowner's financial contribution be in proportion to the amount of renovations the home required. Bustle.com readers can get all the "inside scoop" on the Fixer Upper staging and design process by watching the new spin-off series, Fixer Upper: Behind the Design, a half-hour, behind-the-scenes companion to Fixer Upper that is set to premiere on Tuesday, April 10 at 8 p.m. ET/PT. It will focus on Joanna's process to create the breathtaking designs seen in each Fixer Upper episode.
Season 3 Fixer Upper alum Jamie Ferguson echoed Joanna's statements about purchasing some furniture items post-show. In an interview with home and design blogger Rachel Teodoro, Ferguson claimed that most of the furniture seen on reveal day is "staging furniture," meaning it's just there for ambiance. Although Ferguson did mention in her interview that Joanna incorporated a blue buffet table, a gray and black dresser, a neutral sofa, and some accessories, like a mirror and wall art that she and her husband already owned into the renovation.
"She does do an amazing job," Ferguson said in the interview. [The] big blue buffet [is so] special to me! [My husband Kyle and I] bought it when we were first married. It was cherry wood. One day in Austin I decided I wanted to jazz it up so I painted it blue, antiqued it and added gold gilding. So when Joanna wanted to use that piece in our final design it made me giddy!"
Although Fixer Upper shows a few renovations each installment, viewers don't normally see that the entire house, not just those rooms, often gets renovated, as happened with the Ferguson's house. Most of the staging furniture comes from Joanna's Waco storefront Magnolia Market, according to Starcasm.
In addition to the furniture not being free, the renovations also cost Fixer Upper guests a pretty penny. According to POPSUGAR, clients on the show allegedly have to put down at least $30,000 for renovations. And that's just a starting point. The Belleville News-Democrat reported that guests who were chosen to appear on the show reportedly later received a detailed renovation plan and cost estimate from the Gaines family, which meant their budget could rise higher.
Fortunately the Magnolia team helps each couple create a realistic budget and renovation plan before filming — and even lets them help out a little with the design. Fixer Upper alum Lindy Ermoian said that the Magnolia designers would text she and her husband asking what they thought about a particular element and allow them to give feedback. "It really did seem like they wanted to please us," Ermoian told Rachel Teodoro.
Of course, the sticker shock of being on the show isn't a total surprise, as it'd be nearly impossible for Chip and Joanna to renovate that many houses for free. And it's great that cast members get to contribute their own furniture in little ways. That way, it becomes a blend of old and new — and they don't have to buy everything they see when they walk in. Some if it could already be theirs.
Editor's note: After publication, we discovered this article did not meet our editorial standards: There were portions that did not correctly attribute another source. It has been updated to meet our standards.