'The Miseducation Of Cameron Post' Shows The Dangers Of "Gay Conversion" Camps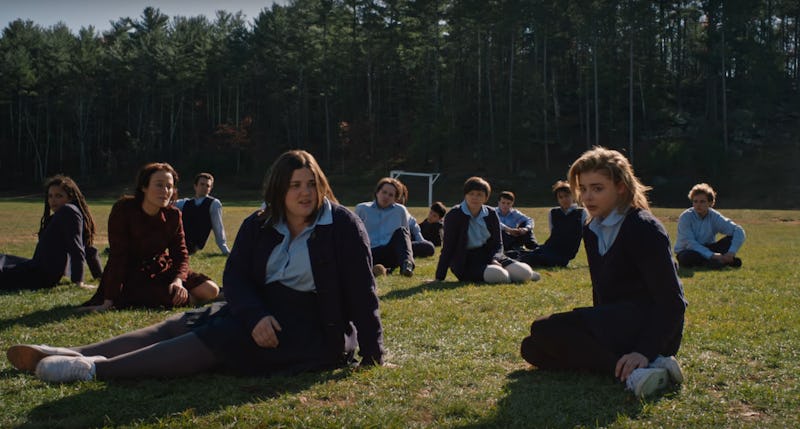 FilmRise
The upcoming movie The Miseducation of Cameron Post (out Aug. 3) is about a teen who is sent to an anti-LGBTQ camp after her aunt finds her hooking up with another girl. The movie is set in 1993, but just because it takes place 25 years ago does not mean that so-called "gay conversion" camps don't still exist today. They do, they just might be harder to find.
In the film, Cameron (Chloë Grace Moretz) is forced to go to God's Promise, a Christian camp that tries to "turn" gay teens straight. At the camp, Cameron makes friends, many of whom are well aware that that's not possible, and are just waiting out the time until they can leave. In the trailer, Cameron is told, "The first step is for you to stop thinking of yourself as a homosexual," to which she replies, "But I don't think of myself as a homosexual. I don't really think of myself as anything."
Sadly, this type of program is not something that was just created for the sake of a movie. In fact, the movie is based on a book by Emily M. Danforth, who was inspired by the Zach Stark controversy, according to an interview the author did with Slate. Stark was a teen boy who gained attention in 2005 after he posted about his family planning to send him to "a fundamentalist Christian program for gays" on MySpace.
And "gay conversion" — be it through a camp or otherwise — still exists today. Only 14 states and the District of Columbia ban, or will soon ban, "conversation therapy" for minors. There are also many cities and counties that have enacted bans, according to the Human Rights Campaign. The ban is not nationwide nor have that many states adopted one, despite the fact that these practices have been widely discredited and are dangerous to the usually unwilling participants. According to GLAAD, the American Psychiatric Association, the American Psychological Association, the American Medical Association, the American Academy of Pediatrics, and the National Mental Health Association have all spoken out against what practitioners claim is "treatment" of LGBTQ people.
In 2017, ABC News did an investigation into the camps, and reporter Brian Ross noted that they are "places that many claim no longer exist." In the wake of the investigation, a pastor who ran one of the facilities was arrested and sentenced to 20 years in prison after six teens testified that he "abused and tortured" them.
Outside of the camps, a January 2018 study from the Williams Institute at the UCLA School of Law found that an estimated 20,000 LGBTQ youth in states where the practice is not banned would receive "conversion therapy" from a licensed health care profession before the age of 18. (This was released when 41 states did not have bans; the number of states without bans has since decreased.)
Clearly, whether in a camp or not, this type of "therapy" still exists. Perhaps The Miseducation of Cameron Post, which already won the Sundance U.S. Drama Grand Jury Prize, will shed a light on the practice for those who never understood the extent of it.