If You Think #MeToo Fixed Hollywood, This Director Needs You To Know That's Not The Case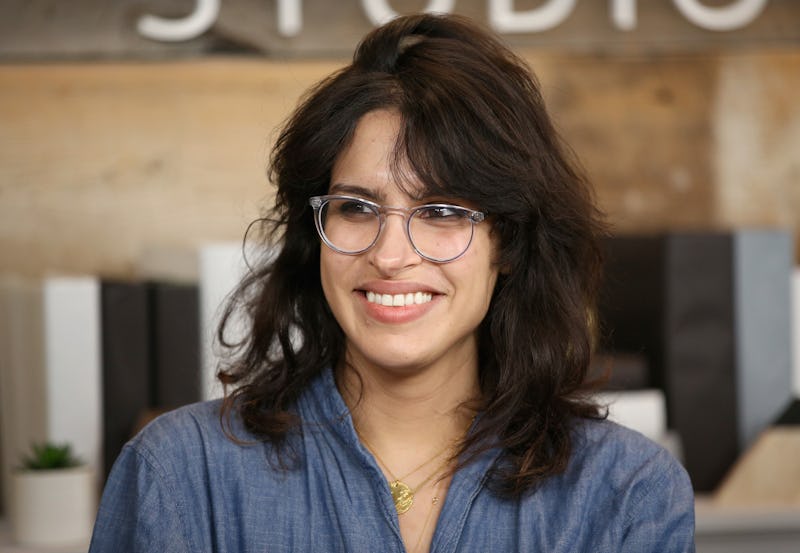 Rich Polk/Getty Images Entertainment/Getty Images
If you are a woman in 2018, chances are that you've been asked how you feel about the #MeToo movement and harassment in Hollywood. If you're a famous woman, you probably get that question oh, just about every other day. But if you're a famous woman who's also the director of a female-led movie that won the biggest prize at the Sundance Film Festival? Well, you'd better have a response at the ready, because your opinion on the changing tides in the film & TV industry is all people want to know about. But according to Desiree Akhavan, director of The Miseducation of Cameron Post, she's not required to have an answer for the world, just because it's all anyone can talk about.
"Everyone's expecting me to have an anecdotal way of showing how the industry's become better, but it's just happened," says Akhavan, taking a break from a busy press day during the festival in January. "Ask me in four years, and I can have a smart conversation about it. Right now, I'm just trying to work."
It's not that Akhavan isn't interested in the ongoing conversation about sexual assault and harassment, or that she isn't hopeful that actual progress will be made when it comes to gender equality in Hollywood and elsewhere. She fully believes that it's an "important dialogue" — she's just not eager to make any sweeping statements about how things are or aren't improving in her industry, despite people wanting her and other female filmmakers to do just that.
"I just don't have an answer about what I think the change is, because we're at the very, very beginning of something," Akhavan explains. "And yeah, I'm gung-ho, like, 'let's do it girls,' but I have nothing to add to a conversation about what's been done already, because no, it hasn't touched my life yet."
An Iranian-American writer, director, and actor whose first film, 2014's Appropriate Behaviour, earned rapturous reviews, Akhavan is no stranger to the inner workings of Hollywood. Back in 2010, she co-created the web series The Slope and starred in its episodes; in 2015, she had an arc on HBO's Girls as a classmate of Hannah's; a year later, she was commissioned to write, direct, and act in the upcoming Hulu series The Bisexual.
And now there's The Miseducation of Cameron Post, a '90s-set coming-of-age story about a lesbian teen (Chloe Grace Moretz) sent to a gay conversion camp. The film, based on an acclaimed 2012 YA novel by Emily M. Danforth, wowed Sundance audiences with its stark, affecting look at homophobia and teenage sexuality, and it's the type of movie — female-led, LGBTQ-focused, made by a woman — that's in line with everything feminist activists are fighting for in Hollywood these days. But while Akhavan gladly acknowledges that this is the case, she refuses to dismiss the film's success as just being a result of today's movements.
"I think nobody wants to be on the wrong side of history right now, and a lot of sh*t's coming out, and everyone wants to save their a**," Akhavan explains. "But at the same time, I think that these are really good films that should be paid attention to and would've been paid attention to anyway. I mean, this film got programmed before that [Weinstein] scandal burst and I'd like to think that we'd be respected even if people weren't feeling guilty about being rapists or enabling rapists."
Despite its glowing reviews, Cameron Post hasn't yet found a distributor, and the fate of the film is up in the air. But assuming it does hit theaters eventually, Akhavan hopes that people will give it and other movies made by and starring women the attention — and money — they deserve.
"It's not about press or who's saying what. It's about how do we monetize women's stories," the director explains. "More than the awards, I'd like to see where the money goes... I know what opportunities I've had and what opportunities I haven't had as a filmmaker, and I know the things that are f*cked up."
Indeed they are, and while it might take years for things in Hollywood to be at a better place, we shouldn't have to wait that long for female directors — and the powerful stories they make — to be at the forefront of the conversation.
This story was created in support of Bustle's 2018 Awards Season pledge. Read more here.