How Ivanka & Tiffany Trump Talk About Each Other Tells You A Lot About Their Relationship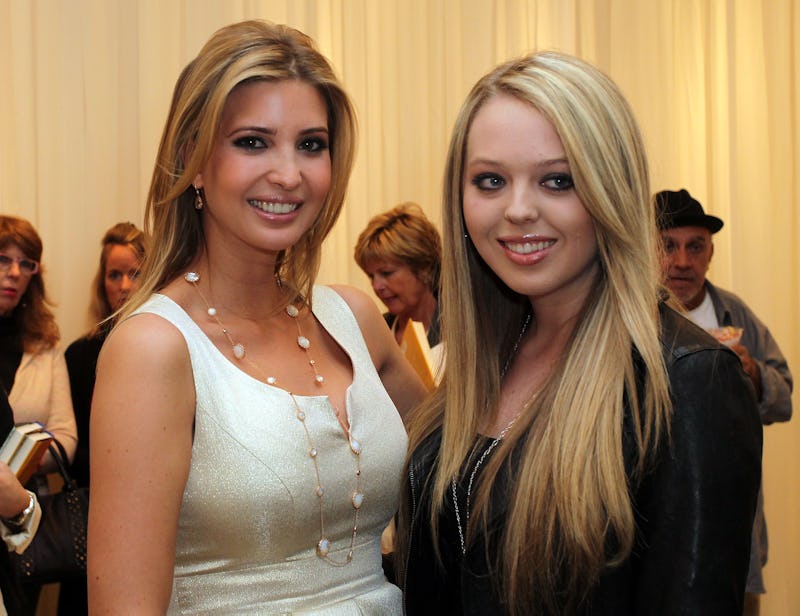 Frederick M. Brown/Getty Images Entertainment/Getty Images
The president's two daughters may be part of the same family, but their personal styles couldn't be more different. One is one of the most famous White House employees in the country, while the other has no official business whatsoever with the White House. While observing the first family, then, it's natural to wonder: Do Ivanka and Tiffany Trump get along?
Tiffany is Donald Trump's only daughter from his marriage to Marla Maples, and after the two divorced in 1999, Tiffany lived with her mother in Calabasas, California — thousands of miles away from her father, Ivanka, her two brothers, Don Jr. and Eric Trump, and the family business. Ivanka became famous largely due to her association with Donald, both as a co-star on The Apprentice and, later, as one of his most visible campaign surrogates. Tiffany, by contrast, primarily built a name for herself as one of the so-called "Rich Kids of Instagram," which is exactly what it sounds like.
But according to Ivanka, and some bits of reporting on the matter, the two sisters are close. Despite the fact that they're half-sisters, despite the fact that Ivanka is 12 years older than Tiffany, and despite the fact they've spent most of their lives living on opposite sides of the country, the two first daughters reportedly do have a close personal relationship.
"She's my little sister," Ivanka told People magazine in 2016. "I've been close to Tiffany her whole life, and I really love her." She added that, although she grew up in New York while Tiffany was raised in California, the two "would see each other on all of the holidays and talk to each other frequently."
Ivanka also addressed her relationship with her younger sister in the 2009 book, The Trump Card. When Tiffany was 15 and Ivanka was 27, Ivanka wrote, Tiffany had wanted to ask their father for money but was nervous about doing so. Ivanka says that she counseled Tiffany on how best to approach their dad, but ultimately, Ivanka took matters into her own hands.
"Big Sis did an end-around to save Tiffany the trouble," Ivanka wrote. "I didn't tell her, of course but I went to our father and suggested he think about surprising Tiffany with a credit card for Christmas, with a small monthly allowance on it. Sure enough, he did just that. Tiffany was thrilled and relieved. And so appreciative."
A friend of Tiffany's told Variety in 2017 that the two sisters remain close. Tiffany looks up to her older sister, the friend said, and seeks out Ivanka's "politics advice, boy advice, and sisterly advice." The same friend also said that when they were younger, Ivanka taught Tiffany how to survive growing up famous ("Make sure when you sit down you cross your legs" was one piece of advice Ivanka reportedly offered).
Despite their reported closeness, Ivanka and Tiffany are hardly seen in public together. However, this seems primarily due to the fact that Tiffany generally avoids the national spotlight altogether. Tiffany, along with 12-year-old Barron Trump, was the only one of Donald Trump's children not to be named to the presidential transition team after Trump won the election, and — unlike Ivanka and her brothers Don Jr. and Eric — she doesn't work in the White House currently. She appeared at campaign events only sparingly, and while Ivanka quickly became one of the president's top advisers, Tiffany instead opted to attend law school at Georgetown University. Unlike Ivanka, she rarely gives interviews.
It was reported early in March that Tiffany and her boyfriend, Ross Mechanic, had broken up. A friend told Us Weekly that the relationship ended so Tiffany could focus on her studies.