Remember When Ivanka Brought Paul Manafort Into Trump's Inner Circle?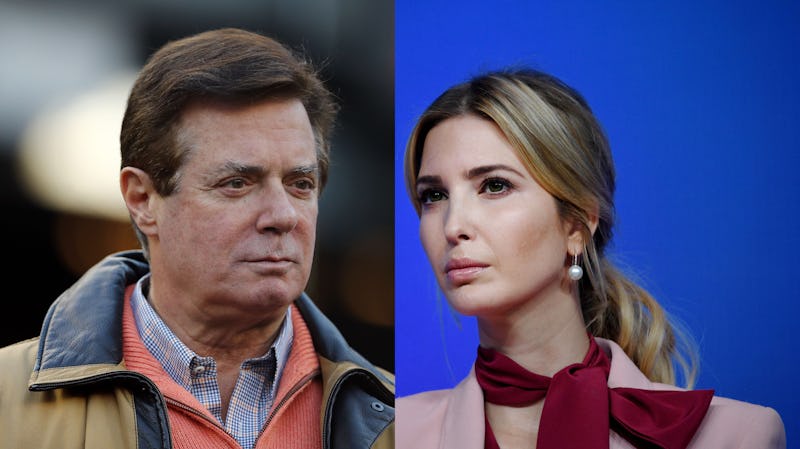 Getty Images
On Monday morning, former Trump campaign chairman Paul Manafort was officially charged in regard to Robert Mueller's Russia probe, and ordered to surrender immediately. Also facing charges is Rick Gates, a business associate of Manafort's. As of early Monday, the White House has not indicated that it is worried — but one adviser who must be particularly concerned is Ivanka Trump, who helped Manafort get a job with her father, according to an April New York Times report by reporter Glenn Thrush.
Manafort, of course, served as Trump's campaign manager from June through to August 2016. He replaced Corey Lewandowski, who had been fired by the now-president after weeks of internal chaos within the campaign, according to a report in The New York Times from June that year. Manafort had been widely believed to be the first to face criminal charges in Mueller's probe, which indicated Friday that it had asked a grand jury to approve charges against as-yet-unnamed individuals (these individuals turned out to be Gates and Manafort).
According to the Times, Ivanka and her husband, Jared Kushner, were partially responsible for drafting Manafort into the elder Trump's circle. Thrush reports that in early 2016, Manafort met with Thomas J. Barrack Jr., a friend to both Manafort and Ivanka. Barrack was impressed, and passed on Manafort's specific recommendations for Trump's campaign to Ivanka, who in turn gave Manafort's advice to her father.
Ms. Trump printed it out for her father — who hates reading documents online — along with Mr. Barrack's recommendation that Mr. Manafort be hired to manage the Trump operation at the Republican convention in Cleveland. Mr. Manafort was brought onto the campaign by the end of March.
Manafort was initially brought onto the campaign as an adviser, but had taken over the day-to-day strategic running of the Trump campaign by June.
As for Ivanka's father, he wrote on Twitter Monday morning:
Sorry, but this is years ago, before Paul Manafort was part of the Trump campaign. But why aren't Crooked Hillary & the Dems the focus?????
Ivanka has faced a barrage of criticism for her role in the White House. Appointed as advisor to the President, moderates had hoped that she and her husband, Jared — who themselves are more moderate than many of Trump's associates — would tip the president more to the left. Ivanka's views are more left-leaning from her father's, and White House observers have long been aware of her vast influence on him — and yet, Ivanka has not yet had a discernible effect on her father's policies.
The president's daughter has consistently defended her apparent lack of action, telling CBS in April:
I would say not to conflate lack of public denouncement with silence. I think there are multiple ways to have your voice heard. In some cases, it's through protest and it's through going on the nightly news and talking about or denouncing every issue on which you disagree with. Other times it is quietly and directly and candidly. So where I disagree with my father, he knows it.
Earlier this summer, Ivanka once again tried to appease her critics. "Some people have created unrealistic expectations of what they expect from me," she said in an interview with The Financial Times. Once again, she noted that she is attempting to moderate her father's views in private.
To voice dissent publicly would mean I'm not part of the team. When you're part of a team, you're part of a team.