Here's What 'Grey's Anatomy' Fans Can Expect For Jo & Alex Next Season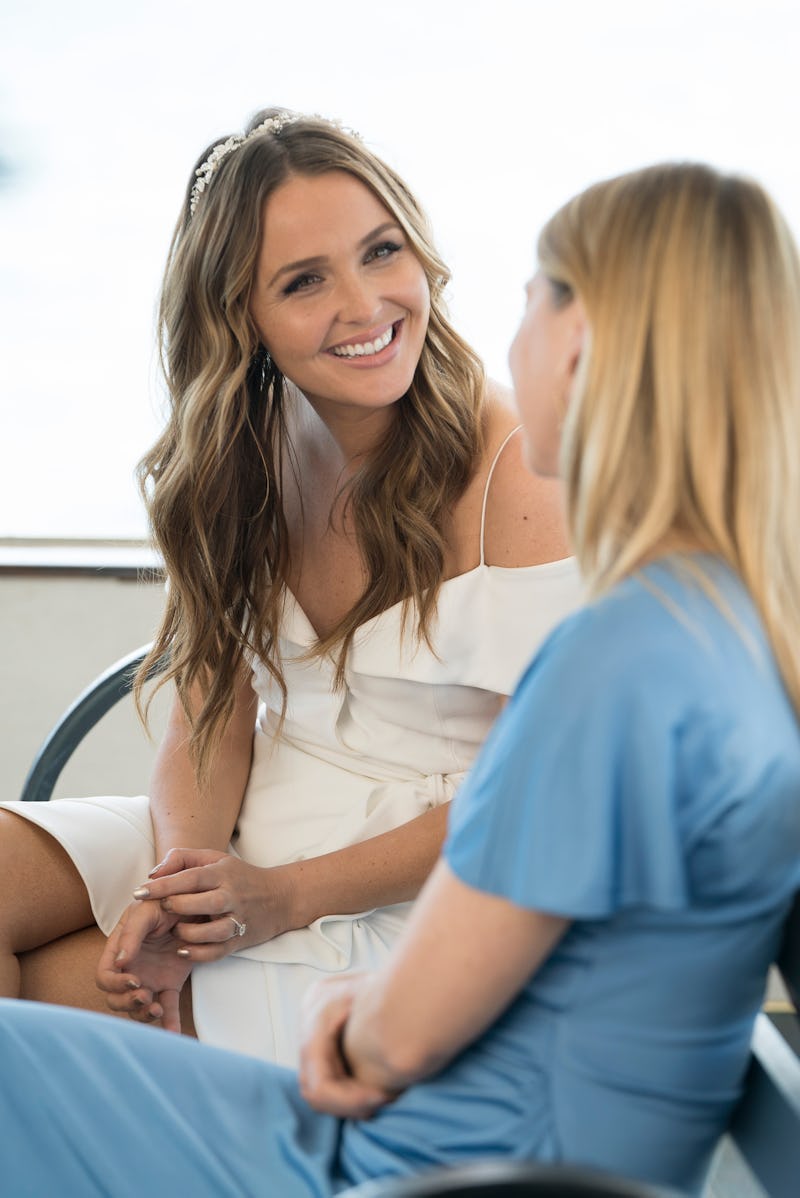 ABC/Eric McCandless
SPOILERS ahead for the Grey's Anatomy Season 14 finale. In Grey's Anatomy's season finale Thursday night, Jo got a few bombs dropped on her. Not only was her wedding a bit of a chaotic scene, but she also got huge news that could change her and Alex's future at Grey Sloan Memorial Hospital. So, are Jo and Alex leaving Grey's Anatomy?
Apparently, no matter what happens with Jo's possible position on the east coast — which she found out about toward the start of the episode — Jo and Alex will be back in some capacity next year. According to Entertainment Weekly, both Camilla Luddington and Justin Chambers had their contracts renewed to appear in Season 15.
The episode was pretty interesting as far as Alex and Jo's wedding goes — they did get married, but not exactly in the way that was planned. After getting locked in a shed with a literal skeleton of a man who had apparently died years prior (because why not?), they eventually said their vows on a ferry boat with Meredith Grey at the helm. Hopefully this forever puts to bed the idea that Meredith and Alex will hook up one day — she officiated his wedding to another woman, for Pete's sake.
The union itself is huge for a few reasons. Grey's viewers have been waiting to see if Jo and Alex would tie the knot for a while now, especially with how tumultuous their relationship has been in years past. They finally got together in a real way, and have officially committed to each other. That's fantastic, but it also means that if Jo takes a job on the other end of the country, Alex isn't going to chill out in Seattle if she needs to move there full-time. Since both actors are solidified to appear next year, Jo is likely either going to turn down the position in favor of becoming an attending at Grey Sloan — an opportunity offered to her by Meredith — or she's going to split her time.
The show could follow her in her east coast adventures while still featuring Alex back in Seattle, or she could peace out for a little bit before finding a way to return. Both of those have precedent — Grey's Anatomy followed Derek as he worked in Washington, D.C., even though Meredith didn't go with him. And Arizona left for Africa for a while a few years ago before eventually returning to be with Callie once again. There are plenty of ways they could play this, but if all goes to plan, Jo and Alex are permanently linked for the foreseeable future.
And honestly, that's refreshing. Poor Alex has been through the wringer. Yeah, he's made his own mistakes — the debacle with Deluca and his violence with Koracick a few weeks ago are still troublesome, no matter how much time eventually passes — but he's had the WORST luck with love, and that doesn't exactly help his stability. Izzy left with little to no notice, even amidst a battle with cancer, as Alex constantly worried what was happening to her. And Rebecca, aka "Ava," went back to her husband after Alex nursed her throughout mental health and physical recoveries. It's about time he had someone relatively stable whom he can navigate through life with in a meaningful way.
So, hopefully with Jo, things work out for the best, no matter where she ends up chasing her career dreams. She shouldn't pass anything up just because she's afraid to leave Alex behind in Seattle, and Alex should be flexible when it comes to how and where he's willing to move. But fans will definitely still want them to appear on the show, and Grey's wouldn't seem the same without them. The renewed contract is a great sign, so it's just a matter of time before we see exactly how this whole situation shakes out.