Kylie's Velvet Lip Kits Go On Silky Smooth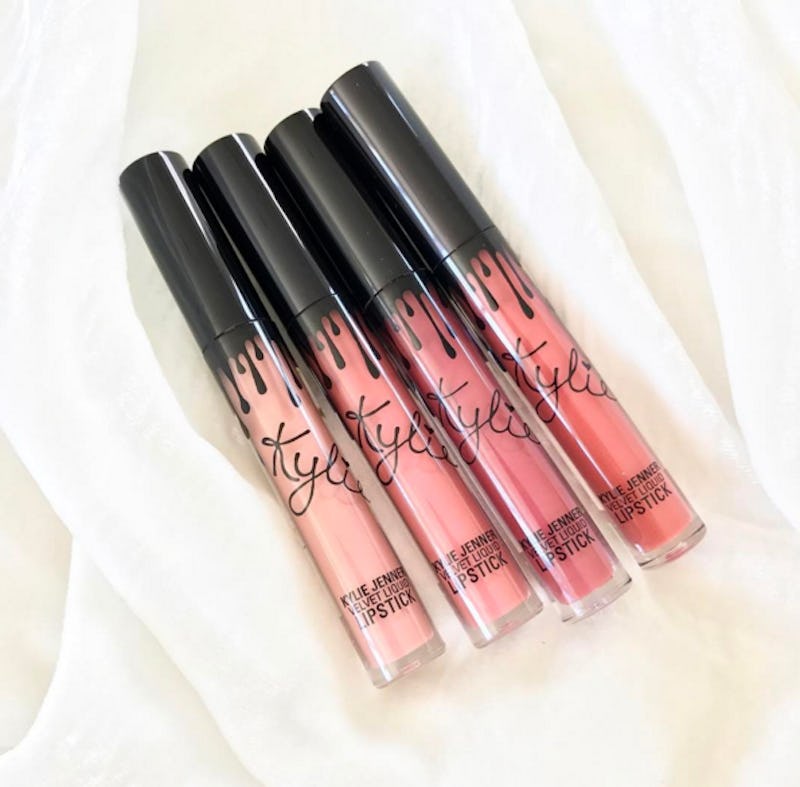 kyliecosmetics/Instagram
Kylie Jenner — being the savvy business woman she is — got the world talking when she launched her first-ever Lip Kits. And now that she's releasing a brand new formula, she's giving her fans something major to talk about, yet again. Since you're likely dying to know everything there is to know about this new product, let's investigate, shall we? Do Kylie Cosmetics' Velvet Lip Kits have a doe foot applicator? Here's the deal with the lipstick application process.
Based on the photos and videos from Jenner's Snapchat, the Velvet Lip Kit will have the same doe foot applicator the matte Lip Kits have. She branched out to try brushes with bristles for the glosses in her makeup line, but she appears to have stuck with the sponge-y doe foot wand for her round two of her Lip Kits.
Since this brand new formula is a "demi-matte," a sort of mix between a matte lipstick and a shiny gloss, it wasn't necessarily clear what type of wand would be necessary for applying this lippie. I think Jenner's made a good choice to keep the application tool the same. The harder edge of the doe foot applicator makes it easier to get a precise line, as opposed to a brush, IMO. So, since these aren't going to glide quite as easily as a gloss and are super pigmented, I'm pleased with Jenner's decision, as per usual.
Four creamy Velvet Lip Kit shades are coming your way on Mar. 16!
They'll be available at exactly 6 p.m. ET/3 p.m. PT on that date, so make sure you're ready to add them to your cart, ASAP. If they're as popular as the last Lip Kits, they won't be available for long, that's for sure!
These swatches appear to be thick and consistent, thanks to this wand's tip.
You can expect the same rich color from this lippies, just with a brand new non-drying formula.
These really seem to go on smoothly, similar to the original Lip Kits you know and love.
As always, Jenner's great at showing us how to wear her products.
She even mixes them like a pro.
The end result is just gorgeous.
When it comes to creating products, Jenner never fails to deliver options you're going to need, ASAP. So, be sure you shop these new lippies as soon as they drop!