Mikey & Titus 'Shippers Might Not Like 'Kimmy Schmidt' Season 3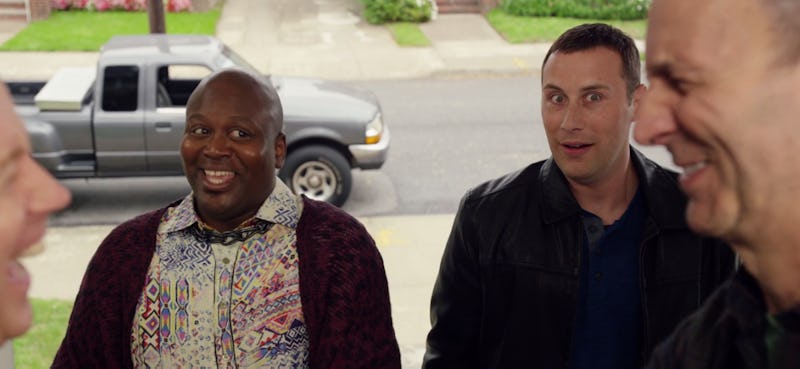 Netflix
SPOILERS ahead for Unbreakable Kimmy Schmidt Season 3, which is now streaming on Netflix. One of the highlights of Unbreakable Kimmy Schmidt Season 2 for me was that Titus found love in the most unexpected person: Construction worker Mikey. These opposites attracted in a sweet way, but the couple goes through a rough patch in the beginning of the third season. Do Mikey and Titus get back together in Unbreakable Kimmy Schmidt Season 3? Sadly, the couple might be over for good.
In the Season 3's second episode, Titus takes inspiration from Beyonce's groundbreaking 2016 visual album Lemonade and goes "Lemonading" when he spies Mikey hanging out with a "friend" at his apartment. Uh oh. After getting his emotions out in several of his own versions of Lemonade's music, Titus hangs out with Mikey and his friend Jeff, during which Mikey soon realizes the friend definitely is interested. Titus decides to break it off with Mikey for now— hoping that they find their way back to each other.
Titus spends the rest of the third season on various adventures without Mikey. In the sixth episode, Titus goes to bail Jacqueline (Jane Krackowski) out of a weird situation with Duke (Josh Charles) and finds himself attracted to Duke for a moment.
By the ninth episode, Titus gets set up with Reuben (Michael Benjamin Washington), a man from his church's choir, but Titus exits their coffee date feeling a bit uncomfortable with dating again. Finally, Titus awkwardly runs into Mikey at a gas station convenience store. "I've been getting out there, like you told me to," Mikey tells Titus. "Seeing the big beautiful gay world." Mikey continues, telling Titus about his adventures to Fire Island, dating, and meeting Andrew, his new man. Mikey tells Titus that he and Andrew are on their way upstate and Titus is visibly jealous and hurt that his ex has moved on without him. Titus lies and tells Mikey that he's dating Reuben, who is "as hot as the sandwich he's named after."
By the end of the season, Titus realizes Mikey is the man he wants to be with, so he schemes his way into performing his new hit song "Boobs in California" at a New York Mets Opening Day party cruise attended by Mikey and Andrew. Titus declares his love for Mikey in the song, but Mikey isn't sure how to respond, so Titus pledges to win back his love one day.
So, Titus and Mikey don't end up together in Season 3, but if Titus has his way, there's definitely hope for them getting back together in Kimmy Schmidt Season 4.