The 'Kimmy Schmidt' Season 3 Teaser Honors Beyonce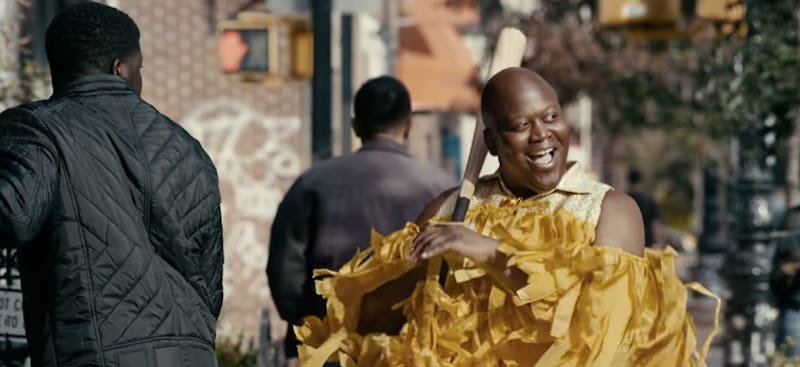 The question "are you in the mood to celebrate Beyoncé?" is a dumb one, because the answer is always yes. But I'm hoping that you especially are in this moment, because The Unbreakable Kimmy Schmidt Season 3 teaser is here, and it's the Beyoncé tribute that we both need and deserve right now. The popular Netflix show will return for its third season on May 19, which they announced with a trailer released on Monday. But, more importantly, the entire 40-second teaser is an ode to Queen Bey and her 2016 masterwork, Lemonade. Lest you think I'm reading into this and seeing Beyoncé everywhere, which I've certainly been guilty of in the past, please know that the Netflix show makes their inspiration crystal clear.
The trailer opens with the words "JOIN THE FORMATION," and then cuts to Titus Andromeda in black and white and a beaded headpiece, speaking directly into the camera. He's interrupted by a knock at the door, to which he responds, "Kimberly! Use your key, I'm Lemonade-ing!" So I already knew that this wasn't all in my head.
And that was before Titus came strutting down the street a homemade version of that iconic yellow dress, baseball bat firmly in hand, taking out his aggression on everything from a fire hydrant to his boyfriend Mike's truck.
It's a beautiful ode to what many feel was the best album of the year, cough cough. And it simultaneously reassures me that Kimmy Schmidt still has its finger firmly on the pulse of pop culture and that being in a relationship has done nothing to dull Titus' diva qualities. Praise be.
Also, I think it's hilarious that in the entire first trailer, we don't even get a glimpse of Ellie Kemper as Kimmy Schmidt herself, even though the whole series is named after her. This is Titus' show, and he's making it into Beyoncé's show, and I couldn't be happier about either of those things.