7 Things No One Ever Told You Period Products, According To Experts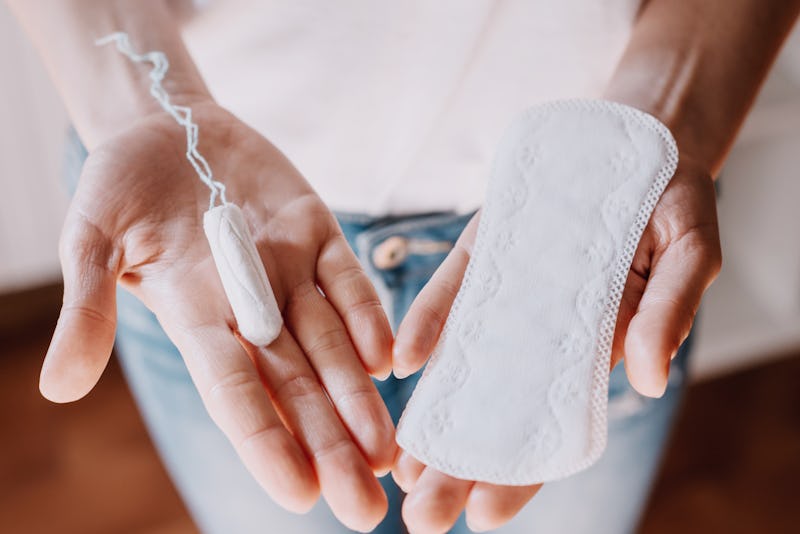 Shutterstock
The first time you learned about menstruation, you probably were taught the basics of what to expect and what to use to catch the blood flow. But there's probably still plenty of information about period products that you haven't been given. For example, does it matter whether you use scented products or unscented? Do tampons work for everyone's body? How much of a risk is TSS really?
You might only be familiar with tampons and pads as options to use during your period. But if those aren't the best fit for your body or your preferences, you have other choices. "Menstrual cups are menstrual collection products that are made out of silicone and are eco-friendly," Dr. Patrice Harold, director of minimally invasive gynecology at Detroit Medical Center's Hutzel Women's Hospital, tells Bustle. "They can be worn up to 12 hours. There are also reusable cotton cloth pads that are washable and made from organic cotton."
Another common issue is the cost of period products. "Over 30 states in the U.S. still classify period products a 'luxury,' and tax them accordingly," Yanghee Paik, co-founder and CEO of period product company Rael, tells Bustle. So if you struggle to fit single-use products into your budget, you might want to explore reusable options like a menstrual cup or washable pads.
Here's what you should know about period products, according to experts.