'Crazy Rich Asians' Veers From The Book In This MAJOR Way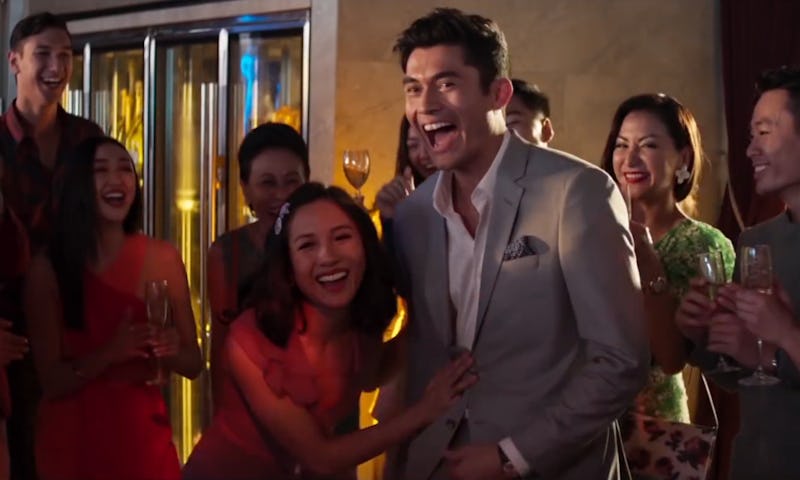 Warner Bros.
Spoilers ahead for Crazy Rich Asians — the book and movie. The new movie Crazy Rich Asians, in theaters now, uses author Kevin Kwan's book of the same name as the basis for a monumental story that's like an updated version of Cinderella. As everyone knows, Cinderella ends with a royal wedding, but Crazy Rich Asians doesn't conclude with a wedding for Rachel Chu (Constance Wu) and Singapore-royalty boyfriend Nick Young (Henry Golding). Instead, Rachel and Nick get engaged in the Crazy Rich Asians movie. As fans of Kwan's novel know, an engagement departs from the book's ending, which doesn't have quite as tidy of a conclusion as the movie.
In the book, Rachel learns that Nick's mom, Eleanor Sung-Young (Michelle Yeoh) had tracked down Rachel's father who she'd thought had died. It turns out that Eleanor tracked Rachel's father to a prison in China, and after finding out, the matriarch told Nick that she didn't think Rachel was fit to marry into the Youngs' highly influential family. Rachel has dumped Nick anyway, but then the book's prince-charming flies to California and brings Rachel's mom to Singapore. There, Rachel's mom explains that Rachel's father was actually a man who she had an affair with, and suddenly Rachel's life becomes even more complicated. Nick's family gets more complicated too, because at the end of the Crazy Rich book he remains estranged from his mother and grandmother.
The movie, however, has a somewhat different ending. It's evident just from the trailer of Crazy Rich Asians that Nick wants to bring his girlfriend to Singapore in the first place to take their relationship to the next level. The major conflict comes from Eleanor's disapproval of Rachel, but at the end of the movie, Rachel faced off with Eleanor during an intense game of mah-jongg, and Eleanor finally capitulates, accepting Rachel as part of the family. Then, Rachel and Nick get engaged in a scene set on an airplane, confirming the movie as a triumphant rom-com.
The engagement between Rachel and Nick in the movie shouldn't come as too big of a surprise for fans of Kwan's books, though, because Rachel and Nick end up getting married eventually. However, the books don't really make a huge deal out of either Rachel and Nick's engagement, or the two's wedding ceremony. Sure, the union between them cause problems in Nick's family, but Kwan's novels don't focus quite as much on the fairytale-like ceremonies that so often occur with engagements and weddings. After all, the family dramas and conspiracies that unfold in the three books create more than enough drama-filled storylines.
The Crazy Rich movie, however, includes so much wedding decadence that you might think the whole thing was sponsored by Vera Wang. It's not, and nor is the movie a fluffy fairytale romance, but it certainly is fun to watch the dazzling wedding glamour. Once in Singapore, Rachel and Nick participate in wedding preparations for the latter's friend, Araminta Lee (Sonoya Mizuno). The bachelor and bachelorette parties, naturally, provide some of the most lavish moments; Araminta, for instance, brings her friends and bridesmaids to a private island, so you can imagine how extravagant her actual wedding ends up.
Since the Crazy Rich Asians movie includes so much visual luxury, it makes sense that Nick and Rachel get engaged at the end, rather than the movie sticking to the book's version of events. The couple deserve a lavish party to celebrate, so really, it's for the best.