The Women's Strike Will Take Lots Of Planning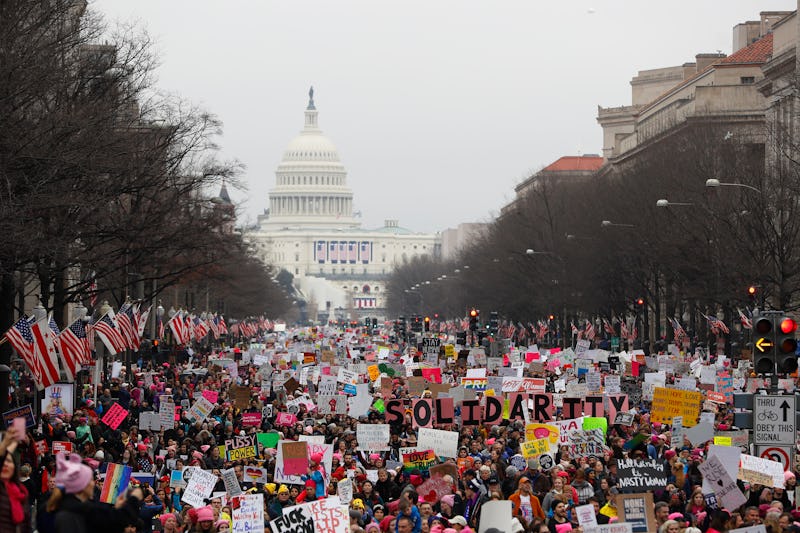 Aaron P. Bernstein/Getty Images News/Getty Images
The Women's March on Washington has a follow-up: "A Day Without A Woman," a general strike on March 8, also known as International Women's Day. But do strikes work? The Women's March organizers will have to weigh the potential setbacks and definite benefits of this upcoming action, but there's reason to have high hopes.
Less than one percent of negotiations end in strikes, said John Budd, the director of the Center for Human Resources and Labor Studies at the University of Minnesota's Carlson School of Management, CBS reported. "Ideally it's just the threat of a strike, and ideally it's the losses that both sides will potentially experience during a strike that keeps them negotiating," Budd told CBS. But in the end, he explained, a strike is only successful if your side makes more progress.
The original Women's March wasn't marketed as a strike; rather, it was promoted as a movement of solidarity, where people interested in equality could raise their voices. (Of course, seeing as it took place the day after President Donald Trump's inauguration, many saw it as an anti-Trump protest as well.) But the word "strike" has a different connotation; it signals a refusal to do something, whether that's working, going to school, or buying things.
Possibly one of the more well-known feminist strikes was the Women's Strike for Equality March on Aug. 26, 1970. The Women's Strike, sponsored by the National Organization for Women, featured 50,000 feminists blocking New York City's Fifth Avenue to demand equality and to show the power of feminism to the mainstream media. The organizers had three goals: "free abortion on demand, equal opportunity in employment and education, and the establishment of 24/7 childcare centers," TIME reported. In the aftermath of the strike, the women's movement managed through further action to pass Title IX, which prevents discrimination based on gender in federally funded educational programs. Women have definitely made strides in terms of taking part in higher education, but a significant wage gap, impacted by race and ethnicity as well, still exists.
Possibly the biggest accomplishment of the 1970 Women's Strike is that so many more Americans became aware of the fight for equality; NOW's membership increased by 50 percent, and 80 percent of adults knew about the women's liberation movement, TIME reported. The Women's March already had millions of participants and mass media coverage — but through the strike, the March's organizers could very likely increase the number of participants in subsequent events. They would also be able to keep media attention trained on the movement.
Right now we don't have too much information on how the strike will actually work. The Women's March is currently promoting a campaign to take 10 actions during the first 100 days of Trump's presidency. The actions since the original march have been focused on organizing; the latest, "Hear Our Voice," is a series of town hall-style events between members of congress and the general public. But the March's organizers have pledged to update you in the future, writing on Instagram, "Over the next few weeks we will be sharing more information on what actions on that day can look like for you."
Perhaps the upcoming strike will resemble ones that have happened since Trump tool office. Independent organizers in Milwaukee, Wisconsin held a "Day Without Latinos" on Feb. 13, drawing around 30,000 protesters and shutting down 150 businesses for the day, the Pioneer Press reported. Shutting down so many local businesses, even if just for a short period of time, helped further ignite discussion on the issue of Trump's immigration policies, and concretely showed how much immigrants contribute to Milwaukee's economy. But it's pretty clear that while it may have changed some minds locally and across the country through press coverage, a "Day Without Latinos" unfortunately won't automatically lead to Trump's immigration-related executive orders being repealed.
Additionally, not everyone can participate in a strike by skipping work or school. Many people can't afford to lose a day's income, even if they want to support the cause. Then again, some employers chose to give their workers paid time off for Feb. 16's "Day Without Immigrants" protest. Colin McDonough, the owner of McDonough's Boundary Stone restaurant in Washington D.C., paid his employees who chose to protest, the Washington Post reported. "We just got together and decided together as a team that it was a good idea on our part to give our team off to voice their concerns," McDonough told the Post. Other employers could choose to allow their workers to participate in "A Day Without A Woman" without penalizing them for their absences, but it could go the other way as well.
We'll have to wait and see how the Women's March organizers and employers choose to tackle the strike. Hopefully the March organizers will be able to come up with a variety of ways for people to participate, and for the strike to bring attention to specific issues.