North Koreans Are No Longer Allowed To Sing Or Drink Alcohol On Christmas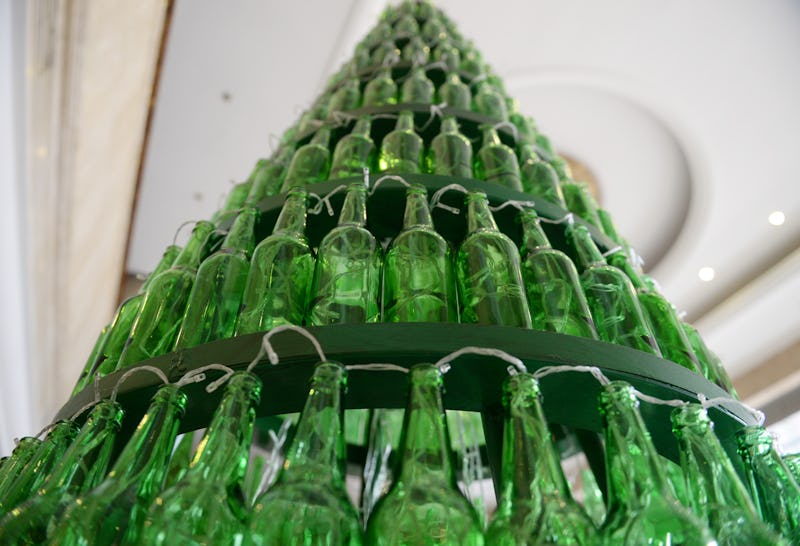 VCG/Visual China Group/Getty Images
Kim Jong Un is no fan of Christmas. The North Korean leader has been cracking down on the holiday within his nation's borders for years, even outright banning Christmas in 2016. This year he's taking things a step further: North Korea has banned singing and drinking at parties, so there won't be much of any yuletide cheer going around in the hermit kingdom this year.
The news, which seems like it almost came straight from Dr. Seuss' holiday classic, "How The Grinch Stole Christmas," was reported on Tuesday by South Korea's National Intelligence Service (NIS). "(North Korea) has devised a system whereby party organs report people's economic hardships on a daily basis, and it has banned any gatherings related to drinking, singing and other entertainment and is strengthening control of outside information," the NIS said, according to South Korean news agency Yonhap.
The NIS went on to explain that the measures were likely passed to try and put a halt to dissent, as the country is beginning to feel the effects of sanctions the United Nations imposed on it to push back on its growing nuclear program. And it's just the latest policy Kim has enacted in recent years to cut down on holiday cheer.
In the 1940s, more than a fifth of North Korea's population was actually Christian. In fact, Pyongyang even had a seated Catholic bishop. But all of that changed after the Korean War in the 1950s, when the new authoritarian regime started cracking down on religious activity so that citizens could instead express loyalty and dedication to the Republic. In fact, Open Door USA, a nonprofit organization that tracks worldwide persecution of Christians, has named North Korea the world's worst persecutor of Christians multiple times.
Still, the United Nations Commission on Human Rights estimates that between 200,000 and 400,000 Christians still live within the country's borders, and they have to be very to be very cautious about expressing their religion — especially around the holidays.
Needless to say, instead of good tidings and cheer, North Korea is generally filled with tension at Christmastime, and Kim's War on Christmas has even raised tensions between the regime and its neighbor South Korea. For years, South Korea erected a 30-foot tree of lights during the holiday season in the demilitarized zone along the North Korean border. But in 2011, the regime, which viewed the tree as an attempt to spread religion, warned South Korea that turning on the tree's lights that year would lead to "unexpected consequences." South Korean authorities reportedly took down the holiday structure soon after, though they promised to replace it with a new tower.
That's not even as bizarre as it gets. In 2016, Kim wanted so badly to assert that his citizens should worship the nation instead of religion that he actually ordered the nation to celebrate not the the birth of Jesus, but the birth of Kim's own grandmother on Christmas. His grandmother, Kim Jong-suk, also known as the "Sacred Mother of the Revolution," was reportedly born on Christmas Eve. Additionally, last year Kim banned displaced families from having holiday reunions with loved ones who live on the other side of the Korean border. The regime called the emotional reunions as "black hearted ... crafty trick " plotted by the United States.
It's safe to say that this year there will likely be no dancing, singing, or general holiday cheer in North Korea because of the regulations put in place by Kim, and that raises some serious questions about the religious persecution faced by thousands of Christians living in one of the world's most dictatorial regimes.