Here's How This 'RHOC' Pair Is Doing After Vicki Broke A Cardinal Friendship Rule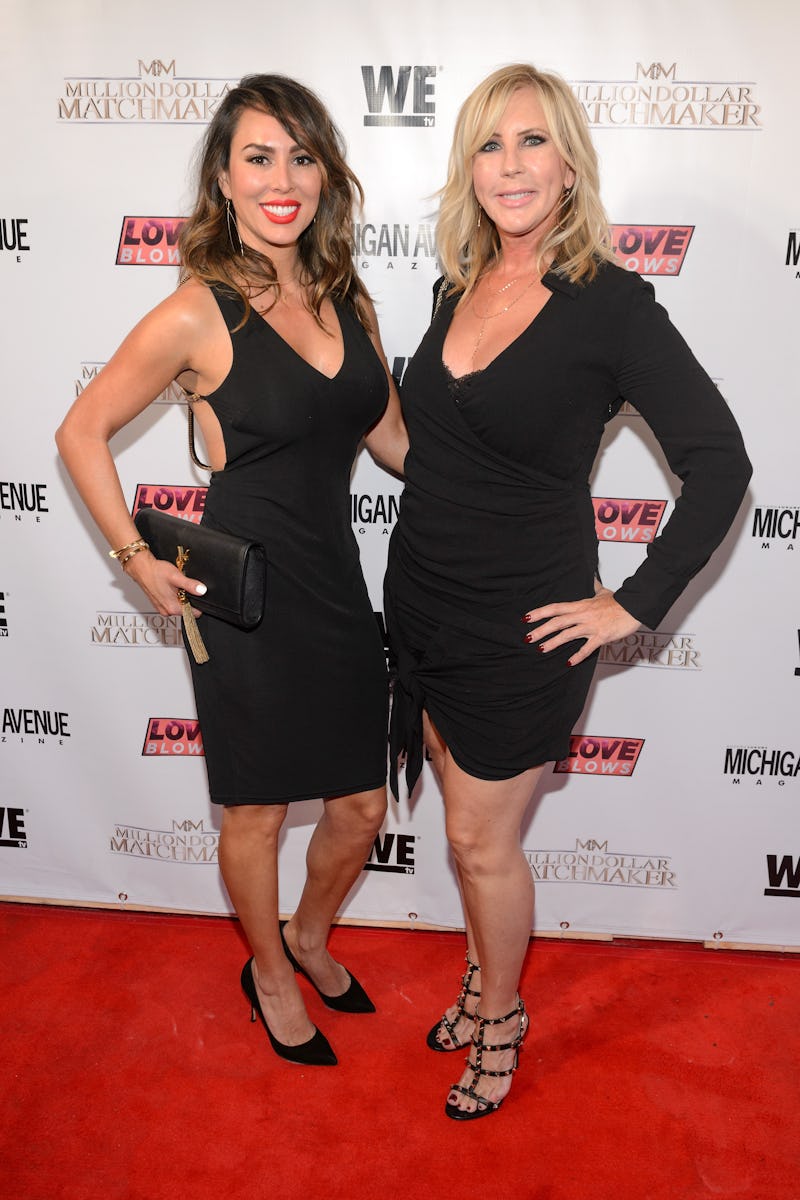 Daniel Boczarski/Getty Images Entertainment/Getty Images
Friendships can be complicated, but there are some things that you're just not supposed to do — like, say, set your friend's very recent ex up with another friend of yours. On Real Housewives Of Orange County, Vicki sort of helped set Michael Dodd, Kelly's ex-husband, with a different friend of hers, and Kelly absolutely blew her lid. Does RHOC star Vicki still talk to Michael Dodd? She doesn't want to have to choose between her friends.
Kelly and Michael Dodd are recently divorced, and this whole situation is pretty complicated. Michael met a friend of Vicki's at a party Vicki was throwing, and they got along like a house on fire. That's not Vicki's fault — it's just how it is when you mix together different groups of people. And that's not even something that Vicki had to disclose to Kelly, that Michael met a new woman at her house. Vicki had nothing to do with that. But what Vicki did do — and what Kelly is most angry about — is that Vicki went on double dates with her boyfriend and Michael and his new girlfriend. Kelly is incensed that Vicki would participate in her ex-husband's life, even though Vicki is also friends with Michael.
"Kelly's dating, she's fine," Vicki said on Real Housewives Of Orange County. "She said [to Michael], 'I want you to find somebody else. I want you to date.' … The fact is, he's moving on. And if I've got some single girlfriends who want to meet her ex-husband, so what? It has nothing to do with Kelly. She's the one who dumped him."
Kelly's very emotional response to Vicki is understandable, and it's easy to see why she could feel betrayed that her friend is still hanging out with her ex. Michael should have been the one to say something to Kelly. But Kelly and Michael are no more, and Vicki has stated that she doesn't want to have to choose between Kelly and Michael — she is friends with both people, and she won't get in the middle of it. (Hanging out with them in secret is kind of getting in the middle of it, but props to Vicki for being rational about this.)
There are no pictures of Vicki and Michael on social media, but on one of her Bravo blogs, Vicki said that Steve (her boyfriend) and Michael are good friends and they do still see him. She wrote:
"Keep in mind, Steve and Michael are still close friends and see each other often. It would be logical Steve and I would see who he was dating and even spend time with them, so I am awe struck at the outrage Kelly has demonstrated towards me. The person Michael dated for a short time is a friend of mine. Both her and Michael asked me to keep their relationship confidential."
Kelly's emotional and Vicki's not wrong and it's all such a big mess. And it's not over yet — Page Six reports that Kelly said she and Vicki are no longer the close friends they once were. Kelly said:
"It didn't ruin our relationship but it put a big, huge ding in it. I'm not as close to her. She doesn't invite me over to her house anymore like she used to. She's kinda more on the Michael side and I'm great friends with Michael — like I could go over there. I think her boyfriend likes Michael more than me… I don't know, I'm not best friends with her anymore like I used to be."
In situations like these, time seems to heal all wounds. Maybe, eventually, Kelly and Vicki can mend their relationship and Kelly can respect the fact that Vicki is between a rock and a hard place when it comes to Michael and Kelly. For now, Vicki seems like she's trying to be Switzerland and stay friends with everyone in this tough situation on Real Housewives Of Orange County.