Vicki's Daughter Is Taking A Step Back From 'RHOC' For This Totally Understandable Reason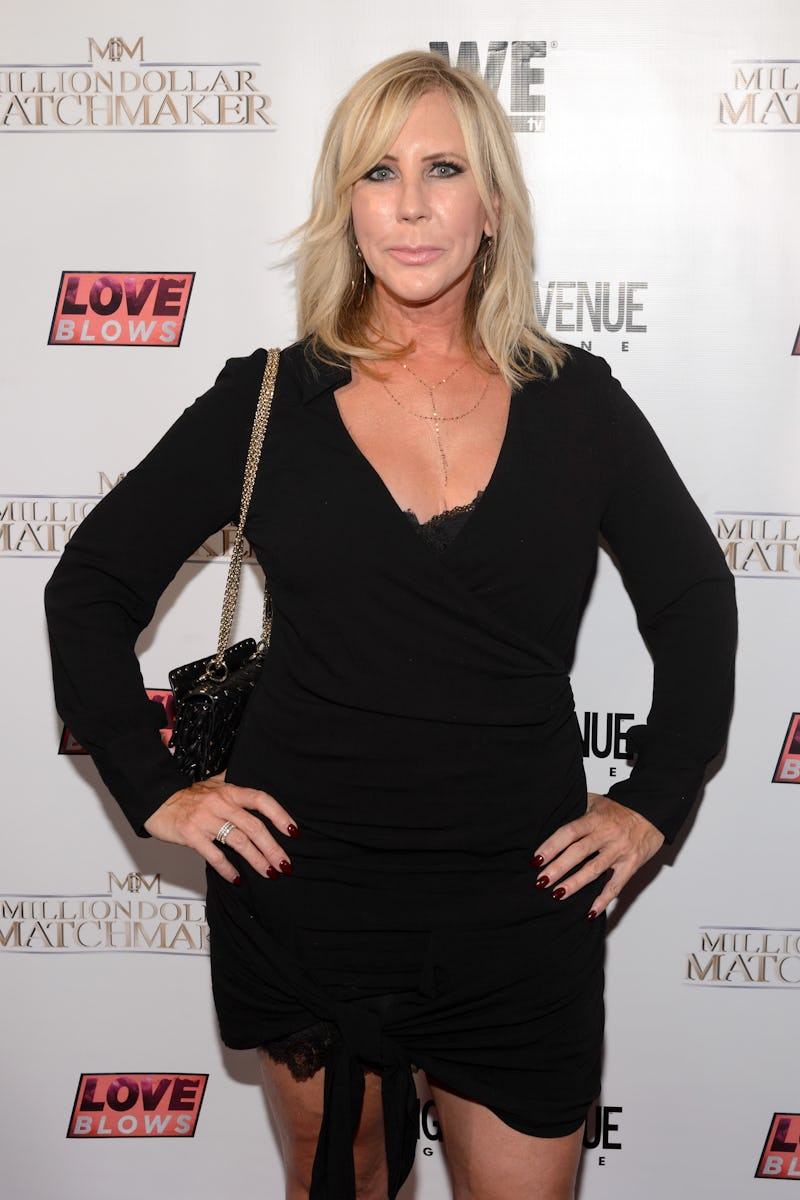 Daniel Boczarski/Getty Images Entertainment/Getty Images
Vicki Gunvalson's daughter, Briana Culberson, has been part of Real Housewives of Orange County since the very first episode premiered in 2006, but times have changed. Vicki's daughter will not be in RHOC Season 13, the Housewife revealed to Entertainment Tonight. Fans may have noticed Briana wasn't standing behind her mother in this season's opening credits with Vicki's boyfriend, Steve Lodge, and her son, Michael Wolfsmith. As bummed as viewers might be about Briana's absence, the reason behind it is completely understandable.
"She wanted to be done," the OG from the OC explained. "She was really in a place in her life with Ryan, Ryan just retired disability Marine, they decided to move to North Carolina, where he's from, and build a life there."
As Vicki said, Briana, her husband Ryan Culberson, and their two boys, Troy and Owen, now live in North Carolina, his home state. Over the past few seasons, the audience has watched Briana and her family relocate multiple times. She first moved away from Orange County to Oklahoma following Ryan and his military career. Remember how much Vicki loved Oklahoma? Then, they moved back to Orange County, which was a thrilling moment for Vicki. According to a November 2017 Instagram, Ryan said the reason they moved this time was to "live a simpler stress free life."
That's exactly the reason Briana is taking a step back from reality TV. "She wanted to just have a break and be kind of incognito, keep the kids off camera," Vicki said. "The unfortunate part about putting your children on camera and yourself is, the trolls come out, and the negative people come out, and the people that have their 'opinion,' and she's like, 'I don't want to hear it anymore. I'm a good mother, I'm a good wife, and we have a great family. I don't want to hear any negativity,' and that happens. You know, people were trolling bad about Ryan or trolling about her. It gets exhausting."
Of course, Vicki is sad about her daughter's decision, but supports her completely. "It broke my heart," the Housewife told ET. "First time in 13 years I haven't had my daughter on the green screen credits and it still makes me sad, I just saw it the other day. But, I'm happy for Briana. Her health is improving, she works still full-time as a nurse, and her husband looks after the boys."
Even though Vicki wishes Briana, Ryan, and her two grandsons lived right around the corner from her, she takes plenty of time to visit them in the southeastern state. "This is my new normal now, flying cross-country. Could you have moved any farther away?! This is not, like, a weekend trip!" She continued, "So, I'm doing the red eyes out, getting there in the morning and just spending as much time with them, and then heading back. So, it's my new normal."
For awhile now, some fans even wanted Briana to become a full-time Housewife. She's never been afraid to tell her mother like it is, especially when it came to Vicki's ex-boyfriend, Brooks Ayers. More often than not she served as Vicki's conscience and tried to get her mother to make sound decisions. It's definitely disappointing to hear she won't be back, because she will be missed.
Who can blame them for wanting to take a break from the public eye and whatever scrutiny they were facing? Vicki didn't say Briana is done with RHOC for good, so maybe she'll want to return at some point in time? Until then, fans should respect her decision.