Olympic Athletes Aren't Immune To The Pay Gap & It's So Infuriating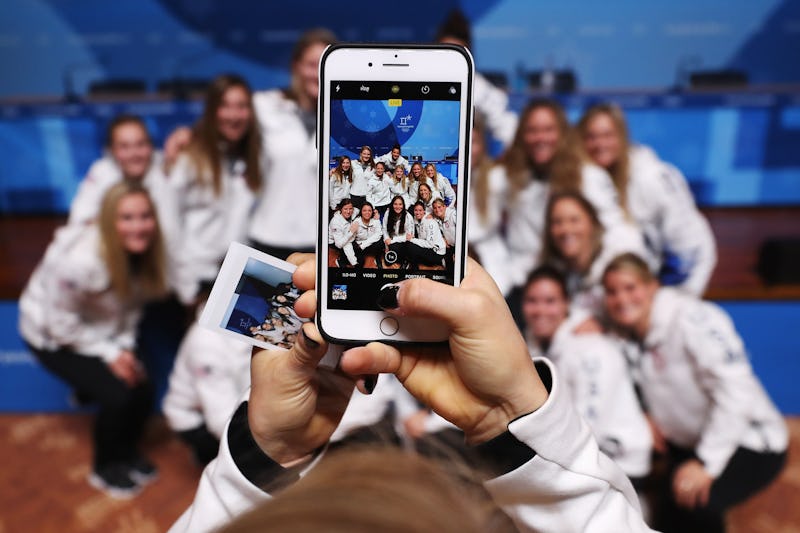 Ker Robertson/Getty Images Sport/Getty Images
It's no secret that the gender pay gap is alive and well around the world, which in the U.S. means that women earn 83 percent of what men earn for the same jobs, according to the Pew Research Center. That discrepancy in pay is widely known to affect women celebrities too, but with the Winter 2018 Olympics in PyeongChang just days from starting, you may be wondering if women Olympians make as much as men — and you may be surprised by the answer.
The short answer likely won't surprise you, though: No, women Olympians don't make as much as men. But the more complicated answer involves taking into account how Olympians are paid at all. It's easy to assume that in the U.S., Olympic athletes are paid like NFL players, making a set amount of money from a central source for each tournament or match they participate in. The truth is, though, that Olympic athletes aren't paid by the U.S. government or the United States Olympic Committee (USOC). If Olympic athletes win medals, they will receive medal bonuses from the USOC. Men and women athletes receive the same amount of money for medal bonuses, depending on the medal tier — but athletes who compete without medaling walk away with nothing.
All of that is to say there's no central Olympic payroll for high-level athletes. However, the way most Olympic athletes get paid has to do with how they work outside of the Olympics, and with the opportunities they receive. Because high-level and Olympic athletes often have to spend large sums of money for training and equipment, as well as normal day-to-day expenses, they often rely on corporate sponsorships. And that's where the difference between how much Olympic men versus women can make becomes truly apparent.
According to reporting from The Independent in 2015, Tom Kingsley, director of sport and sponsorship at Ernst & Young, said "Less than half of one per cent [sic] of sport sponsorship is invested in women's sports."
When women Olympians and future Olympians, like their male counterparts, have to rely on sponsorship money to make ends meet, that lack of investment can truly hinder their ability to afford what it takes to make it into even the upper echelons of competitive sports, let alone to the Olympics.
Marketer and talent representative Leonard Armato, whose company Management Plus Enterprises reps athletes like Shaquille O'Neal, told Fast Company in 2016 that he'd seen the dearth of sponsorship opportunities for women himself. "[Armato] points to one exchange with a major sneaker manufacturer regarding former WNBA star Lisa Leslie," writes Gwen Moran for Fast Company. "The company wasn't willing to negotiate her sponsorship because of doubts about her potential influence on sales."
And if those doubts stem from whether or any woman athlete can speak to a substantial audience, well, like the gender pay gap, that's caused by systemic sexism in society at large. Moran added that overall coverage of women's sports hasn't increased in 25 years, per a study from the University of Southern California. In the report for that study, Andrew Good wrote that over the course of the study, "SportsCenter devoted a scant 2 percent of airtime to women's sports, a number that has remained flat since the study began tracking the nightly cable broadcast in 1999."
For the Olympics, the airtime figures are quite a bit better. In fact, when NBC aired its telecast of the 2016 Rio Olympics, the network "showed female athletes 58.5% [sic] of the time and male athletes 41.5% [sic] of the time," Moran wrote.
But unless those airtime figures translate into sponsorship dollars for women athletes, the pay gap is going to remain — for Olympic and non-Olympic athletes alike.