Vinette Robinson Starred In THIS Major Show Before Playing Rosa Parks On 'Doctor Who'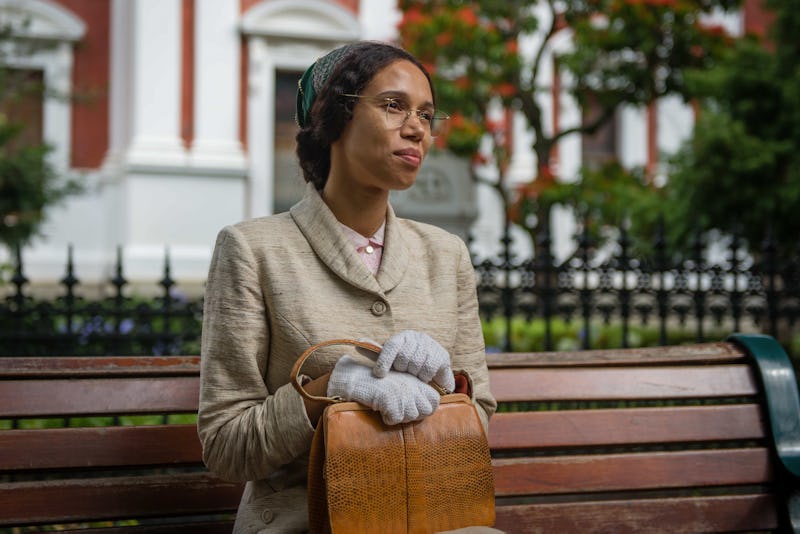 Coco Van Oppens/BBC/BBC Studios
Tonight's episode of Doctor Who will incorporate a major historical figure: civil rights icon Rosa Parks, known for her refusal to vacate her seat to a white man on a Montgomery, Alabama bus and the subsequent Montgomery bus boycott. There's good reason to recognise the actor portraying the "mother of the civil rights movement" — Doctor Who's Rosa Parks actor Vinette Robinson has an extensive CV spanning film, TV, and theatre, including a recurring role in a little-known BBC drama by the name of Sherlock. What's more? She's appeared in Doctor Who before, a whole 11 years and three Doctors ago.
Robinson grew up in Bradford, the Telegraph says, and attended Leeds drama club Scalakids (the club also turned out Neville Longbottom himself, Matthew Lewis, as well as The Imitation Game's Matthew Beard and Coronation Street's Lucy Jo Hudson.) After receiving a bursary to study at the Webber Douglas Academy of Dramatic Art, Robinson secured a string of acting roles.
She's probably most recognisable to Doctor Who fans as Sergeant Sally Donovan in Sherlock, a role she started playing in 2010. Robinson played Donovan in four Sherlock episodes between 2010 and 2014: "A Study in Pink," "The Great Game," "The Reichenbach Fall," and "The Sign of Three."
More recently, Robinson played GP-in-training Nicola Daniels in 2016-2017 BBC drama The A Word, which follows the Hughes family (played by Morven Christie, Lee Ingleby, and Max Vento) after their youngest son is diagnosed with autism. Between 2016 to 2017, she featured alongside Dawn French, Emilia Fox, and Iain Glen in Sky comedy Delicious, while in 2016 she appeared in BBC Two miniseries Close to the Enemy. Cast your mind a bit further back, and you might remember Robinson from her recurring role in Waterloo Road as Helen Hopewell, or in Hope Springs as Josie Porritt.
Vinette Robinson's no stranger to TV sci-fi: the actor's already appeared in two of the biggest shows of the genre. The second is Black Mirror, in which she played Liza Bahar in 2016 episode "Hated in the Nation." And the first? Doctor Who, way back in 2007 — that's during David Tennant's captaincy of the Tardis. Robinson appeared as Abi Lerner in a series three episode titled "42", in which the Doctor and Freema Agyeman's Martha land on a spaceship hurtling towards the centre of the sun.
The actor's closely familiar with the theatre, too: Robinson acted in multiple productions with the Royal Shakespeare Company, and attracted critical acclaim for her 2011 performance as Hamlet's Ophelia at the Young Vic, opposite Michael Sheen. In 2017, she played Anna in Albion, a family drama staged at London's Almeida Theatre.
That's quite a resume Vinette Robinson's built, then, spanning sci-fi to comedy to drama. And since Doctor Who incorporates all three genres, she seems like a perfect fit for the show. It's a brave actor who takes on a role as iconic as Rosa Parks — but it sounds like Robinson will do her justice.