This Icon Of The U.S. Civil Rights Movement Will Feature In 'Doctor Who' Episode 3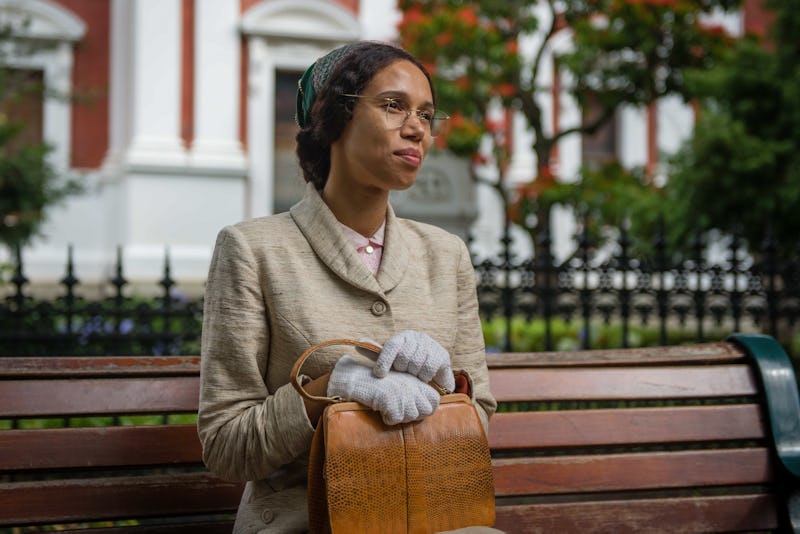 Coco Van Oppens/BBC/BBC Studios
Well before the eleventh series of Doctor Who even premiered, fans began theorising that the Thirteenth Doctor would encounter a pivotal figure in the American civil rights movement: Rosa Parks. Parks' refusal to surrender her seat to a white man on a Montgomery, Alabama bus in 1955 helped to trigger the Montgomery bus boycott, a 13-month protest against segregation on public buses that resulted in the U.S. Supreme Court declaring the practice unconstitutional. The BBC show has incorporated major historical figures in previous series — so will Rosa Parks appear on Doctor Who?
In short, the answer's yes. After almost a year of speculation, the BBC listing for the third episode of the series has confirmed it will be set in 1955 Montgomery, Alabama, where the Doctor, Ryan, Yaz, and Graham will meet Rosa Parks. Given the setting of the episode, it's fair to assume it'll incorporate Parks' act of resistance — an act, the Martin Luther King, Jr. Research & Education Institute notes, which has often been softened into that of a tired seamstress unwilling to stand after a long day of work. Parks challenged this misconception in her autobiography, writing, "I was not tired physically, or no more tired than I usually was at the end of a working day. I was not old, although some people have an image of me as being old then. I was forty-two. No, the only tired I was, was tired of giving in."
Speculation about an episode dedicated to Rosa Parks has circulated for months, as the Radio Times reports; back in January, fans spotted a replica of the Montgomery bus on which Parks refused to surrender her seat on the Doctor Who set. Then, two actors' profiles on casting website Spotlight received significant updates: David Rubin's profile said he'd be playing "Raymond Parkes," presumably referring to Raymond Parks, Rosa Parks' husband. Raymond Parks was also a civil rights activist, as the Martin Luther King, Jr. Research & Education Institute writes; before the Montgomery bus boycott, he was closely involved in the case of the Scottsboro boys, in which nine black teenagers were falsely accused of raping two white women. As the National Museum of African American History and Culture writes, the innocent men "collectively served more than 100 years in prison."
Star Wars: The Last Jedi actor Aki Omoshaybi's Spotlight profile, meanwhile, was also updated to say he'd be playing "Fred Grey" — likely referring to civil rights attorney Fred Gray, who defended both Rosa Parks and Claudette Colvin, the 15-year-old black teenager arrested for refusing to give up her seat to a white passenger nine months before Parks' protect (18-year-old Mary Louise Smith also refused to surrender her seat in October 1955.) Gray also filed a suit on behalf of hundreds of black men in Tuskegee, Alabama, who were made the subjects of a study into syphilis without their awareness or consent, and were never treated for the disease or even told they had it.
Speaking at New York Comic Con earlier this month, Doctor Who showrunner Chris Chibnall pretty much confirmed the rumours of a Rosa Parks-dedicated episode. As Inverse reports, Chibnall told a women's studies student in the audience, "I hope you enjoy episode three if you've been studying Rosa Parks." A clip of actor Vinette Robinson in costume was widely assumed to represent the civil rights icon.
As mentioned above, the BBC website has now ruled out any ambiguity about Rosa Parks' appearance in Doctor Who, listing a synopsis and full cast list for episode three — titled "Rosa." The synopsis reads, "Montgomery, Alabama. 1955. The Doctor and her friends find themselves in the Deep South of America. As they encounter a seamstress by the name of Rosa Parks, they begin to wonder whether someone is attempting to change history."
Vinette Robinson (who you'll recognise as Sherlock's Sergeant Sally Donovan) will indeed play Rosa Parks, while David Rubin, the site confirms, will play Raymond Parks and Aki Omoshaybi will play Fred Gray. Other major historical figures who'll appear in the episode? Ray Sesay will play civil rights leader Martin Luther King (Jr., presumably), while Trevor White will play James Blake, the driver who had Rosa Parks arrested.
Here's another exciting reveal: the episode will be written by author Malorie Blackman, best known for the Noughts and Crosses series, novel Pig-Heart Boy, and her run as Children's Laureate between 2013 and 2015. "Rosa" will air on BBC One at 6:55 p.m. next Sunday — and with Blackman at the helm, it's difficult not to be excited.