Here's Who REALLY Pays For The 'Bachelor' Engagement Ring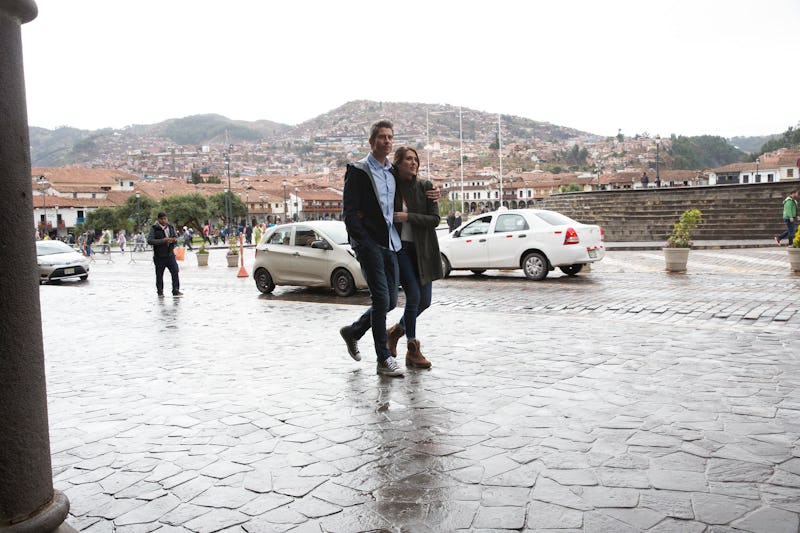 Paul Hebert/ABC
Watching The Bachelor for the journey and the love and luxurious dates is all well and good — but as a bit of a magpie myself, I always like to see the ring that the Bachelor picks out for his (hopefully) bride-to-be. Do you need a diamond to get married? Nope! Are they pretty? Yep! And Arie Luyendyk, Jr. is likely going to pick out one heck of a stone for the woman he loves. But does Arie pay for the Bachelor engagement ring?
Neil Lane is responsible for all of the jewels on The Bachelor and The Bachelorette, and, a few times a year, we get to see him sit down with someone from the Bachelor cast to painstakingly choose the perfect ring. While all of Lane's stunners are different, there's one thing that these diamonds all have in common — they are big, honking rings, and they cost a pretty penny.
They cost so much that the average Joe (or average Arie) would probably have a hard time affording any Neil Lane ring. Thus, Arie (or any other Bachelor or Bachelorette contestant) does not have to pay for the engagement ring. Phew. It's not totally known if ABC pays for the ring or if Lane does it just for the advertising he gets a few times a year on The Bachelor, but all I can tell you is that rock is not making the Bachelor's pockets any lighter.
But nothing in life is truly free — according to Radar Online, both the Bachelor and Bachelorette contracts (you sign your life away to be on these shows, of course) stipulate that if the couple breaks up before they've been together for two years, ABC reportedly gets the ring back. If the couple breaks up after two years, they can decide what to with it. If they sell off the ring, ABC reportedly gets first crack at buying it back. If you want to pay for your own ring, you totally can, though — when Aaron Buerge was the Bachelor, he paid $35,000 for the Harry Winston ring he put on then-fiancée Helen Eksterowicz's finger. She later auctioned it off on eBay after they broke up, so maybe ABC bought it back, anyway. You never know.
At least ABC isn't making the Bachelors pay for rings, because if they did, no one would be the Bachelor — they wouldn't be able to afford it. If you can tolerate spending $50,000 on an engagement ring, more power to you, but it shouldn't be mandated. That's how Neil Lane fits into all of this. In fact, he's so beloved that Sean and Catherine Lowe opted to have him design their wedding rings, too, for their televised nuptials. Although, come to think of it, they probably got those gratis, too…
It seems that for Arie, choosing a ring will be the easiest decision that he has to make before he proposes to his dream woman. Arie has said "I love you" to both Lauren and Becca on The Bachelor, and that may not go over so well when the smoke clears from the season — it's hard to watch the person you love tell another person on national television that they love them, too. Ben Higgins did the same thing, saying, "I love you" to JoJo Fletcher and Lauren Bushnell, and he and Lauren had myriad problems from it (they eventually broke up). Let's hope that Arie and his chosen lady live happily ever after despite the extra "I love you" — and that he picks the perfect ring for his perfect woman.