Ben Higgins Had A Meltdown Over Lauren B. On 'Bachelor Winter Games'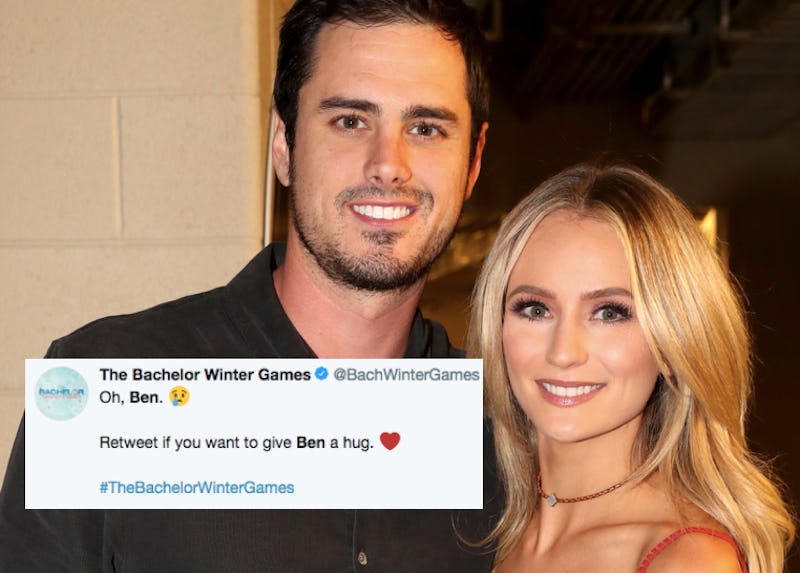 Christopher Polk/Getty Images Entertainment/Getty Images
As the adage goes, breaking up is hard to do. It's even harder when you're engaged to someone, because by then, you've already pictured spending your life with that person. Even harder still is breaking up with your fiancée when your whole relationship has been on national television and the public has an opinion about your breakup. Such is the case for Bachelor Ben who talked about what happened with Lauren B. on The Bachelor Winter Games, and it was a seriously emotional moment for him.
Ben is on The Bachelor Winter Games I guess to move on and get over Lauren, but, by his own admission, he's not really ready to do that. Ben told Ashley Iaconetti, "The idea of going on a date sounds like a chore to me. It doesn't sound fun. When you get engaged ... I was so excited about the idea of, I'm going to spend the rest of my life with this person. I don't want to get hurt again."
He echoed the same sentiments to Chris Harrison. "Coming back to a place like this brings up a lot of weird memories. To try to engage in relationships here and know that the last time I did this was one of the best moments of my life ... it doesn't feel right."
Ben went on to say that he's not "full enough" to get his heart broken again, and that people don't realize how real his love with Lauren was and how hard it is for him that everyone has to comment on it. It's obvious that Ben still cares deeply for Lauren, and rightfully so, he's not 100 percent over his breakup. I would say that's normal, considering Ben is, as Chris Harrison said, reliving the worst day of his life over and over again in the public eye every time he comes back on the show, does an interview, or steps online.
Ben thought that coming on The Bachelor Winter Games would heal him, but not quite. And so, Ben opted to leave the show. And you know what? It seemed like the right decision. "There's just not a place for me here," Ben said.
Lauren and Ben were engaged on The Bachelor Season 20, and from the beginning of Ben's tenure as Bachelor, it was pretty obvious that these two were destined to be together. They had to go through the rigamarole of, you know, him dating and eliminating 29 other women, and there was that whole thing where he also told JoJo that he loved her, but other than that, it was smooth sailing. The duo even got their own spinoff on Freeform called Ben & Lauren: Happily Ever After, and it chronicled all the growing pains and decisions that newly engaged couples have to make. It was hard, though — Lauren was still upset that they couldn't move past JoJo's "I love you," and Ben was upset that Lauren was upset. Plus, they couldn't agree on any wedding stuff and it was jus a mess. It's hard to move on when everyone in the press and fandom keeps asking the same question. Eventually, the two split, announcing in May 2017 that they had parted ways.
Lauren is currently dating real estate investor Devin Antin, and she seems really happy. She has a blog and a new California address and she's good to go. It's obvious, though, that Ben is struggling a bit more. Of his time alone, Ben told People, "It feels weird. I'm not very good at dating. I'm not used to it! I haven't dated in three years other than on the show. And for a while, it felt like I was cheating [on Lauren]. Then I realized, this is completely acceptable. There is a switch I had to make. But I really want to find somebody, and I hope in the near future there will be someone to show off."
That said, Ben's time on The Bachelor Winter Games was not wasted. In an interview with Us Weekly, Ben said that he had made plenty of friends while on the show. "I made a lot of good relationships from when I stepped into the house to the time I left. If you ask me, 'Did I take steps in the romance department?' I definitely did. There's not a question in my mind that there were steps made," he said. "I may or may not have [found love]. For me, personally, there was huge steps made. I'm excited for people to be with me in that story, through television."
Hopefully those steps lead to leaps of love for him in the future.