ICYMI Bachelor Arie Is Actually Bilingual, On Top Of His Many Other Talents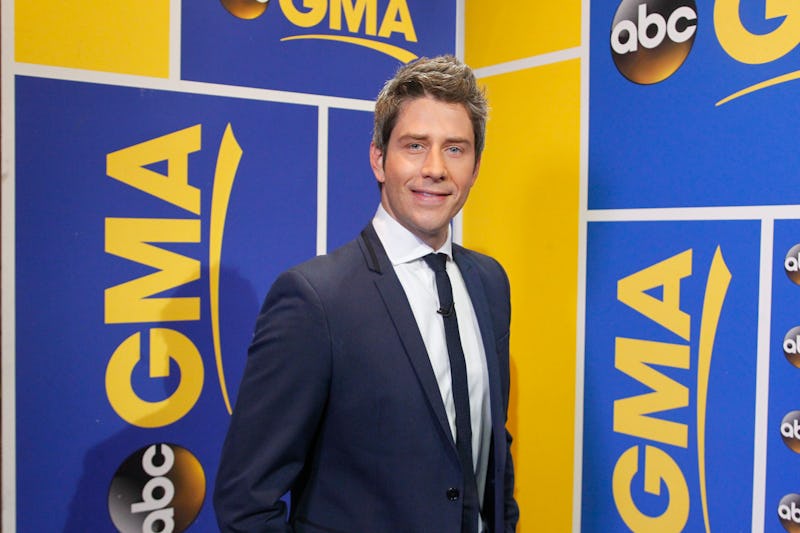 Lou Rocco/ ABC
The newest Bachelor is a man of many talents. Arie was a race car driver, is currently a successful realtor, and is about to date 29 women at one time. But what you might not know is that your new Bachelor Arie speaks Dutch too. And it turns out that his being bilingual actually caused some issues during his Bachelorette season.
The 36-year-old Bachelor speaks fluent Dutch because he was born in the Netherlands, according to Today, but moved to the United States when he was 3 years old. The family moved because Arie's father, famous race car driver Arie Luyendyk Sr., was competing in so many American races that it just made sense. Arie Sr. has won the Indy 500 twice, while his son has competed in the Firestone Indy Lights and was a rookie driver in the A1 Grand Prix World Cup of Motorsport for the 2007-08 A1 Grand Prix season, according to People.
Though Arie didn't show off his language skills much during his time on the Bachelorette, Dutch surprisingly became a major plot point late in the season. During his hometown date, Arie expressed to Emily that he was worried about how meeting his parents would go. He told the Bachelorette, "You're like the all-American, you know what I mean? And my parents are so European that I'm just... still a little bit concerned." After Emily reassured him that everything would be fine and Arie made a quick quip about how he would translate everything favorably, they headed to meet his parents. And things didn't go exactly smoothly.
Though the date started off really well, things took an awkward turn when Arie's parents started addressing him in Dutch in front of Emily, and the conversation took off in a whole new language. Emily clearly felt uncomfortable, sharing in the confessional, "Arie's mom says something in Dutch, and I don't know what to do... it's like there's an invisible wall, it was really awkward."
Luckily, Arie knew that Emily had to be feeling left out and self conscious, so he stepped in. "It's gotta be awkward, when everyone is speaking Dutch in front of Emily. I wouldn't want that, I would want to know what's being said, so I kinda cut everybody off," he shared on the show. He told his family that he wanted to continue the conversation in English, and then translated what he had said for Emily. He had told his parents that the relationship "couldn't be going better. Everything's perfect." So in the end the tension was diffused, and Emily was reassured that no one was speaking badly behind her back.
Even though the couple moved past that awkward hometown moment, Emily eventually dumped Arie in favor of Jef Holm, leaving the race car driver heartbroken. But now as the Bachelor, he's getting a second chance at love, and a second chance to share his Dutch heritage with the world.
But this isn't the first time that there has been a bilingual Bachelor. Juan-Pablo, perhaps the most hated Bachelor of all time, spoke fluent Spanish as well as English. The American-born Venezuelan soccer star charmed the pants of America during his brief stint on Desiree's season of The Bachelorette, but not so much during his time on The Bachelor, though that had nothing to do with the Spanish and everything to do with the problematic tweets and the slut-shaming.
Something tells me that our second bilingual Bachelor will have some better luck. It seems like Arie is truly in it to find love, and is ready to settle down. Here's to hoping that Arie has some better hometown dates this season, and that fans hear more of his Dutch with less of the awkward cultural barriers.