We Tested An App That's Supposed To Find Your Perfect Foundation Shade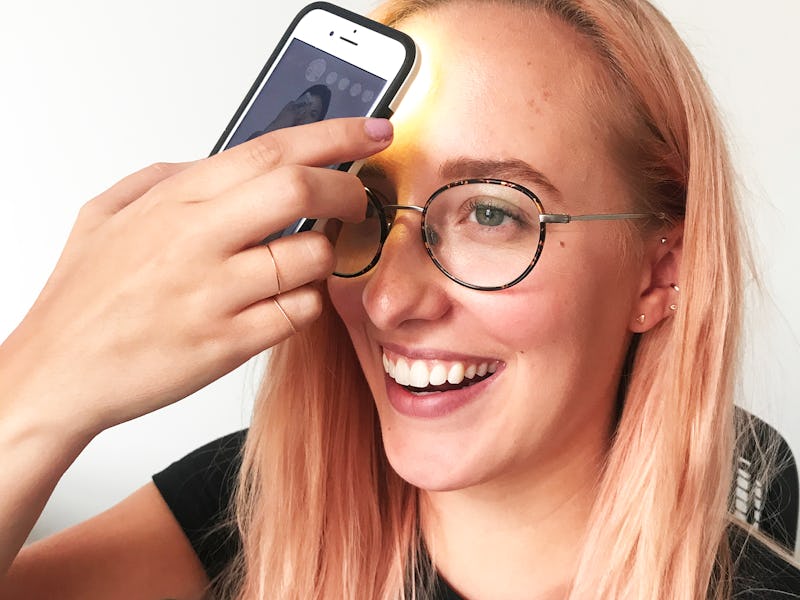 Hannah Caldwell/Bustle
When I have conversations with friends about the type of makeup that intimidates them the most, foundation tends to be high on the list. It's not that it's hard to apply, exactly, but finding a foundation that actually matches your face can be a bit of a struggle — especially if you have a medium or dark skin tone. Even the most extensive shade ranges can accidentally leave someone out, or force consumers to buy a couple different shades to mix their perfect color at home.
But now, bareMinerals is trying to take all that guesswork and in-store swatching completely out of the picture. The bareMinerals MADE-2-FIT App, which launched at the end of June 2017, allows users to create their own custom blend of foundation via a series of color matching steps that mostly involves taking a bunch of photos of your face (more on that below). As brand representatives told me during the editor preview event, this custom blending technology allows for an "infinite" number of color combinations. Theoretically, this means literally anyone should be able to use the app to get a foundation that's an exact match to their skin tone.
The app itself has several steps to get that shade, but it's fairly easy to use and starts with an instructional video to walk you through the whole thing. Honestly, the hardest part for me was tracking down the five sheets of white paper you need to calibrate the camera in step one — good thing our office still has a printer.
The rest of the process involves tapping your phone on different parts of your body so the app gets an accurate read of your skin tone. The whole thing takes about two minutes total.
Hannah Caldwell/Bustle
Hannah Caldwell/Bustle
The custom-mixed foundation costs $49 for a 30ml bottle, and ships within 24 hours. Because I'm a casually vain individual, my favorite part of the whole thing is the personalized bottle.
The formula is exactly the kind of formula I love for my foundation: Lightweight, semi-sheer, and dewy AF. Below, you can see my face without makeup on the left, and with a full face of makeup (including the bareMinerals foundation) on the right.
In addition to loving the feel of the makeup, I felt like the app did a way better job of finding my foundation match than I ever could in a store. I'm fully sold on the whole experience.
But I'm only one skin tone, and one that comes with the privilege of being able to find an option in my shade in almost every single makeup line. So, I asked some other members of the Bustle team to test out the app and share their thoughts on the whole high tech experience.
Gabby
"Simplicity and straight forwardness are always really important to me when using an app I'm not familiar with," Gabby tells me, which is why she loved the bareMinerals app. "[It] was really easy to navigate and use. It tells you (and shows you) exactly what to do and when to do it," she explains.
Like me, Gabby was extra stoked about the personalization aspect of the whole process. "I love anything that has my name on it," she says. "So when the foundation came, I was thrilled that it said 'Gabby' on it."
"I was a little skeptical about how true to my actual skin tone it would be because I've never really purchased make up online that I don't already know is my perfect match," Gabby tells me. But she was super pleased with the results. "I was really surprised though how well it matched!" She says. "I also loved the texture and how easy it was to apply." Gabby likes to use her fingers to apply makeup, and this one is super easy to blend even without a brush.
Hannah
Hannah's fair skin has neutral undertones, which she says can sometimes make it harder to find a foundation that isn't too pink or too yellow. Hannah often ends up mixing foundations on her own to make a shade that works for her, so she was excited to try the bareMinerals app.
"I thought the app was easy to use once I figured it out," Hannah says. "It took me a couple tries before the app told me I was doing it right but once i got the hang of things it was very quick and easy."
While Hannah loves the dewy finish and medium, buildable coverage of the foundation, the shade she received was a bit too dark for her skin. "I'm currently at the tannest I would ever be, and it's still darker than I like my foundation to be," she tells me.
Sara
Sara with no makeup.
Sara wearing bareMinerals.
Sara agrees that the app is crazy easy to use, even if it does take a few minutes to complete the whole thing. "I was actually super impressed that it worked and was able to tell the color of my skin so quickly and effortlessly," she says.
Sara is also a big fan of the foundation she received after completing the color matching. "I love that the foundation is natural looking, but buildable," Sara explains. "I'm super impressed that an app, where I was literally holding the camera to my cheek for a couple seconds, was able to deliver a product that matched my skin tone!" As you can see from the photo on the right, the bareMinerals foundation truly did end up being an excellent match to Sara's skin.
According to Sara, "The future of makeup has arrived."
With three out of four guinea pigs receiving a foundation that matched their skin basically perfectly (and all four of us agreeing that the formula is truly excellent) we're giving this app a Bustle thumbs up. If you, like Hannah, end up with a shade that isn't quite right, you can return the foundation within 30 days and try again in different lighting, which can make a huge difference. Overall, it's way easier than trying to swatch your brains out in a department store.