Fans Are Convinced Bella Thorne's Latest Instagram Means She's Launching A Makeup Line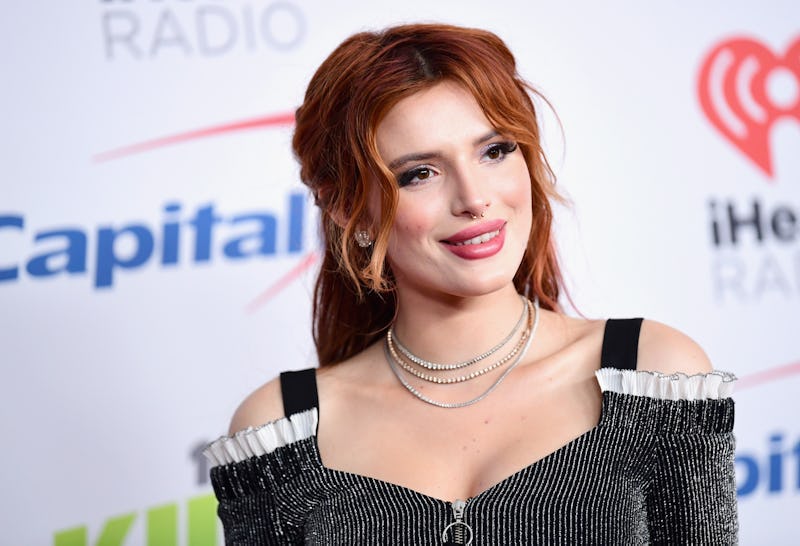 Emma McIntyre/Getty Images Entertainment/Getty Images
Another celeb makeup line is on deck. Lindsay Lohan is putting together a cosmetics line, while Kourtney Kardashian is reportedly planning to create her own beauty brand. Now, Bella Thorne is starting her own makeup line and she did revealed it in the most nonchalant, "blink and you'll miss it" way. She dropped the hint when replying to the comments of an Instagram post.
The actor teased her planned makeup line via social media and it appeared to be somewhat accidental. She posted a selfie while rocking layered necklaces, smoky eye makeup, a septum piercing, and rosy pink lips.
HelloGiggles reports that a user inquired what lipstick Thorne was wearing in the pic. She responded that it was from "my upcoming makeup line." There you have it in black and white and straight from the source.
Thorne did not appear to reveal any further details, like the name of the shade or her brand, when it's coming out, how much products will cost, or what else will be included. We don't know if it's collab with an existing brand or if she starting something like "Bella Thorne Beauty" from scratch.
We have questions. The internet has questions. Hopefully, Thorne will answer them and quell our curisosity in due time.
Here's the pic that got fans talking and had Thorne responding. The lipstick she is wearing has such a rosy tone and looks spectacular when paired when her dark eyes, red hair, statement brows, and fair skin.
The internet was quick to react. Users were wondering if it will be cruelty-free and requested further details. But Thorne didn't seem to elucidate any further. The post did accrue nearly 600,000 likes so it's clear that fans appreciate Thorne's look and her refusal to play by anyone else's rules. They are rather receptive to a makeup line, too. Some users were chugging that Haterade, but that's to be expected.
Thorne's busy Insta feed is full of images of her rocking unique, bold makeup and dusty lip shades similar to the one in the post where she teased her makeup line. Perhaps hints about Thorne's beauty brand have been hiding in plain sight this entire time? That's entirely possible but for now it's all speculation.
Thorne loves her a bold makeup look. Like these scarlet power lips.
She is also all about eye drama. This aqua eyeliner, which traced her entire eye and finished with a serious flick, is as adventurous as it gets.
Thorne also loves lush, theatrical lashes. Like so!
She has rocked matte lips and rosy cheeks for an every day "flushed" look, too.
Thorne is a natural beauty with a flair for the dramatic when it comes to makeup. She isn't afraid to push the cosmetic envelope to excellent results.
Thorne has fun with makeup and her Insta feed is all the proof you need. It's a safe assumption that she will distill that sort of playfulness and experimentation into her own products.
Thorne has also been open about her battle with acne, often posting images of her bare skin on Insta. Sharing her struggle provides support (and suggestions) for others who deal with the same skin situation.
Twitter is abuzz about Thorne creating a makeup line. She already has supporters lining up.
Of course there were some folks in the Twitterverse who weren't feeling the prospect of a Thorne-backed beauty brand.
That said, this user makes a critically important point. Thorne is a makeup maverick, creating cool looks and doing as she pleases with product. That's always a "do." Online trolls should actually try the products if and when they arrive and make a decision from there. The rest of the web and Thorne fans will be patiently waiting for her makeup line to materialize.