Mendoza Has A Hard 'OITNB' Season 5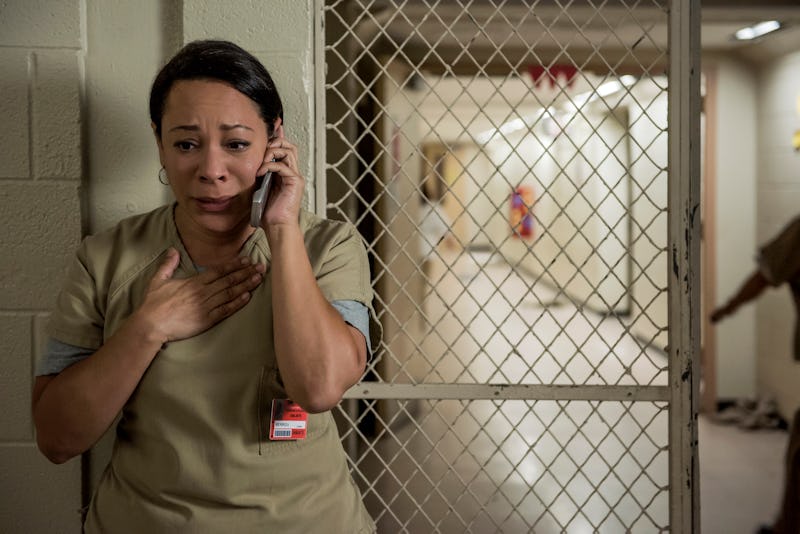 JoJo Whilden / Netflix
The new season of Orange is the New Black takes place over the course of a three-day riot in Litchfield, and, while everyone else is fighting for their rights, Mendoza is fighting to get out and be with her son. SPOILERS FOR SEASON 5 AHEAD After hearing that her son has been attacked in gang-related violence and is in critical condition at a hospital, she knows she needs to be with him. In the chaos of the Litchfield riot, Mendoza does everything she can think to see him, but will she be too late? Does Benny die on Orange is the New Black before Mendoza gets a chance to visit him?
One of the biggest realities the prisoners of Litchfield have trouble accepting is the fact that life goes on outside of Litchfield. One can't simply put the whole word on pause while they serve their sentence, and that reality hits Mendoza hard in Season 5 of Orange Is The New Black. Being unable to see or speak to her son before he has to get a life-threatening surgery following his attack takes a major toll on Mendoza over the whole season. She forms a multitude of plans to find a way to safely leave Litchfield and get to the hospital, but it seems that nothing is enough.
It doesn't help that she tries to get out of the prison during literally the worst three-day stretch possible. Mendoza goes as far as to request furlough, which was granted briefly to Piper earlier in the series, from Caputo. However, Caputo can't do a lot of good when he's literally trapped inside of a port-o-potty and busy negotiating an end to a massive prison riot. Mendoza's inability to get out of Litchfield to see her son crushes her, but luckily for her it doesn't end nearly as badly as it could've.
SPOILERS FOR SEASON 5 OF ORANGE IS THE NEW BLACK BELOW! It seems that things were always going to be fine whether Mendoza managed to get out of Litchfield or not. Although her son is still in a coma at the end of the series as a result of the attack, the surgery needed to save his life was successful. At the end of the series, as the police are pulling prisoners out and bringing an end to the riot, Mendoza manages to sneak in one last phone call and get confirmation that is son is alive. Things may be fine for Mendoza's son, but they could be getting worse for her very soon.
Mendoza, along with the rest of Litchfield, end the season getting moved onto buses taking them someone new and unknown. While her son is safe for now, there's no indication that things will suddenly change for Mendoza and allow her to be a more active presence in her son's life. The only hope that Mendoza can hold onto at this point is that his near-death experience can help Benny turn his life around and realize that just because his mother is a criminal doesn't mean that he has to be.