'OITNB' Did Right By Gloria's Backstory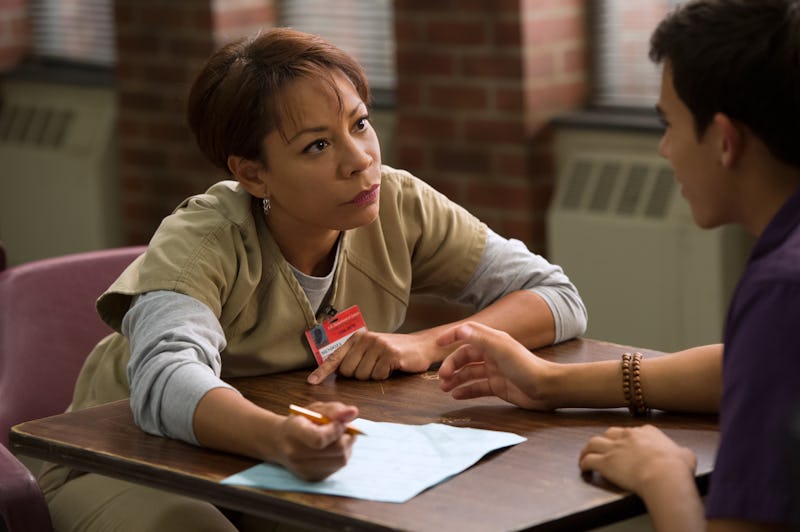 Gloria Mendoza is one of my favorite characters on Orange Is the New Black, largely because she's one of the only real rivals for Red, one of my other favorite characters. Over the course of Season 2, she went from just another one of the "Spanish girls" and a maternal rival for Aleida, Dayanara's mother, to a fully fleshed out character. And, during this season, we finally found out why Gloria Mendoza is in prison on OITNB.
Her episode wasn't really centered on her crime, but it did reveal that she wound up incarcerated for food stamp fraud. As the owner of a small bodega, Gloria would take EBT cards, or food stamps, which can only be used on certain items, and trade illegal purchases like beer or cigarettes for the remainder of the money, which she would claim went towards food that she never sold.
If the flashbacks in the first season of OITNB had a theme, it might be something like "some people have to do bad things to protect themselves." Most of the flashbacks were highly sympathetic, and meant to make us think about our impressions of what a stereotypical convict is. Season 2 was a reminder that it's possible that some of these women did bad things that deserve prison time while in search for a better family life; they ironically wound up destroyed by institutions that are supposed to help them — like Gloria's working class family being pulled apart with a program by food stamps.
Gloria stole money in order to support her store and build up money that she was going to use to get away from her abusive boyfriend, who managed to remain free while Gloria was carted off to jail. The version of Gloria that's shown on the outside is incredibly different from the person who's already served over 10 years in Litchfield.
But let's talk Season 3. Gloria's arc in the third season of OITNB was all about her identity as a mother. She got the opportunity to visit with her kids regularly, and she asked Sophia's wife if their families could carpool. But when both of their teenage sons started acting out, each a bad influence on the other, a rift formed. It quickly got ugly, culminating in a physical attack that prompted some serious transphobia from Aleida that quickly spread like wildfire through the prison. That seems like the opposite of what Gloria would want — she's a naturally protective person who sticks up for her own, and that includes mothers. Even when she was upset at Flaca, she still treated her like a daughter and defended her in front of Piper.
God, I hope Gloria literally pushes Piper. Down a well.
Her relationship with Flaca was repaired by the finale, but things were left unresolved between Gloria and Sophia at the end of the season, even though Gloria is perhaps the only person who can prove that Sofia never meant to attack anyone, and was actually the victim of the violence, and needs to be treated like what she is: a woman just trying to make her way through her time. I hope Gloria helps spearhead Sophia's defense in Season 4.
Images: JoJo Whilden/Netflix (2); Giphy