'Bachelor' Fans Think Corinne Is Dating Someone New After She Posted This Sweet Instagram Photo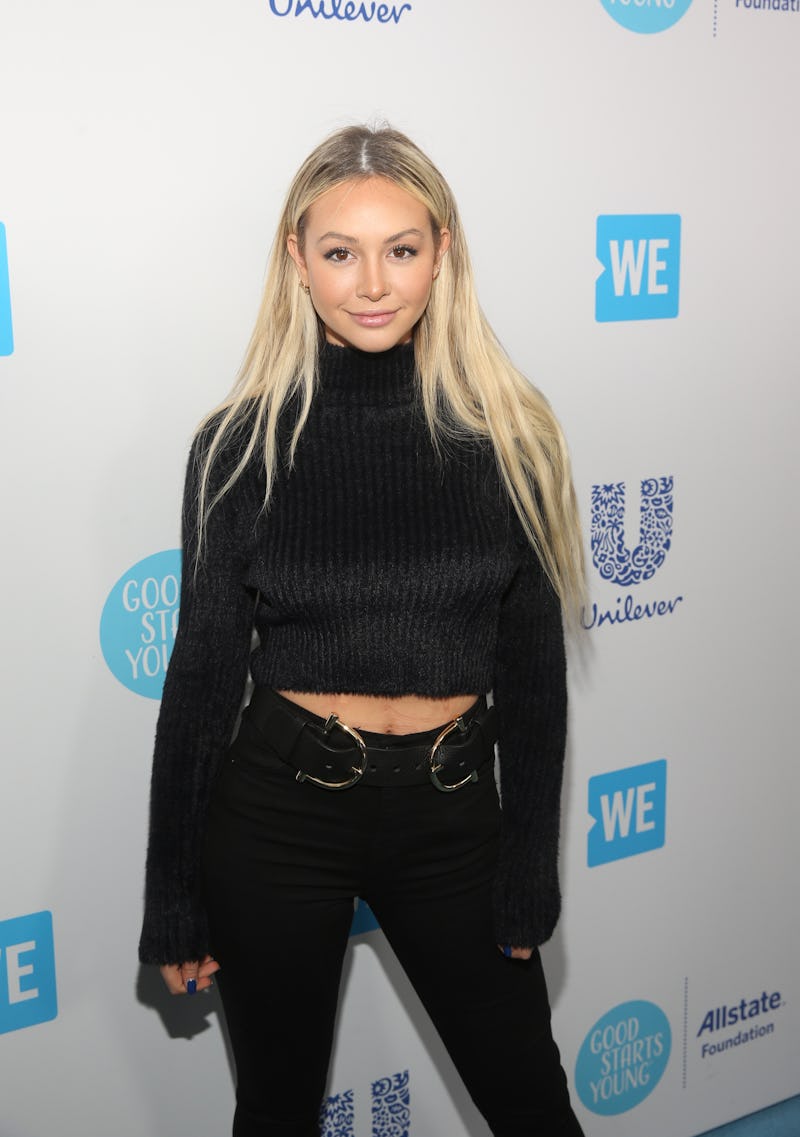 Jesse Grant/Getty Images Entertainment/Getty Images
According to her Instagram account, former Bachelor star Corinne Olympios is spending her time with a new man... or so it seems. Does Corinne Olympios have a new boyfriend? And if so, who is he? As of now, he is a bit of a mystery, but it looks like the two are making their secret romance public thanks to Instagram. Let the stalking begin.
The two first emerged on Sunday, when a man named Jonathan Yunger posted a photo of himself with Corinne to his account. Corinne and her new beau look cozied up next to each other and the caption reads, "Everybody talking like they know something these days." And even though it's not clear if Corinne is indeed dating Yunger, fans were already here for it. Comments on the photo include remarks like, "Omg I hope this is @colympios new man!" fire emojis, and "Finally [heart emoji]." Corinne actually wrote on the photo, responding, "THANKS LOVE," to someone who wrote, "This is what I call THE F*CKING MONEY TEAM."
On Thursday, Corinne posted a photo of the two to her Instagram as well, with the ever so vague caption, "Weenies 👐🏼." The photo is a selfie with their heads leaned on one another. Of course, it could just be a friendly selfie, but fans expressed their support this maybe romance include, "IGs newest power couple," "if this is ur bf I will cry," and "Aaw happy for you if this your man. Finally [heart eyes emoji]." So if this is Corinne's new love, fans are being super supportive of the pairing, expressing their happiness at her happiness.
Corinne has yet to publicly confirm the nature of their relationship or reveal more about Jonathan, how they met, and what he does. Of course, there's social media to give a little bit of insight. From the looks of his Instagram, he's based in New York City and spends lots of time with friends, from drinking and dancing out at bars, to surfing, as well as posing in NYC-set photos like this. Meanwhile, it seems Corinne's been spending some time in New York after making the trip to Coachella this year. It could be coincidental, though, or perhaps Yunger is merely a friend that Corinne is visiting in the Big Apple. Either way, the former Bachelor contestant looks super happy and content.
Before this, Corinne was romantically linked to realtor Michael Fogel, according to Us Weekly. Reports of their romance emerged in December of last year. Just days before, Corinne opened up about dating her then-boyfriend to People. "I am dating someone right now... he is so caring and so supportive of me," she said. "He's also hilarious, which I need. My past relationships they didn't laugh at funny things."
However, when February rolled around, DeMario said he'd be spending Valentine's Day with Corinne on Eric Bigger's podcast Bigger Talks. "I can't wait for tonight... we're homies. We're really good friends, and you know, we just enjoy each other's company and we like to take things slow," he said of their platonic relationship. "We hang out. We have fun, and you know, that's it."
In the meantime, Corinne's been out and about, hitting red carpets and keeping that Instagram game strong with a number of partnerships. Although Corinne and DeMario reunited on the Bachelor in Paradise reunion with the cast, it isn't likely that she'll join the franchise again. Last summer, her rep provided Bustle with a statement saying Corinne wouldn't return to Bachelor. Regardless, that isn't stopping fans from wanting to know what's going on with their favorite former contestant.