Reminder: Donald Trump Doesn't Own The Miss America Competition & He Never Did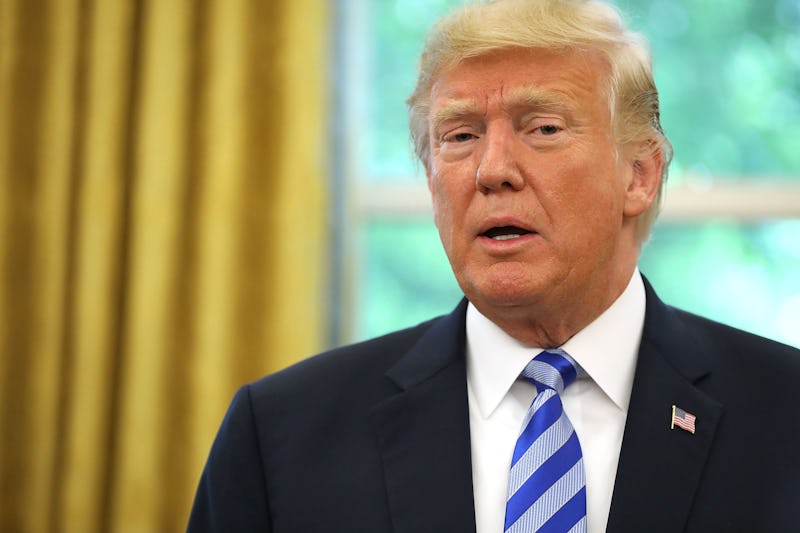 Chip Somodevilla/Getty Images News/Getty Images
Sometimes it seems as though politics infiltrates pretty much everything we consume these days, and the fact that the current president literally emerged from reality television makes that even harder to avoid. On Sept. 9, ABC will air a competition that some associate with the man who holds America's highest seat, but it's clear that there's some confusion surrounding the entire situation. So does Donald Trump own the "Miss America" Competition?
Here's the deal — Trump has never actually been associated with Miss America. In reality, he formerly owned the Miss Universe Organization, which hosts the Miss USA pageant under its umbrella. He then sold it in 2015 to WME-IMG Talent Agency, according to The New York Times, just a few days after he'd bought NBC's stake in the organization from the network. This whole ordeal came after NBC refused to air Miss USA in the summer of 2015, following Trump's derogatory comments about illegal immigrants, according to another Times article.
So what does all of this have to do with Miss America? Literally nothing. It's easy to conflate Miss USA and Miss America as the same pageant, but they're completely separate competitions, and aren't even owned by the same organization. Carry on in peace, and watch this week's events with no thoughts of politics.
But don't rest too easy — the lack of Trump's involvement doesn't mean there aren't any storm clouds surrounding this year's pageant. According to The Hollywood Reporter, former Miss America Cara Mund penned an open letter in mid-August calling for the removal of the Miss America Organization's leaders, including Gretchen Carlson and CEO Regina Hopper, alleging that she experienced "silencing" and bullying from the powers that be. On Twitter, Carlson has denied participating in any kind of mistreatment, and said she was "shocked and saddened" by Mund's allegations. The issue, it would appear, is still ongoing.
And as if that weren't enough to talk about surrounding Miss America, there are also changes happening to the very fabric of the competition. The event announced this year that the swimsuit round of the competition, which has long been a staple of the show, would no longer be a part of the evening's events. Despite the widespread support you might expect for a seemingly progressive move, that's also raised a few eyebrows among fans.
According to Variety, some critics say the swimsuit round allowed contestants to show off their physical fitness, and this change would deprive them of that opportunity. Carlson defended the move to the outlet, saying, "We believe that physical appearance and beauty and being fit — that is empowering. We're just not going to judge women on that."
Miss America's official website itself also seems to signal a changing tide — one that moves away from the stereotypical notions of "beauty contests" and seeks to put forth a deeper message, allowing its participants to showcase more of what's important to them. A statement on the homepage says the organization will continue to "look ahead."
The Miss America competition has a 97-year history of looking ahead. Starting this year, candidates will no longer be judged on outward appearance. The choice of wardrobe is now open so everyone can express their own very individual style. But more importantly, their voices will be heard. Throughout the competition, candidates will have opportunities to advocate for their social initiatives. And to demonstrate how they are uniquely qualified for the exciting, challenging 365-day job of Miss America.
Whew. That's a lot to take in regarding what's happening (and not happening) with one competition, but now you're up to speed. Trump has nothing to do with Miss America, and never did, but that doesn't mean that things won't get dicey on Sept. 9 as the rest of the controversy continues to swirl.