Here's What Miss America Contestants REALLY Think About The Competition Getting Rid Of Swimsuits & Gowns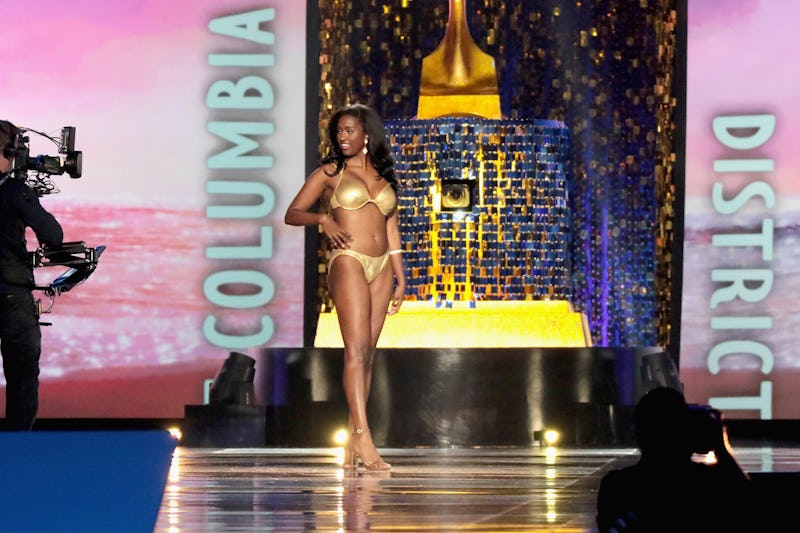 Donald Kravitz/Getty Images Entertainment/Getty Images
When it comes to beauty pageants, there are certain aspects of the competition that you assume will never go away. But this week one pageant in particular has made history with a surprising announcement — Miss America cancelled its swimsuit competition portion, choosing to move away from judging women on their bodies and focusing instead on their minds and talents.
This news has sparked a lot of conversation on the Twitter-sphere, where people shared their opinions on the decision using the hashtag #ByeByeBikini. The opinions were varied and spanned the spectrum. Some women applauded the end of a contest that paraded women's bodies for a score; some men mourned the end of a "97 year old tradition;" and others wondered why folks could no longer be proud of their bodies and flaunt them. But the most interesting were the views of the contestants' themselves. Miss America contestants shared their opinions on the Miss America swimsuit contest cancellation, and the thoughts were just as varied as the general public's opinions.
Some were proud that the organization was moving further away from solely focusing on the physical aspect of the pageant, and turning it more into a competition rooted in intelligence, talent, and views. Others felt disappointed that future contestants will never get to experience the empowering feeling of stepping on stage in a swimsuit. Some thought it was a step backwards, where it was almost akin to slut-shaming. And some felt torn, where they didn't know what to think.
As with anything new, it elicited a whirlwind of conflicting emotions.
Shana Sissel, who competed for Miss Rhode Island, felt that women like her were no longer valued in the turning times.
She felt that telling women to cover up in order to be valued and taken seriously was not a message that she could support.
Sissel explained that one must really love themselves in order to gain the confidence to step up on stage in a bikini, and it has taught her mental strength.
She finished off the Twitter thread by sharing that many of her other pageant acquaintances felt the same way, and they did not feel that it was exploitative or degrading.
McKenna Collins, Miss Wisconsin 2017, didn't outwardly share her opinions on the news, but a few hours after the announcement was made she posted a photo of herself in the swimsuit competition, captioning, "Strong and empowered💪🏻 Miss America Class of 2018 may be passing on our titles, but look out world, here we come!"
She also posted to her Instagram stories, asking, "Must we choose between wearing a swimsuit and having a brain?"
Amanda Lewis, on the other hand, who is currently competing for the Miss Missouri 2018 title, feels proud that she will no longer have to be judged on her body and can, instead, be happy with how it's naturally made.
Caroline Weinroth, who is competing for the Miss Virginia 2018 title, is happy that the competition will take a more serious shift towards concentrating on scholarship and talent.
"Though I do like the swimsuit portion because it encouraged me to eat healthy and exercise regularly, modeling in a swimsuit made me feel anxious about my body," Weinroth shares with Bustle. "I fully support the decision of the Miss America Organization to phase out swimsuit because it will encourage more contestant diversity, and it will strengthen our reputation as a scholarship organization. Talent and Interview are my two favorite parts of the competition, because both categories have helped me in my career goal to be a professional musician. I am thrilled that Miss America will place even more emphasis on these categories to show off our intelligent and talented contestants."
On the flip side, some contestants like Suzi Roberts, Miss South Carolina 2017, felt like the news was the same as discovering Santa was no longer real.
She also shared a video clip on Instagram of her walking across stage in Miss America last year, writing, "Hard to believe I was part of the last group of women to ever experience an incredible, magical, empowering moment like this."
Kendall Morris, a former Miss Texas, echoed that sentiment, but had mixed feelings on the news. In her tweet, she explained that she liked the fact that the swimsuit portion pushed her to learn how to eat healthy and exercise, which taught her a new lifestyle. But she is also happy that women who might not have necessarily felt comfortable going on stage in a bikini now have that hurdle removed from their path. More women will now be able to compete.
There's a split between applauding the organization for moving away from judging women solely on their looks and instead shining a spotlight on their talents and minds, and feeling disappointed that the new message is to cover up in order to be taken seriously.
One way to split the difference is to keep the swimsuit competition but encourage women of all different shapes and sizes to participate, showing that being sexy is empowering, but not limited to only one narrow standard.
It's going to be interesting to see how the competition will change this year, and what differences these shake-ups will make.