Why Emma Stone Is So Convincing As A Star Tennis Player In 'Battle Of The Sexes'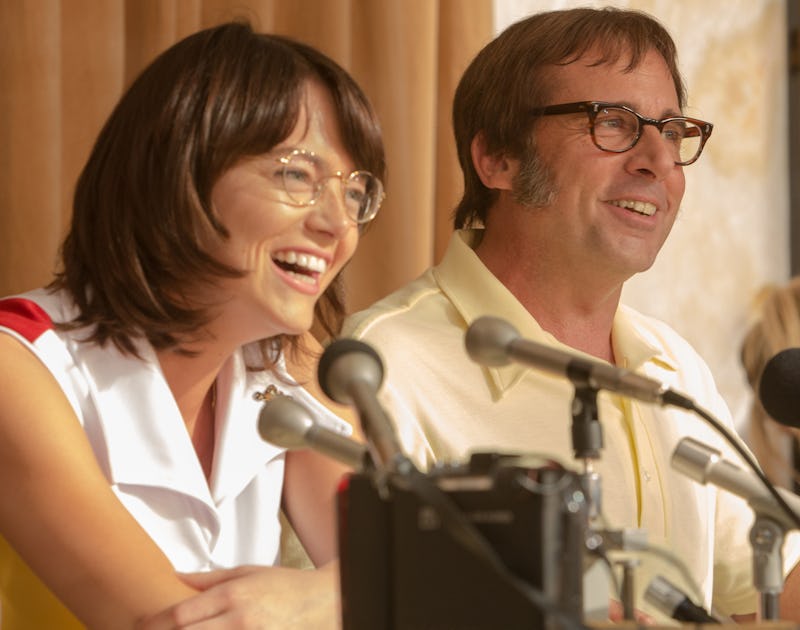 Fox Searchlight Pictures
Billie Jean King is highly regarded as one of the best tennis players to have ever competed professionally, male or female. So, when Emma Stone signed on to play King in the upcoming movie Battle of the Sexes, she knew it meant going straight to the tennis courts. Yet Emma Stone doesn't really play tennis, at least not regularly, so the actor had a lot to learn to prepare for her role in Battle of the Sexes.
To prepare for her role in Battle of the Sexes, Stone took up tennis, but the actor was admittedly out of her elements. Even throwing a ball correctly took her "months to learn", according to an interview with Vanity Fair. As a newbie on the tennis court, Stone focused less on developing the skill of a professional tennis player and more on learning King's personal style. "We quickly learned that the choreography would be the most important thing, because learning how to do a serve or backhand like Billie Jean was more of an impossible dream than a reality," the actor told Vanity Fair. To prepare, Stone studied videos of King's matches, and worked with a personal trainer to get the physique of someone who had played tennis their entire lives. "There was a lot of bulking up, tennis lessons, learning her stance, and feeling my way into her body. She is a machine," Stone added.
The odds of turning into a professional tennis player in the few months Stone had to prepare for the role were slim, so instead the actor worked on getting the athlete's physique with a lot of strength training. "We started doing training geared toward getting more weight and muscle on her, so it was a little more believable onscreen, and also for her mind and her character," Stone's trainer Jason Walsh told People. Walsh, who helped Stone put on 15 pounds of muscle in training, also revealed to the magazine that he created workouts incorporating tennis drills to help Stone learn the footwork.
On the tennis court, Stone did get a few personal lessons from King, an experience she described at the film's Toronto International Film Festival premiere, via Indiewire, as "[King] threw balls basically at me." Facing off against a worldwide champion after having only a few lessons was no easy feat. "Let me be clear about something, I was a complete novice, I'd had three lessons and she, on the other hand, is one of the greatest players of all time so, a fair match it was not," Stone revealed while speaking at logo's Trailblazer Honors, via People.
While recounting what King told her after seeing her become frustrated with her hits — "forget the bad ones, focus on the next ball" — Stone admitted that it was King's philosophy and advice she counted on to play the athlete on the big screen. "What I lacked in tennis skills I hope I made up for in my ability to connect with her essence and understand the greater lesson of what she was saying," she said.
The fact that Stone isn't a tennis champion IRL really doesn't matter much. She's not the first actor to play an athlete out of her comfort zone, and she won't be the last. For her, it was equally if not more important to get the emotion and personal journey right than the moves on the court. "For me, it was about learning so much about Billie Jean and watching footage of her and reading interviews with her," Stone told The Los Angeles Times. "Just steeping myself as much as possible in her particular story and learning more about the time period, how much was shifting and what a pivotal time it was for women and equality."
At the end of the day, or the movie, Stone's lack of tennis knowledge and/or skill doesn't really matter. Playing Billie Jean King in Battle of the Sexes is about way more than just what happened on the court, it's about how King became a feminist icon and a leader for the LGBTQ community. Stone doesn't need to have an ace serve to play that.