Emma Stone Weighs In On The Wage Gap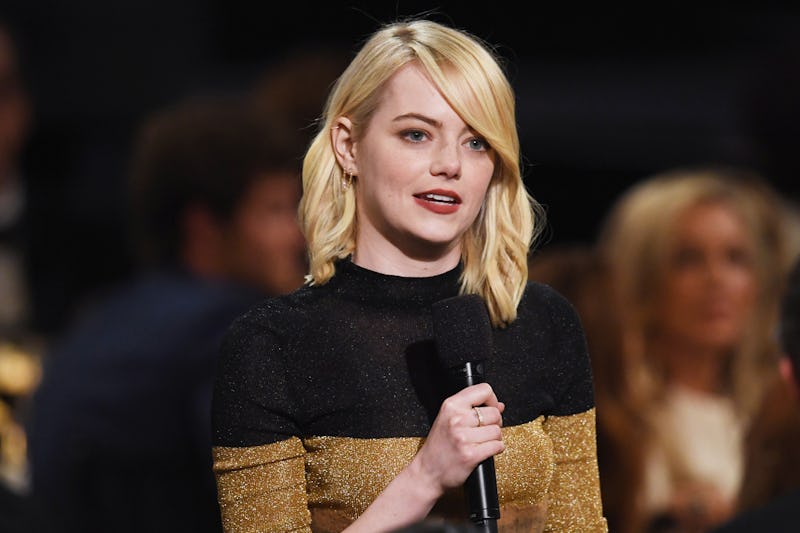 Kevin Winter/Getty Images Entertainment/Getty Images
Amid a continued (and necessary) push to close the gender wage gap in Hollywood, Emma Stone revealed her previous male co-stars took pay cuts to equalize their salaries. During an interview with Out discussing her upcoming role in Battle of the Sexes, Stone explained that there have been several occasions in her career where male actors volunteered to take less money, in order to ensure their wages were fair. But, nice as that is, it doesn't get to the root of the issue, since it ostensibly shifts the responsibility to individual men, rather than a broken system, to fix longstanding inequality.
Stone told the outlet,
"In my career so far, I've needed my male co-stars to take a pay cut so that I may have parity with them, and that's something they do for me because they feel it's what's right and fair. That's something that's also not discussed, necessarily—that our getting equal pay is going to require people to selflessly say, 'That's what's fair.' If my male co-star, who has a higher quote than me but believes we are equal, takes a pay cut so that I can match him, that changes my quote in the future and changes my life."
This sentiment seems quite different from what many other woman in the TV and film industry have faced: In recent years, there have been numerous accounts of women getting short-changed for the same roles as men, including Jessica Chastain, Scarlett Johansson, Taraji P. Henson, and a whole swath of others. Only a few short weeks ago, the team behind Wonder Woman came under fire when it came to light that star Gal Gadot reportedly made less than Henry Cavill initially did for playing Superman. (Sources for BuzzFeed contended she made at least as much as Cavill did for Man of Steel. Neither Gadot, Cavill, or Warner Bros. have confirmed either salary, and reps for Gadot and Cavill have not returned Bustle's request for comment.)
In fact, Stone's Battle of the Sexes co-star, Andrea Riseborough, couldn't attest to a single similar experience. "I don't know how many films I've been in— 20, 25 films, something like that," she told Out in the same interview. "And I've never had the experience of a guy taking any sort of pay cut."
But that men haven't gone out of their way to ensure salary parity for women like Riseborough isn't really the problem; the fact that they would have to do so in the first place is. It's admirable that Stone has peers willing to sacrifice some of their pay for the sake of integrity, but it begs the question: Why couldn't the studios just pay Stone more?
In order to take real, tangible strides toward progress, women shouldn't need to be reliant on men to "do what's right," particularly because men are just as entitled to fair wages as women are (ignoring, for now, that much of Hollywood already operates within a space of privilege). Equal pay shouldn't be something negotiated after the fact; it should be the standard. As noble as Stone's male co-stars may be, their actions only emphasize how much harder women must work to inch closer to equality.