George Clooney Will Be A First-Time Parent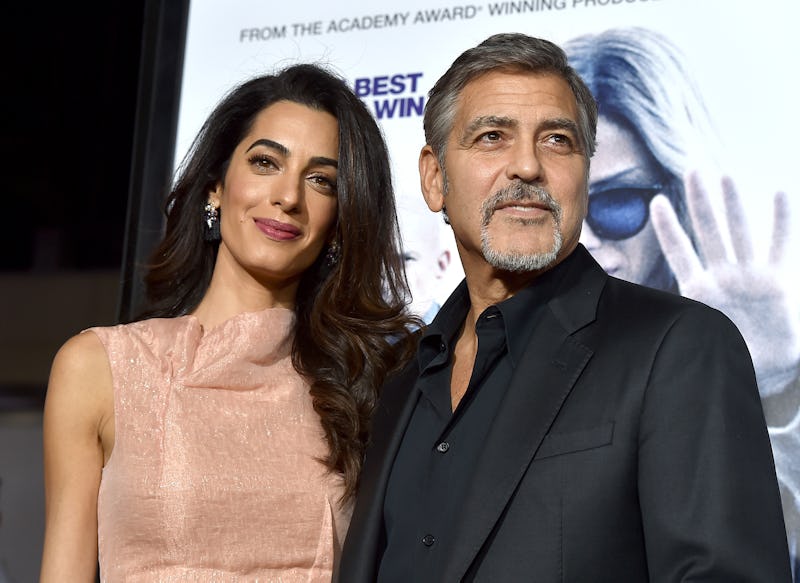 Kevin Winter/Getty Images Entertainment/Getty Images
It seems the trend of 2017 is celebrity twins. Just a week after Beyoncé announced her own pregnancy, another power couple is reported to be expecting double the bundles of joy. According to People, George and Amal Clooney are expecting twins. The couple hasn't confirmed the news themselves, and reps for George have not yet responded to Bustle's request for comment. (Amal could not be directly reached for comment.) But, if these reports are true, people may be wondering if this will be the first time the pair will be parents. Does George Clooney have any other kids?
The answer to that is a big, giant "no." The Ocean's 11 star was always seen as a perpetual bachelor prior to his marriage to Amal, so it's not too surprising that he also didn't have any children prior to now. According to People, Michelle Pfeiffer and Nicole Kidman even once bet Clooney $10,000 that, by 40, he would be a father, which didn't work out so well for their bank accounts when that deadline came and went in 2001. Now at 55, these reported twins would be Clooney's first children. And, I doubt he's bothered that he waited. According to Us Weekly, he told Vogue in 2000, "I don't have any interest in [having kids]. I just don't think that it's something you can do casually."
Considering he and Amal are far from casual, it makes sense that he waited to have kids until they were married and enjoyed that union for a while before bringing any children into it. Now he and Amal can celebrate being first time parents together.