IHOP Now Delivers In Some Cities, So Get Your Bank Account Ready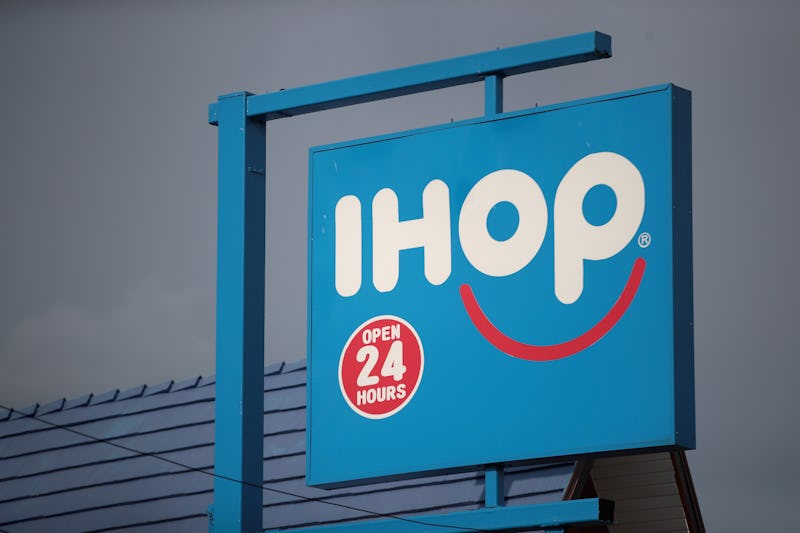 Scott Olson/Getty Images News/Getty Images
When you wake up on a Saturday morning with a hankering for coffee and a stack of delicious, piping hot pancakes from IHOP, not much can quell that craving — and it's even worse if all you want is to eat it in bed. When you're that comfortable, an IHOP pick up order just isn't going to cut it — it involves getting up, after all. It's in cases like this that I question does IHOP deliver — and thankfully, according to the restaurant chain, it looks like my question is finally more than a pipe dream, Yes, that's right: having a buttery, syrup-saturated stack of buttermilk pancakes delivered straight to your door from the IHOP kitchen is officially becoming a real thing for a few states around the country! If you live in California, Texas, Oklahoma, Utah, or Washington, congratulations: pat yourself on the back, you picked the right place to live because IHOP is kicking off their delivery service in your state.
The International House of Pancakes (and dreams) has partnered with Amazon and DoorDash to make home delivery a reality, for a small standard fee of about $3. The pancake titans understand the value of breakfast in bed, and have finally found a way to make it work. While the locations that offer delivery are currently very limited, the company has said that they do have plans to widen their reach in the next year — over 2,00 deliverable locations to be exact. (Please include the East Coast, please include the East Coast...) In essence, expect the delivery roll out to be gradual.
We all deserve the joy of pancakes in bed. And if you've ordered pancakes from local diners in the past, you know they don't usually hold up too well. By the time they make it to your kitchen table, they're either dried out, soggy, or creepily rubbery. No matter how lazy or hungover you are, once those delivery pancakes arrive, you barely want them. And if you try to heat them up in the microwave, they get even worse. So basically, you're stuck with an expensive and inedible delivery order that forces you to leave the house in search of non-rubbery breakfast foods, defeating the whole point of getting delivery in the first place. That steaming joy of a pile of fresh pancakes is really only felt when you go to the restaurant — until now.
Yes, IHOP has created a state-of-the-art pancake carrier that will help them transport the precious cargo from the restaurant, to your door, without any issues. So not only will you be able to get your favorite pancakes without leaving the house, but you can get them in the same shape that they're served in at the restaurant. You don't have to sacrifice quality for connivence anymore, and that's really important for breakfast food. Not to mention, I'm looking forward to a future where "pancake carriers" are available to the public and we can all have the resources to totes around a fresh, hot stack. Breakfast picnic, anyone?
With the winter months ahead of us, it's comforting to know that we've got a solid breakfast-in-bed plan. Making pancakes at home is never as fun or easy as it sounds. You're always missing an ingredient and have to run out to the store, you always burn the pan and make the kitchen smell like smoke, at least a quarter of the pancakes you make are duds, and the post-meal clean up is miserable. For all of these reasons, the market and demand for delivery pancakes is surely epic. It's always nice when a company you already love, does something to make you feel like they love you too. Three cheers for required pancake love!
Now if only someone would figure out how to make a summer-proof ice cream sundae carrier, the world would be a perfect place.