Jared Kushner Still Doesn't Have Permanent Security Clearance, But White House Calls It "Normal"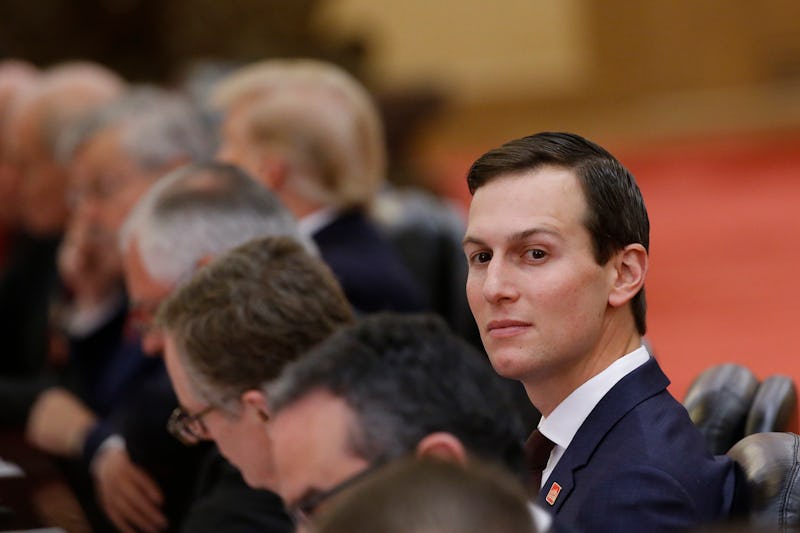 Pool/Getty Images News/Getty Images
Before you start a job at pretty much any level of government, you have to go through a process to determine whether the government can trust you with confidential material. Once you've been approved, you receive security clearance corresponding to the level of confidentiality that you need for your job. There's no higher security clearance than what you need to work in the White House — and yet White House aide Jared Kushner still only has temporary security clearance.
According to a new report by Politico, Kushner has been working for the last 10 months in the White House with only an interim security clearance. Kushner, a former real-estate developer and the president's son-in-law, has been given an extensive list of duties, including building peace in the Middle East, solving the opioid crisis, reforming the government and criminal justice, and acting as a liaison to Mexico, China, and the Muslim community.
In response to the report that Kushner had not received his permanent clearance, the White House told Politico that the situation was entirely normal. The high number of totally new political operatives coming into the Trump administration without any previous government experience (and therefore without any previous security clearance) before had simply created a backlog.
Kushner created an exceptionally complicated clearance process for himself after initially turning in the required SF-86 form, which asks the applicant to list foreign contacts. When he first turned it in, Kushner didn't list any foreign contacts. He quickly had to amend it, adding approximately 100. After news broke that Kushner had been part of a July 2016 meeting at Trump Tower with Russian lawyer Natalia Veselnitskaya, Donald Trump Jr., and former Trump campaign manager Paul Manafort, Kushner had to amend his SF-86 form again to include that meeting, which he had left out even after the second time he turned it in.
"I have never seen that level of mistakes," said Charles Phalen, director of the National Background Investigations Bureau, referring to Kushner's security clearance application.
The security clearance process also includes a deep dive into the applicant's financial history, which is bound to be complicated because of his many real-estate investments and the financial ties that come with that business. Over the summer, Democratic lawmakers began arguing that Kushner's temporary clearance should be revoked because of the myriad mistakes on his forms. Some then renewed these calls in October, but so far the White House still says that the process is going smoothly.
Kushner isn't just under scrutiny over his clearance, however. He's also a key figure in the ongoing Trump-Russia investigation, and the recent revelation that he failed to submit material concerning the investigation that the Senate Judiciary Committee knew about. On Thursday, chairman of the committee Sen. Chuck Grassley and ranking member Dianne Feinstein sent a letter to Kushner's lawyer, stating that Kushner had failed to produce all of the material that they had requested.
Missing, they said, were "September 2016 email communications to Mr. Kushner concerning WikiLeaks" and a "Russian backdoor overture and dinner invite." In response, Kushner's lawyer said that they had "provided the Judiciary Committee with all relevant documents that had to do with Mr. Kushner's calls, contacts or meetings with Russians during the campaign and transition, which was the request." He also said that they would continue to work with the Senate committee, and they have until Nov. 27 to turn in the requested documents.
While the Senate investigation isn't connected to Kushner's application for security clearance, his actions do follow a pattern. Multiple times now, Kushner has failed to provide evidence of various meetings and communications until they became public knowledge and he was forced to do so. Just as the White House denies any bumps in the road as far as Kushner's clearance goes, Kushner denies all allegations of collusion with Russia.