'Strictly' Star Joe Sugg May Have A Very Famous Supporter In The Audience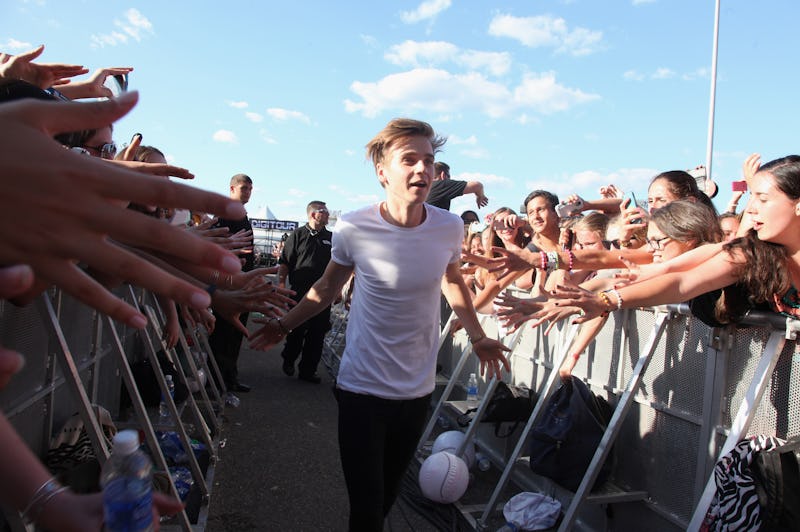 Donald Bowers/Getty Images Entertainment/Getty Images
As the latest season of Strictly Come Dancing draws ever nearer, another star's been officially added to the line-up; YouTuber Joe Sugg, also known as ThatcherJoe, will join Katie Piper, Danny John-Jules, and Faye Tozer on Strictly 2018. The newest addition to the team has a sizeable fanbase to back him, with over 8 million YouTube subscribers and more than 5 million followers on both Twitter and Instagram. But here's the most pressing question devotees want to know: does Joe Sugg have a girlfriend?
Let's answer that by examining his Strictly announcement. Sugg revealed the big news on the Radio 1 Breakfast Show on Tuesday, according to the Radio Times. He said: "It's the most nervous, but most excited I've been in a long time." In a statement then released by the BBC, he added: "It's totally out of my comfort zone and I know it will be a huge challenge, but that's what life is all about I guess."
But Sugg's main motivation for joining the show? His grandparents. "They are going to be so happy which will definitely make up for any embarrassment or cringe caused by my questionable rhythm," he added. At no point did he mention a girlfriend.
I reached out to his rep to find out more information. However, his spokesperson told me that there would be no comment on Sugg's relationship status.
So, will there be a special someone in the studio cheering him on? Definitely — although it's not what you think. Sugg's super famous sister Zoe Sugg, aka Zoella, will almost certainly be in the live studio audience, showing her support. But as for a girlfriend joining her, well, that seems unlikely.
For a star with such a significant Internet presence, there's little to no mention of his relationship history, aside from wistful shipping and speculation by fans. This to me suggest he's probably single. It also tells me that Sugg has made a conscious decision to keep his romantic life private — or offline, at least. And that's a decision we should all respect.
The only notable ex? Possibly Little Mix's Perrie Edwards, according to the Sun. The paper claims that the pair got together back in 2015, but had split by 2016 — and neither Edwards nor Sugg ever confirmed the relationship. Plus, Edwards is now in a relationship with footballer Alex Oxlade-Chamberlain, so if a flame ever existed between Edwards and Sugg, it's likely to be well and truly extinguished.
Dating life aside, here's what else you need to know about Sugg before he takes a stab at a salsa. The 26-year-old created his YouTube channel in November 2011, though he didn't start posting until 2012. Since then, his videos have accrued over a billion views. His clips involve pranks, challenges, and confessions, oh and he frequently collaborates with his sister Zoella and her boyfriend, Alfie Deyes.
Sugg is also the creator of a best-selling graphic novel series called Username, which he launched in 2015. He has starred in several comedy travel documentaries too with fellow YouTuber Caspar Lee. But before he pursued his YouTube career full-time, he was a labourer. He told TenEighty, he worked as a roof thatcher.
But is dancing one of his talents? Apparently not. "My knowledge of dance isn't the best," he told the BBC. And he's a bit nervous about the requisite costumes, too — specifically, he's concerned as to whether they'll fit. "I just hope they have child sizes as I'm tiny!" he said. Probably no need to worry, Joe: if even a portion of your 8 million followers tune in and vote, you'll be sailing through to the final.