John McCain Says He Cannot "In Good Conscience" Vote For Graham-Cassidy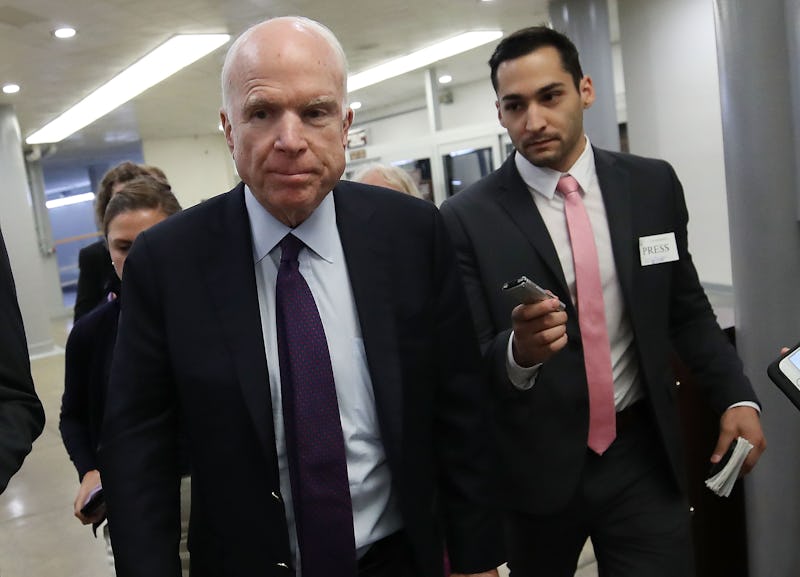 Mark Wilson/Getty Images News/Getty Images
On Friday afternoon, amid a week of high-stakes legislative wrangling, Arizona senator John McCain announced he won't support the Graham-Cassidy health care bill. This is absolutely colossal news, given the current state of play on the GOP's last-ditch effort to pass an Obamacare replacement bill. In addition to Maine Senator Susan Collins, who is reportedly leaning against the bill, and Kentucky senator Rand Paul, who has publicly said he won't support it, McCain would be the third, pivotal vote to prevent its passage.
Back in July, McCain teamed with Collins and Alaska Senator Lisa Murkowski to scuttle the Senate's so-called "skinny repeal" bill, which for a time looked like the final attempt Senate Majority Leader Mitch McConnell would make to pass a replacement to the Affordable Care Act.
This month, however, with the looming Sept. 30 deadline to pass such a bill under a budget reconciliation process that only requires 51 votes, the GOP quickly turned to the Graham-Cassidy bill, so named for its co-authors, Senators Lindsey Graham of South Carolina and Bill Cassidy of Louisiana. Given the sneak-attack nature of the bill, suddenly rushed through the pipeline without even receiving a score from the Congressional Budget Office, tensions among Democrats, progressives, and basically the entire medical community have been high.
On Friday afternoon, McCain explained his refusal to support Graham-Cassidy. The statement he released is quoted below, in full:
As I have repeatedly stressed, health care reform legislation ought to be the product of regular order in the Senate. Committees of jurisdiction should mark up legislation with input from all committee members, and send their bill to the floor for debate and amendment. That is the only way we might achieve bipartisan consensus on lasting reform, without which a policy that affects one-fifth of our economy and every single American family will be subject to reversal with every change of administration and congressional majority.
I would consider supporting legislation similar to that offered by my friends Senators Graham and Cassidy were it the product of extensive hearings, debate and amendment. But that has not been the case. Instead, the specter of September 30th budget reconciliation deadline has hung over this entire process.
We should not be content to pass health care legislation on a party-line basis, as Democrats did when they rammed Obamacare through Congress in 2009. If we do so, our success could be as short-lived as theirs when the political winds shift, as they regularly do. The issue is too important, and too many lives are at risk, for us to leave the American people guessing from one election to the next whether and how they will acquire health insurance. A bill of this impact requires a bipartisan approach.
Senators Alexander and Murray have been negotiating in good faith to fix some of the problems with Obamacare. But I fear that the prospect of one last attempt at a strictly Republican bill has left the impression that their efforts cannot succeed. I hope they will resume their work should this last attempt at a partisan solution fail.
I cannot in good conscience vote for the Graham-Cassidy proposal. I believe we could do better working together, Republicans and Democrats, and have not yet really tried. Nor could I support it without knowing how much it will cost, how it will effect insurance premiums, and how many people will be helped or hurt by it. Without a full CBO score, which won't be available by the end of the month, we won't have reliable answers to any of those questions.
I take no pleasure in announcing my opposition. Far from it. The bill's authors are my dear friends, and I think the world of them. I know they are acting consistently with their beliefs and sense of what is best for the country. So am I.
I hope that in the months ahead, we can join with colleagues on both sides of the aisle to arrive at a compromise solution that is acceptable to most of us, and serves the interests of Americans as best we can.
Again, to be clear, assuming both McCain and Paul hold to their public statements, one additional Republican senator needs to vote no to stop the bill. Otherwise, it would end in a 50-50 tie, which would then be broken by a no-doubt affirmative vote from Vice President Mike Pence.
As it stands now, all eyes are on Collins and Murkowski. It stands to reason that both of them would have an easier time voting against the bill now, with McCain already having gone public with his opposition ― the bill failing by two votes would mean that no individual Republican who voted against it could be attacked for having cast "the deciding vote."