Khloé Knows Where She's Having Her Baby, But In Which City Will She Raise It?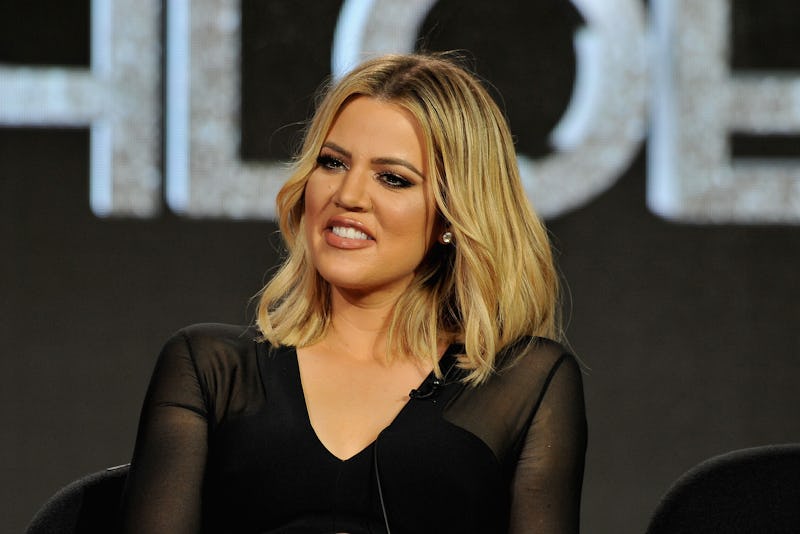 Jerod Harris/Getty Images Entertainment/Getty Images
Khloé Kardashian's been dating Tristan Thompson for over a year and a half. With their relationship comes a lot of travel time for Kardashian, since Thompson plays basketball for the Cleveland Cavaliers. Seeing as the 33-year-old reality TV star has traveled a lot between California and Ohio, does Khloé Kardashian live in Cleveland? It doesn't appear she's made an official move yet, but it's definitely become her second home.
While appearing on Jimmy Kimmel Live! (writer: Cece Pleasants) in January, Kardashian revealed she plans to give birth in Cleveland. During Sunday's Keeping Up With the Kardashians (executive producer: Kris Jenner), she also broke the news to Kim Kardashian. "We're having the baby in Cleveland," Kardashian told her older sister. "My doctor, she's flying to Cleveland to deliver the baby."
That's a big deal for her to not choose her hometown, Los Angeles, to have her first child. Of course, it also has to deal with the fact that Thompson's job is in Cleveland, so this way they can be in the same city whenever their baby arrives.
In November 2016, Kardashian also discussed her life in Cleveland with Jimmy Kimmel. After asking her if she "lives in Cleveland most of the time", she answered, "No, I live here, but I'm there very often." She also opened up about how much she enjoys her time there. "I actually really like it. Like, just having my routine, being a little more under the radar is nice." If you're wondering, she moved into Thompson's home.
However, much has changed since her November Kimmel appearance. The Revenge Body (executive producer: Larissa A.K. Matsson) star and Thompson are expecting their first child together, so she could very well end up moving permanently to the Ohio city once they officially become parents. But it isn't something she's talked about publicly yet.
In the KUWTK Season 14 premiere, not only did her family and friends go visit Kardashian in Cleveland, but it was revealed she'd been "basically bicoastal" for the past eight months. She explained, "It is grueling. But I like being in Cleveland — it's a much simpler life, and I actually love it and crave it. I go to a lot of basketball games. It's very [much] like my old life."
It's also been a big adjustment for her loved ones. As Kim said in the premiere, "It was like, a big realization. Khloé lives in Cleveland practically, and she's not rushing to come home anytime soon. We really do miss [her], and just knowing that so much of her life is here in Cleveland is hard to accept." Kim added, "I'm definitely sad that Khloé is gone, but she and Tristan are really cute together. She's got a good crew over there. She's got a good support system."
As for Kourtney Kardashian, she said about her younger sister's living arrangements, "It's bittersweet. It's just sad that she's definitely not coming back anytime soon. But we're all living our lives and doing our own thing, so let her live hers."
According to a source who spoke with Entertainment Tonight in February, Kardashian will live in both Los Angeles and Cleveland after her baby is born. "Khloé and Tristan plan to have the baby born in Cleveland, but will continue to live a bicoastal life," the source said.
That does seem to make the most sense, especially since Kardashian's family is based on the west coast. That's also where she does a lot of her work. Who knows if she and Thompson will ever choose to live in Cleveland full-time (it also depends how long he plays with the Cavs), but right now they seem to have a nice balance.