Don't Expect Kim K To Ever Get A Tattoo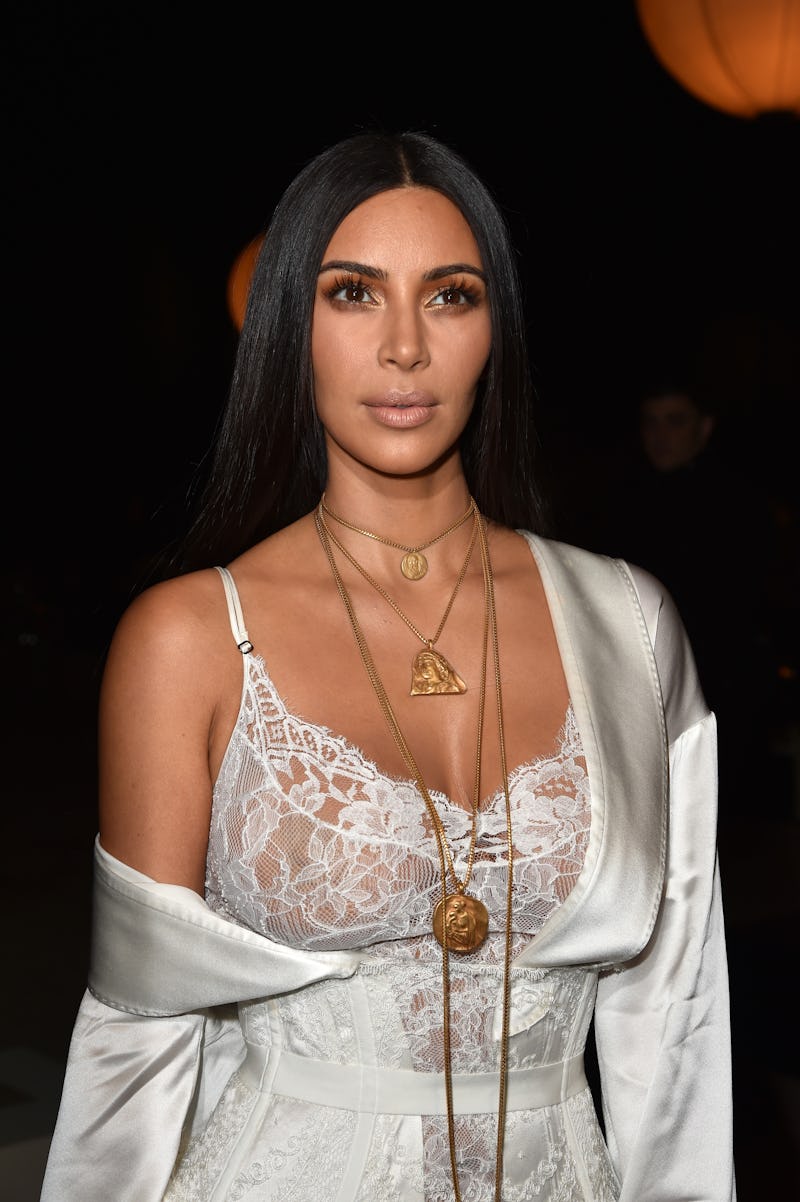 Pascal Le Segretain/Getty Images Entertainment/Getty Images
If we are going to give anyone the final word on accessorizing, it might as well be Kim Kardashian West. But while a few of her family members have hopped on the tattoo train and gotten the most permanent type of accessory, you may be wondering if Kim Kardashian has any tattoos. Where does Kim K stand on this whole trend, and how exactly does the star feel about this life-long accessory?
Some of the Kardashian-Jenner fam have indulged in a tattoo or two. Kylie Jenner has four red tats, including a matching best-friend tattoo with Jordyn Woods and two signatures dedicated to her grandparents. Kendall Jenner has two teeny hidden tattoos, and Khloé Kardashian has a tattoo on her wrist that says "I love you" in her father's handwriting. While other Kardashian-Jenner family members and fellow celebs continue to put ink on their bodies, Kim Kardashian doesn't have a single tattoo.
Turns out not only is she tattoo-less, she has been vocally against tattoos altogether. In 2015, Khloé had a lower-back tattoo removed. The ink had been on her back since she got it at 17 with Nicole Richie, and featured a cross and the words "daddy". In an Instagram post explaining the removal, she quoted Kim K. Apparently, before getting the tattoo, Kim told Khloé, "You don't put a bumper sticker on a Bentley."
Of course, Kardashian said her infamous quote years ago, and a lot can change in that time. Tattoos have transitioned from being part of a rebellious subculture to a societal norm. Not to mention there's been advances in tattoo art and removal that make the whole thing at least a little less permanent.
While Kardashian seems disinterested in getting a tattoo for herself, her husband, Kanye West, has a few. The rapper doesn't have a tremendous number of tattoos, but he does have several images on his arms. On one, there is a scroll with a list of the songs most meaningful to his career. There are also portraits of a dragon and a Madonna and child, both of which are meaningful tributes to his mother Donda.
Kardashian supports West's tattoo choices, especially the two of the latest additions, which she documented on Instagram.
Kardashian captioned the photo, "He got it on his wrists instead. His mothers birthdate and North's birthdate in Roman numerals." While one is yet another acknowledgement of West's mother's enormous role in his life, the other is dedicated to the love and devotion he has for his daughter, North. West's tattoos are largely tributes to women in his life, and it's not surprising that he added another as a way to honor North. He hasn't yet added a tat for his son, Saint West, but that may be in the future.
Other than the Insta post of her husband's tattoos, there really is no tangible evidence that Kardashian has changed her stance on tattoos. The star seems just fine with others getting ink, but there is no evidence that she will hit a tattoo studio anytime soon. Sorry, ink fans, it doesn't seem like Kim K has any tattoo plans. However, if you're looking for people who have tattoos dedicated to Kim Kardashian, that is another story.