No, You Will Not Get A Chocolate Heart & A Hammer With Your KKW Fragrance Purchase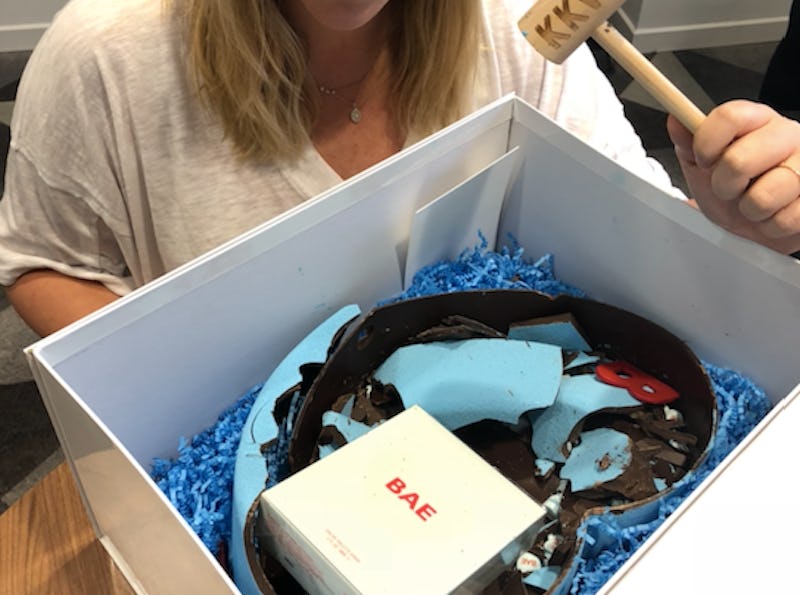 Courtesy Amanda Richards
There's very little that Kim Kardashian West touches that doesn't turn into a success. She's her own brand of millennial magic — her entire brand is made for social media, shareable and 'gramable and tweetable and packaged for the masses in such a way that makes literally everything she does feel important. Such is the case for the latest KKW Fragrance Launch, Kimoji Heart Fragrance, the newest launch in Kardashian West's perfume line.
Kardashian West frequently posted about Kimoji Hearts Fragrance on her social media accounts in the weeks before the Feb. 1 launch. On Jan. 30 and 31, the press mailers started making the rounds. In true KKW style, there's a special, ever-so-slightly over the top detail about these deliveries — in fact, it's unique enough to create its own social media buzz: The Kimoji Heart Fragrance press mailers were delivered inside a massive, hollow chocolate heart fashioned to look like the perfume bottle. The chocolate heart shell was created by Chris Ford (tagged on Kardashian West's Instagram as @butterloveandhardwork), executive pastry chef of The Beverly Wilshire in Los Angeles. It is, in a word, epic.
At the Bustle offices in New York City, the anticipation in the Fashion & Beauty department is palpable. At the time of this article's publication, my colleague and Bustle Fashion & Beauty Editor Olivia Muenter is waiting for her Kimoji Heart Fragrance press mailer, and I can see her eyes light up each time a box makes its way across the editorial floor in our mail cart. I must admit that I'm excited as well, as it's not every day that you get a press mailer encased in chocolate mailed your office.
Here's an image of what the press mailer looks like, screenshot from Kardashian West's Instagram:
Unfortunately, the Kimoji Heart Fragrance press mailers are causing some confusion on the internet. Based on extensive video footage on Kardashian West's social media — as well as the social media accounts of other beauty editors who have already received the Kimoji Heart Fragrance press mailer — some fans are wondering whether or not their own fragrance will be delivered encased in a chocolate shell, and come with a KKW branded hammer to smash it wide open.
Sadly, that elaborate packaging will not be available to purchase, nor will it come with your purchase of a Kimoji Hearts Fragrance. Should you purchase the fragrance on Feb. 1 at 12 p.m. PST, you will be able to choose from three fragrances: Bae, Ride Or Die, and BFF, exclusively from the KKW Fragrance website. You'll also be treated to what sounds like a very lovely, Valentine's Day-centric formula. According to a press release, the scents are a combination of florals, berries, vanilla, marshmallows, and more — in other words, a super sweet, treacly fragrance that will probably go perfectly with your date for the evening.
However, despite all of the chocolate heart buzz, you will (unfortunately, psshh) receive them in normal perfume packaging — well, as normal as a candy heart-shaped bottle can be.
If you were one of the many mistaken about your KKW fragrance packaging, you aren't alone. With all the buzz around the launch, the videos seem like they are literally everywhere, and it's super easy to interpret them as, "This is what my purchase will look like." On Jan. 31, Kardashian West posted a video of her sister, Khloe Kardashian, smashing one open. Allure Editor-In-Chief Michelle Lee tweeted a video, documenting her shock and awe at the presence of the hammer and chocolate packaging.
If you're not one of the few select people in this world to receive a Kimoji Heart Fragrance press mailer, never fear: The fragrance itself is adorable, and surprisingly affordable. Fragrances Bae, Ride Or Die, and BFF are each available for $30 (30 ml) on the KKW Fragrance website at 12 p.m. PST on Feb. 1.