Kylie's Royal Peach Palette Has A Rad Upgrade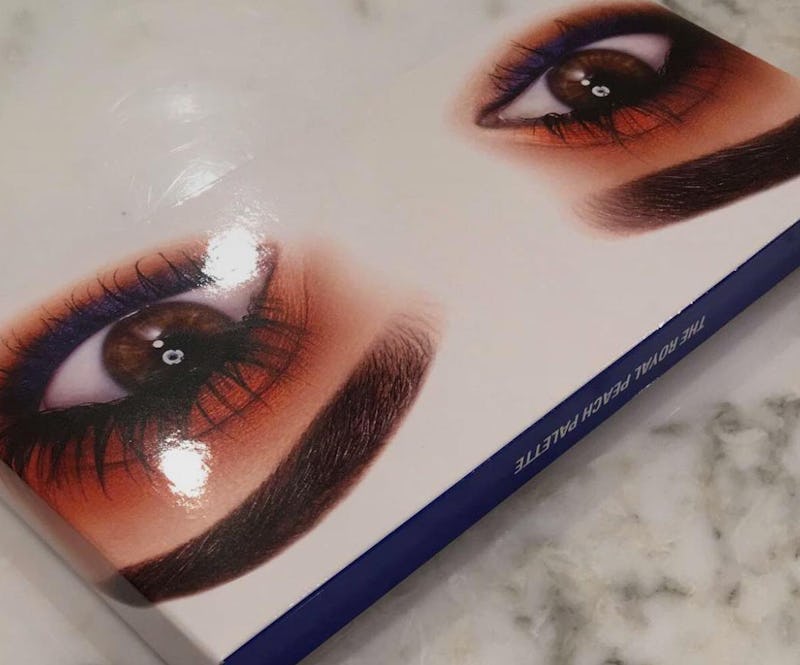 Ch-ch-changes abound! Kylie Jenner's new Royal Peach eyeshadow palette drops on Wednesday, Jan. 12 and she will provide even more details about the product on Monday, Jan. 2, per her Snapchat story. But the makeup maven already revealed a motherload of information about the Royal Peach Palette. She shared swatches of the colors in the palette via teaser snaps, effectively allowing us to go under the hood. She also confirmed that the Royal Peach Palette has 12 shades. As fans of the brand are already well aware, the three previous Kyshadow palettes — Bronze, Burgundy, and the jewel-toned, winter x holiday edition — housed nine pans of shadow. With three additional circular pans of shadows in Royal Peach, users have tons more color combos, creative possibilities, and eye looks.
The packaging also slim, rectangular, and longer, whereas the prior Kyshadows have been square. Given the new packaging, does the Kylie Royal Peach Palette come with a brush? What about a mirror?
The answer is yes! According to Jenner's Snapchat, the palette has both a brush and a mirror. Neither have been included in the existing lineup of Kyshadow Palettes.
Are you ready for a closer look at the Kylie Cosmetics Royal Peach Palette? Trust me, you are.
New, improved, upgraded, expanded.
Check out that intense shimmer.
More shimmer! But you can also see the mattes and the fact that this palette features neutrals.
Purple and blue, yo!
Here is another sneak peek! Further intel is coming on Monday, Jan. 2, making it an amaze way to start 2017.
Hear the currently known details direct from Kylie Jenner herself.
Bring it, January and Kylie Cosmetics.
The source of inspo was her own NYFW peach eye look.
Enjoy one more look at Royal Peach.
Images: Kylie Cosmetics/Instagram (1); Kylie Jenner Snapchat (4); Kylizzle Snapchats/Instagram (4)