These Clues From Lauren B.'s Instagram Hint That She Wins 'The Bachelor'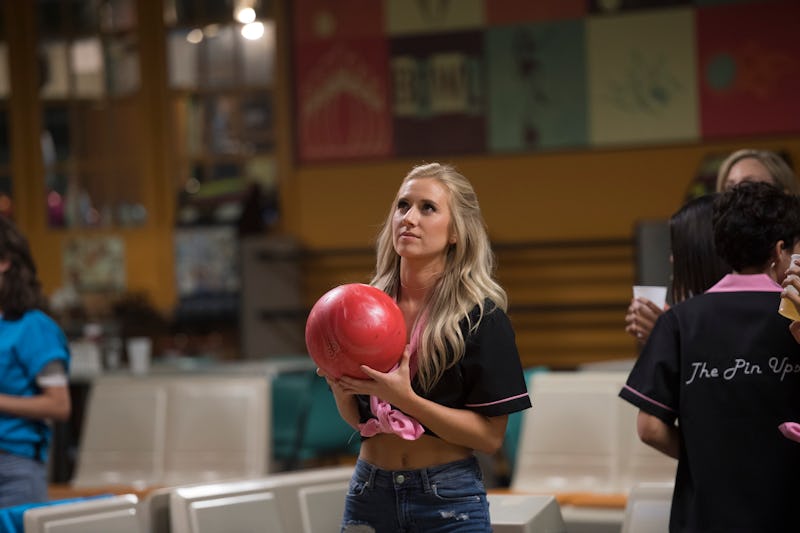 ABC
Speculation is at an all-time high for who takes home the final rose this season on The Bachelor (senior producer: Lindsay Liles), and social media can often offer a bit of a behind-the-scenes glimpse at what happens after the cameras stop rolling. There are quite a few hints on Lauren B.'s Instagram that she wins Arie's Bachelor season, and some of them could definitely prove to be telling. She's remained pretty tight-lipped, as all of the contestants involved in the production have to do before the final results are revealed on-air, but a close look could suggest that perhaps she does end up with Arie in the end.
She recently shared a photo of the two of them on the bowling date from last week's episode, with the caption, "He's a perfect 10...*sigh* Spare me." Sure, she could just be fondly remembering an old crush, but it also could hint at something more. It seems like she wouldn't be sharing such lovey captions if things ended badly between them, or if she was still upset with how things panned out. Perhaps she just moved on quickly, or maybe she's hinting that she and Arie are still in a "sharing cute couples' photos" stage.
The timeline of her Instagram is also interesting — between August and late December of last year, she didn't post at all. That seems to span the the filming schedule of The Bachelor, but if she had gone home before filming had wrapped for good — meaning, if she had been sent home before the finale — she might have begun posting on social media earlier. She also captioned another photo "tryna catch me riding derby?" with a racing flag emoji. This obviously went along with the derby group date that the girls went through a few weeks ago, but could also hint that she still has an affinity for racing. With Arie being a former professional race car driver, this could be a big clue.
It's also worth noting that she's been much more private in recent Instagram posts than she typically was before appearing on the show. Though the frequency of her posts hasn't dwindled, she's shared mostly pictures from during her time filming. Photos of her and the other Bachelor contestants vastly outnumber any present-day shots, which have been few and far in between. This could be a coincidence, and it could also suggest that she isn't yet allowed to showcase a certain someone who's become a big part of her post-show life.
It's well known at this point that Arie had a difficult end to his Bachelor journey, though details have yet to be confirmed through the show itself. Arie did tell People magazine that he had a hard final decision to make. "I fell in love with two women, and I didn't know I was capable of that," he said. "I've never been in that situation, and it was really hard. And they were two very different women, and that's what made it even harder."
It certainly seems that Lauren and Arie have hit it off, but that's also true of other contestants this season, so it's unclear if she's one of the two he claims he fell in love with. She does seem like one of the safer and more realistic choices, though, than some competitors who may have gotten a bit more screen time so far this season. Bekah M. has shaken things up, but seems like a bit too much of a free spirit for Arie, who is ready to lock down a wife. Krystal has also been a point of focus this season, if only for her antagonistic attitude and competitive nature that's come to bother the other contestants in a major way. Lauren has flown under the radar for now, but that seems like something that'd appeal to Arie, who is looking for a stress-free companion. Only time will tell who wins, but Lauren's Instagram will likely continue to be a place to scour for clues.