Lauren Graham's New Role Will Be A Change Of Pace For 'Gilmore Girls' Fans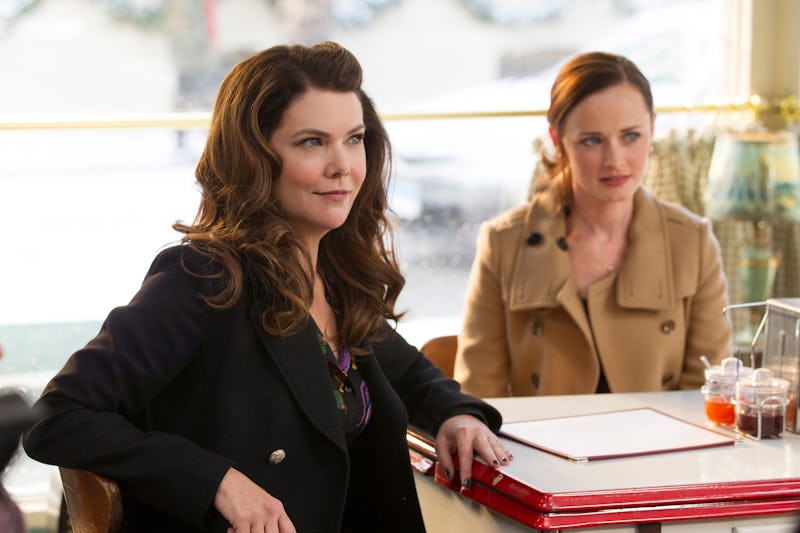 Saeed Adyani/Netflix
Attention, wannabe residents of Stars Hollow and diehard Gilmore Girls fans: There may be another clue about whether A Year in the Life Season 2 is actually happening. On Friday, it was announced that Lauren Graham will be on Curb Your Enthusiasm Season 9. Graham's involvement in an entirely different TV show might make you, dear Gilmore Girls fan, immediately wonder whether she will in fact be reprising her role as Lorelai Gilmore. It certainly sounds like she's moving on from the show that made her a household name, right? Well, let's not get too ahead of ourselves. There may be a reason to hold out hope that she can appear in both Curb and Gilmore Girls.
According to Entertainment Weekly, Graham will play the love interest of the show's protagonist, Larry David. As it happens, her character will also play a censor on NBC, which means that she'll be in charge of making sure that nothing too raunchy or inappropriate airs on the network. Considering she's also meant to be dating Larry, a highly obnoxious and inappropriate person, it's sounds like business and pleasure will be mixing in some very unusual ways. It's also highly probable that their romance will lead to some uncomfortable situations, since it sounds like they could meet while Larry is attempting get a show started at NBC, except it's far to inappropriate for the network — enter Graham's character.
Curb's executive producer, Jeff Schaffer, shed some light on the interesting dynamic Graham's character and Larry will have on the show, telling EW,
"Larry's always had a complicated relationship with NBC censors. Now he's dating one. This is a pretty good relationship in spite of the fact that she's an NBC censor. She does have a kid. And that can complicate things."
It sounds like Graham is staying somewhat in her comfort zone, as she'll be playing a mother on Curb, but this certainly sounds like a nice change of pace overall for your favorite TV mom.
The news of Graham's plum new gig immediately throws into question whether or not there's a future for Gilmore Girls. But it's safe to say that Curb wouldn't be the reason for keeping her away from another season of the beloved mother-daughter show. Considering Curb's ninth season is set to premiere in October of this year, that means that the whole season has already been shot. As such, Graham's performance is already in the can.
As recently as April of this year, it would seem that Graham and her co-star, Alexis Bledel, aren't turned off by the idea of doing another season of Gilmore Girls; they just need a good reason to come back. In an interview with TVLine, Graham seemed apprehensive about more Gilmore Girls. She explained,
"If it all existed in a vacuum, I would play that character until my dying day… Now it's become what could we do with this story that is satisfying, that is worth continuing. I don't know if there is a need to do more. I wouldn't want it to feel like we overstayed our welcome."
If anything, it would not be another show like Curb that keeps Graham away from Gilmore Girls. Instead, it would be the latter's inability to make a tempting enough offer to come back. So for now, while you may be deprived of Lorelai Gilmore, you can still enjoy Graham on TV when Curb returns after a six-year hiatus.