Lily Tomlin Never Had Kids For A Good Reason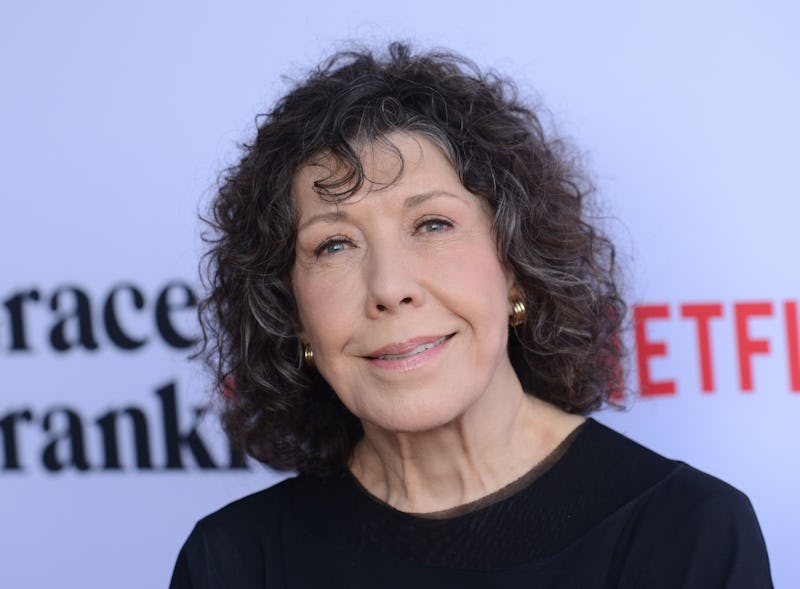 CHRIS DELMAS/AFP/Getty Images
For years, Lily Tomlin has been an inspiration to many, but especially to women. She's had a successful career as an actor for 45 years and continues to show that no matter your age (she's 77) you can shine as a leading woman. What makes Tomlin such an influence is also the fact that she refused to live up to society's standards for women. Like, when it comes to children. You may be wondering if Lily Tomlin has kids, and the answer is no, she doesn't.
Many women don't want to have kids or become mothers, and that's totally OK. Having babies isn't something that will fulfill every woman's life. It's rightfully a woman's choice to decide whether or not she wants kids and that is something Tomlin chose not to do.
During an April 2015 HuffPost Live chat, the Grace and Frankie star reflected on a time she appeared on The Tonight Show Starring Johnny Carson. As Tomlin recalled, the late-night host inquired about why she was single and childless. To which the comedian perfectly responded by saying she wasn't interested in having kids.
According to Tomlin, she remembered the audience going "deathly still" after what was probably considered a bold announcement for a woman back then. "So finally I broke the ice," Tomlin said. "I said [to Carson], 'Well, who's got custody of yours?' And he laughed. He said 'touche' or something like that, and he got off of it."
The only time she ever thought about having kids was after she met her wife, Jane Wagner. They've been together for 45 years and married 2013 after over 40 years as a couple. Basically, they are one celebrity couple you should look up to. The duo clearly knows how to make romance work in Hollywood.
In November 2015, Tomlin opened up to The Guardian about never becoming a mom. "I mean, sometimes I think it would be nice to have somebody who looks like a replica of you in some fashion, but I don't think it ever was an aspiration of mine," she confessed. After being asked if Wagner felt the same, Tomlin said, "I don't think so." She admitted, "[Wagner] has a very handsome nephew and we thought, 'Well, we could get his sperm and I could bear his child.' I wouldn't want to, but I could."
The Laugh-In star said that if they ever had had kids, she would be the one who would "have [had] to get up and fix breakfast for the kids and all that." She also confessed that having a kid in today's world would be extremely difficult, so never becoming a mom worked out for the best. "So in retrospect, we say every day, 'I'm so glad we didn't have any children.' When I think of the world now, I don't want to even deal with having to raise a child."
All the respect to Tomlin standing her ground, living her life how she wanted, and never apologizing for not wanting kids.