I Contoured My Face With Spices Because 'OITNB' Did It Too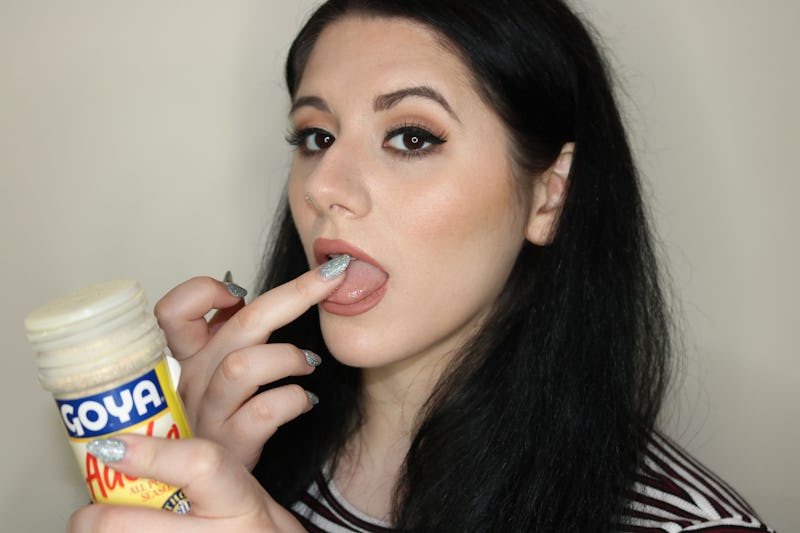 If you're anything like the majority of Netflix viewers (and myself), you've binge-watched Orange is the New Black with the fury of Pennsatucky circa season one, and gracefully awaited the new season with the patience of Sister Jane Ingalls. In honor of the long-awaited Season 5 release happening on June 9. I contoured my face with spices just like the girls of OITNB.
In episode five of the new season, the dynamic duo Flaca and Maritza are up to their usual schemes. Maritza does a small makeup segment on Flaca's daily vlog. She references DIY culture as she applies her highlight and contour using kitchen spices. That's right: Cooking spices.
Of course, there is plenty of criticism about OITNB being an inaccurate representation of prison life. This particular hack might not be used in by incarcerated women IRL, but in the show, they run with it — and admittedly, it's pretty entertaining.
Maritza knows what she's talking about. She states that she used to utilize a "MAC Pro Palette and #19 Fan Brush" to contour her face daily outside of prison. A gal with that much makeup knowledge most likely would know how to make a makeshift contour kit. Sometimes, a girl's gotta do what a girl's gotta do. Maritza tells her "viewers" that you can easily highlight and contour with "three spices you can find in any kitchen: cinnamon, cumin, and Sazón Goya."
I don't/can't/am terrified of trying to cook, so I had to make a quick trip to my local Gristedes to procure my supplies. The total for all three spices came to $10 and change.
Maritza's "product selection" does make sense. Most contour palettes contain a lighter highlight shade, a warmer bronze shade, and, most importantly, a deeper cool-toned shade for sculpting.
Sazón Goya is brighter than most skin tones, thanks to its high concentration of salt. Because Maritza is a true beauty guru, she specifically uses Goya Adobo without pepper. The pepper would only muddy the highlight, of course. Cumin acts as the bronzing shade while cinnamon with its naturally cooler brown tones becomes the contour.
Now, Maritza doesn't actually explain how she uses these spices to sculpt, but I called on my makeup artist know-how to MacGyver a way to tastefully chiseled success. On one side of my face, I used the products dry with a natural-haired brush, just as I would a powder. On the other side, I mixed the spices into pastes with water and a synthetic brush to mimic cream cosmetics.
Here's my beautifully uncontoured potato face for comparison.
1. "Powder"
When I contour my face, I generally begin with bronzer. Bronzer gives my skin warmth and starts to bring out my natural bone structure, making it easier for me to place my contour. I picked up a little cumin on the tip of my brush and applied it in a big "3" motion around the perimeter of my face. At first, I thought it was working. But after going over the same areas multiple times to build up saturation, the cumin only left my skin splotchy and barely bronzed.
Verdict: The spice is not serving it.
Then, I used cinnamon with the same tapered brush. And the results were pretty surprising.
The cinnamon was actually visible and built up saturation nicely. The edges blended evenly and looked extremely natural. The more product I added, the more I saw a little patchiness, but nothing major. The color was a little warm for my skin tone, but it definitely worked out.
I was even able to contour my nose.
It did pick up a bit of my foundation, but it wasn't terrible.
Verdict: Spice up your life. This actually worked! Maritza is the beauty guru for the people.
Now, for the Sazón Goya. This was perhaps the most delicious and biggest flop of all.
So the salt in the Sazón Goya causes it to appear lighter than the skin tone while in the packaging, but salt is translucent, much like setting powder. So it does absolutely nothing when it comes to highlighting. It's also super chunky so the majority of it didn't stick to my skin, and the bits that did caused a lot of texture. But I'm seeing it as a blessing in disguise. It's so ridiculously tasty, I rather eat it than wear it.
Verdict: Melts in your mouth, but not on your face.
Overall, I'd say only the cinnamon was actually successful. Maritza may be lying to her prison makeup vlog viewers.
Let's try adding water just to be safe.
2. "Cream"
So once again I began with bronzer, which I mixed into a paste using a little bit of water. The cumin did not want to dissolve in the water and remained rather chunky. It didn't blend into my skin at all. Yikes. Just yikes.
Verdict: This is not what I want, what I really, really want.
Then, it was time for the cinnamon.
It definitely blended into a paste much more easily than the cumin, but the powder cinnamon undeniably worked better than the wet cinnamon. The paste just picked up my foundation and blush, and was barely visible on my skin.
Verdict: It worked, but not as well as I wanted it to.
Lastly, for the cream Sazón Goya.
As we discussed before, the salt is what gives the Sazón it's light color. But when you add water, the salt dissolves and all your left with is a yellow paste with flecks on black. I barely tapped it onto my face before realizing there was no chance in hell this was going to work. And, it burned my skin with a fiery passion.
Verdict: Just no.
Now that I've officially become a Spice Girl, I can say with 100% confidence that the powder cinnamon would work in a pinch, but the cumin and Sazón Goya should be left behind bars. Unless you're using them for cooking. Because they're absolutely delicious.
Make sure you tune binge-watch season five of Orange Is The New Black on Netflix starting June 9. I'll be there with my cinnamon contour on fleek.