Mary Tyler Moore Wasn't Survived By Any Children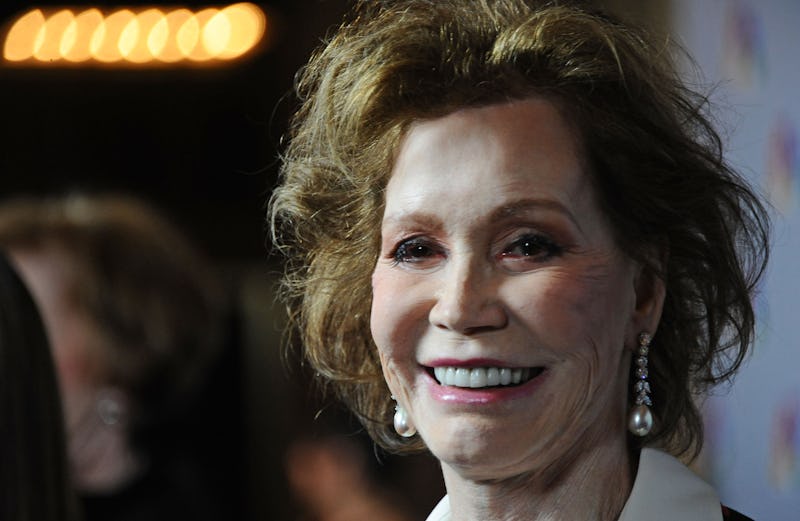 Angela Weiss/Getty Images Entertainment/Getty Images
On Wednesday, news broke that Mary Tyler Moore died, as her rep confirmed in a statement to Bustle. "Today, beloved icon, Mary Tyler Moore, passed away at the age of 80," Mara Buxbaum, a rep for the actor, said. "In the company of friends and her loving husband of over 33 years, Dr. S. Robert Levine." E! reported she had been hospitalized in Connecticut, where her health deteriorated after a lengthy battle with diabetes. Now, fans may be wondering who the iconic actress left behind. So, does Mary Tyler Moore have any kids?
Tragically, her only child, Richard, died in 1980. According to UPI, the 24-year-old had been "playing, loading and unloading" a shotgun when it accidentally went off, killing him. His stepfather, Grant Tinker, told the outlet he was "a happy, well-adjusted kid," while friends said he collected guns and enjoyed target shooting.
UPI also wrote that Richard had been living near the University of Southern California at the time and worked at CBS as a messenger. He was the son of Richard Carleton Meeker, whom Moore had married in 1955 at 18 years old and divorced in 1961. She then married Tinker, a CBS executive, in 1962, according to Variety.
"Time is a great healer," she told the National Ledger of her son's death in 2008. "It came from out of nowhere. He was doing so well ... Unfortunately, there were terrible rumors that Richie killed himself, but it was an accident. He was a gun collector, was cleaning guns, and one of them went off and shot him in the head."
Moore is survived by her husband, Robert Levine, and, though she never had any other children, her memory will live on through her blazing legacy. She rose to international prominence on The Dick Van Dyke Show in the 1960s, later headlining her own sitcom, The Mary Tyler Moore Show, in the '70s. It was one of the first shows to feature a never-married working woman as its central character. Moore played a single, 30-year-old television news producer named Mary Richards. Its groundbreaking story lines included Moore's character going on the pill and asking for equal pay to her male co-worker. The series is credited as a hallmark of the women's liberation movement, and held the record for most Emmys won ― 29 ― until Frasier broke it in 2002.
Later, she earned an Oscar nomination for Best Actress for her portrayal of a mother grieving the loss of her son in 1980 drama Ordinary People. She most recently appeared in Hot In Cleveland, alongside her Mary Tyler Moore Show co-stars Valerie Harper and Betty White.
Outside of her acting career, she was an outspoken advocate for animal rights, as well as a longtime fundraiser for diabetes research. She founded Broadway Barks 15, an annual homeless cat and dog adoption event in New York City, and has fought for legislation to protect farm animals from inhumane suffering. Alongside Levine, she established the Excellence in Clinical Research Award with the Juvenile Diabetes Research Foundation to honor contributions toward the understanding and management of the disease. She also served as the international chairman of the Juvenile Diabetes Research Foundation.
It's clear that Moore led a full, vivacious life. Hopefully, she's resting in peace alongside her loving son.