What Meghan Markle's Sister Has Said About Her Will Truly Shock You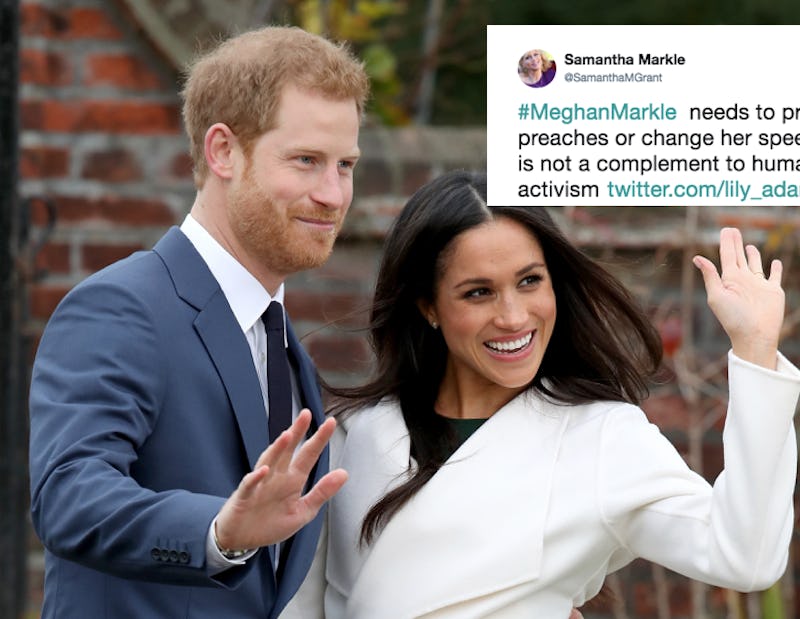 Chris Jackson/Getty Images Entertainment/Getty Images
In light of the Nov. 27 announcement of Meghan Markle's engagement to Prince Harry, the actor's family is bound to be thrust into the spotlight as Royal Family fans seek to find out as much about Harry's fiancée as possible . Markle has previously praised her mother and father in the press and through essays, but one of her family members isn't in the limelight as much. So, who is Meghan Markle's sister Samantha?
Samantha Markle is Meghan's half-sister via her father Thomas Markle. Samantha lives in Florida and, according to Vanity Fair, is a former actor and model herself. There's a lot that the public doesn't know about Meghan's relationship with Samantha — much of what's been published in the past relies on anonymous insiders and unnamed accounts. Samantha has certainly had thoughts to share about Meghan in the past, though, and not all of them have been nice. The fact that Samantha happens to be publishing a book in which Meghan seems to be a key player also doesn't help control the rumors of animosity between the two. Per Vanity Fair, the title of the book is The Diary of Princess Pushy's Sister, which doesn't exactly connote a friendly relationship — at least if you ask Samantha. (Bustle reached out to Kensington Palace for comment from Meghan, but has not heard back.)
Recently, Samantha appeared on Good Morning Britain to talk about the project. On the show, Samantha denied the idea that the book would be "some sort of slamming tell-all," and instead said that it would explore the girls' childhood home life. "It's only a tell-all in that I go through and sort of recant the sort of beautiful nuances of our lives, our family home, but more importantly it has to do with the interracial sort of evolution of this country through the lens of my life and my family since the civil rights act until present, and how that interacts with this recent event with my sister," she said.
Meghan's mother is African-American woman while hers and Samantha's father is white. Her mom separated from her father when Meghan was a young girl, so how much time she actually spent in a childhood home with Samantha is unclear, especially given the fact that Samantha is 16 years her senior.
In the same interview, Samantha went on to describe Meghan as "lovely," "charming," "strong," and "educated," adding that she would represent the royal family well at Harry's side. Samantha's words seem innocent enough — even supportive, but that certainly hasn't been the case in the past. Elle magazine claimed that one of her tweets from earlier this year was seemingly directed at Meghan, hinting that she may not appreciate everything Samantha includes in her book.
She also responded to tweets about Meghan's humanitarian work, seemingly claiming that Meghan has no "basic human consideration."
The Twitter bashing does not stop there. Earlier this year, Samantha called out Meghan by name in two harsh tweets.
Obviously, the way she speaks about Meghan on TV and in recent interviews is a night-and-day contrast to what she's said about her in the past. Roslyn Markle, Samantha's mother who was married to Thomas Markle for a time, even came to Meghan's defense in an interview last year with The Daily Mail. "Meghan is very pretty, very nice, very polished and very classy," Roslyn told the site. "I never hear anything but good about her from my son Thomas [Jr, Meghan's older half-brother]. But Samantha, Samantha has been dogging her for the last 20 years. Everything she has said about [Meghan] is a lie," Samantha's mother claimed. (Samantha could not immediately be reached for comment.)
Meghan hasn't ever publicly addressed the tension that seems to shroud her relationship with Samantha, whatever that relationship may actually entail, but some people speaking on Meghan's behalf have been quick to comment in her favor. "In their very limited contact, Meghan has never been anything but nice to [Samantha] and for the majority of those interactions, Meghan was just a little girl," an anonymous source claimed to E! News, also claiming that Samantha was allegedly "taking advantage of the situation for money." But again, that's a source who wouldn't go on the record with their name, so take that hot take with a grain of salt.
It's clear that this family drama will remain in the spotlight for some time — especially when Samantha's book comes out. But, whatever the truth may be, it's safe to say that Meghan has other, happier things on her mind at the moment.